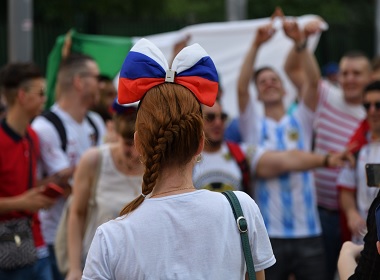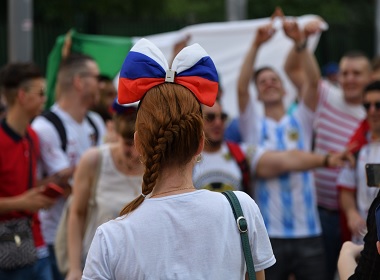 2018 FIFA World Soccer Cup created a stir in Russia, with locals girls discovering the joy of dating foreigners and sharing their experiences on social media. Russian guys are upset about all the attention given to foreign fans and probably also about the fact that overseas female supporters don't seem to take interest in their approaches.
Since overseas female fans aren't interested in them, some Russian guys are pretending to be foreigners in order to score with girls. The ladies, of course, are not impressed.
Guys from Russia pretend to be foreigners to attract local girls
We have reported earlier about the media stir in Russia regarding international affairs during the World Cup. For some reason all attention is on Russian girls who, as the males complain, are too open to dating foreign guys.
Whether it's a way to punish Russian women for being friendly to foreigners or simply trying to capitalize on other people's good reputation, but there are a lot of reports in the media and online about guys from Russia who pretend to be overseas visitors, hoping to score with girls. Then the men post reports on social media, shaming women for wanting an affair with outsiders, MK reported.
"Russian men are angry about friendliness of their female compatriots towards foreign guests. But at the same time they often pretend to be foreigners in order to seduce ladies," Zhanna Golubitskaya wrote.
Russian girls are curious about dating foreign men
As we reported in March this year, marriage to a foreigner is still considered prestigious in Russia.
But during the FIFA World Cup, ladies surely understand that overseas soccer supporters came to Russia just for a short time and could hardly have hopes to get married to a handsome foreign gentleman. So, why women are so interested in dating foreign guys, even though they know that it's going to be a short romance?
It appears that many warnings against dating foreigners, which had been widely broadcast through the local media, produced just the opposite effect: Ladies became really curious what all the hype is about. They want to try and see if there is indeed a difference between going out with a local guy and a visitor from abroad.
In fact, there are more ladies from Russia registering on ElenasModels.com right now than usually during this time of the year. Normally summer is a low activity time on EM, as women have exams in universities and take summer vacations to enjoy the short warm season in Russia, then prepare for the new school year that starts on 1 September.
But this year we are seeing an increase in activity of women at the time that is usually low season for dating sites. Definitely there is an outpour of interest to dating foreigners that has its effect.
Read also:
FSU guys pretending to be foreigners from "far abroad"
Soviet Union ceased to exist in 1991, but the republics of the former Soviet Union, except for 3 Baltic countries that joined European Union (Latvia, Estonia, and Lithuania), are still considered to be a part of that post-Soviet space.
In contrast, guys from "far abroad" are more interesting and mysterious.
The first case that gathered media attention was when some guys from Armenia, a former republic of the Soviet Union, managed to convince a Chinese female tourist to participate in a group love happening. It was the Chinese girl who went to police with the request to delete a video that the group made and uploaded online, who gave it out and the story made headlines in Russia. The kink was that the Armenians pretended to be Argentinians.
Men living in Russia jumped on the idea. As it happens, online groups popped in social networks, where guys were sharing tips on how to pretend being a foreigner to score with girls.
Some girls simply want to have fun during the festivities, others seek new sexual experiences, while the third hope to meet someone to begin a long-term relationship with and leave Russia, a post in one such group states.
One Russian guy, a post alleges, is pretending to be a foreign supporter renting an apartment, and every day hooks up with a new girl, bringing the new target home.
Seasonal workers from Asian republics of the Soviet Union pretend to be Brazilians, the post reports. The guys have purchased team T-shirts and walk around the streets trying to hook up with girls.
The article talks about a teacher of French from Yekaterinburg who asked two of her female students to pretend to be French and chat to her shy younger brother. The young guy was heartbroken after his girlfriend broke up with him. The "French tourists" made the guy feel on top on the world by flirting with him and he now walks around proudly, telling everyone how Parisienne girls were all over him. So, it's not only Russian girls who view attention of foreigners as something special; guys also consider themselves lucky if they got thumbs up from overseas visitors.
Slut shaming on steroids
Some Russian men go even further, starting a "war on sinners", and by sinners they mean local women giving any attention to overseas visitors, even as innocent as a chat and a smile, MK reports.
The group called "Men's State" is inspired by ideas of 27-year-old male blogger Vladislav Pozdnyakov. The group "promotes moral standards, traditional values, and critiques girls with low social responsibility," according to its founder.
In reality, organizers call to take videos of women communicating with foreigners and upload them online for public shaming.
And yes, local authorities have no problems with that. Moreover, Pozdnyakov is all over the Russian media, openly promoting his views in interviews. He insists that "99% of Internet users support me".
"I asked many thousands of my supporters to get out on the streets of the cities where the World Championship is taking place and take videos and photos of girls with low social responsibility. The material that was collected was sent to me, and I published it, asking to maximally spread it online."
By the way, Pozdnyakov admits that he himself had sex on first dates many times. But that's the past and he is now a changed person, he asserts. Also, it wasn't his fault, he believes, but the women who "provoked" him. "It's much harder for men to hold their hormones, as opposed to women," the founder of "Men's State" movement claims.
Pozdnyakov plans to have a child though surrogacy. He doesn't intend to get married, because he sees all women as deficient and immoral.
"I believe that women's freedom should be limited. A free woman is always an immoral, materialistic person with low social responsibility," the ideologist of "Men's State" movement said.
(It should be noted that "women with low social responsibility" is an euphemism for "prostitute" in Russia.)
Why foreigners are so appealing for Russian women
Russian courtship rules demand from girls to be unapproachable and make sure the guy tries very hard to win her affection. It's called hunter-prey dating model. The guy is supposed to put a lot of effort and chase the girl, before she is allowed to give in, for the fear of being seen as "too easy".
In other words, even if a girl is interested in having simply a short affair with a guy, she cannot really afford to enjoy hot passion, because she would be labelled and shamed. She is only allowed to be with the guy physically after a long siege. Besides, even the guy who chases her would see the girl as low in value if she gave in too quickly. Such is the social scheme that both guys and girl feel the need to abide by.
With foreigners, the situation is completely the opposite. First, overseas visitors don't think that the woman is doing something inappropriate when she is passionate after a short-term acquaintance. Second, there are no long-term consequences that would see her labelled for life if she hasn't followed the regular courtship suit. Women can enjoy flirting and if there is a mutual interest, they can have a short-term love affair and simply have fun, without hopes for the future or the need to "behave" in a certain way.
That's the appeal of foreign guys:
They are seen as "forbidden fruit" after the long campaign in media, something special that she is curious to try.
They are better looking as compared to local guys, many of whom are out of shape.
Foreigners value women who are friendly and kind to them.
They are fun to be with.
She can let herself enjoy the moment and have fun, without worrying about long-term social replications.
Many Russian cities where World Cup games are scheduled don't normally have many foreign visitors. The World Cup with all the foreign supporters coming to visit gave women the perfect chance to check the difference between local guys and overseas men, made even simpler by the fact that foreigners wear their team colours, so it's easy to recognize them in the streets. Fan zones are where people are mixing and it's easy to meet and chat with soccer fans from all over the world.
Russian guys are angry
"Russian guys are openly angry, they call girls names, even if they simply chat to Brazilians, Peruvians, attack them with their fists," Golubitskaya quotes 21-year-old Marina, who is a frequent visitor of the fan zone in Moscow.
"I think that our guys are simply jealous, which grow to the national scale because of flaring on the Internet," 21-year-old male Moscow student named Nikolay says.
"Our men suddenly took offence that "their" women are all over overseas visitors." He goes further to explain that it's the feelings of "ownership" that "woke up" in the Russian men complaining about local women dating foreigners.
Nikolay is not popular with girls at home, because he is not playing the ritual of the chase, as hunter-prey rules dictate. However, when he was giving directions to Tunisian supporters in French, a group of girls walked by and the foreign guys started to flirt with them. The girls spoke poor English and couldn't speak French at all. They didn't realize that Nikolay wasn't a part of the group and started flirting with him, too, as if he was a visitor from overseas.
Nikolay didn't tell them he was Russian and just played along. At the end, he ended up walking around in Moscow with just one girl. She started asking him about France and he was making up stories, since he knows the country well. But after a couple of hours he confessed that he wasn't from France, as lying made him uneasy. The girl was taken aback, since he played alone for too long, but then she was happy to give him her number and they had been dating for two weeks.
So, the point in not that Russian girls don't want to go out with Russian guys, but maybe just some men don't want to approach women. When the approach was made for Nikolay by foreigners, he was able to keep the girl's attention and ask her out.
By the way, foreign supporters complain that Russian girls are too conservative in regard to passionate affairs. Russian girls are beautiful, approachable, open and friendly, but they are not easy, visitors attest.
Video: Russian guys pretend to be foreigners to find out if it's true about local girls favoring visitors
Two Russian male bloggers decided to check if the online stories were true. They wrapped in flags of Senegal and Jamaica and went for a walk in centre of Moscow. One thing was true, Russians can't get enough of foreign visitors… to take photos with! "We had been stopped every 2 minutes and asked for photos with us,", the guys report.

But what about Russian girls sleeping with overseas men? They guys asked many foreign supporters in Moscow and St. Petersburg, but all of them repeated they found local women very attractive, but most of the respondents didn't have sex with Russian girls. Just one guy said he had an affectionate experience with a Russian girl.

The funniest thing was when in St. Petersburg a Russian blogger came to them and asked the pretenders about sex with Russian girls. "Actually, my wife is Russian," one of pretenders responded. But the second one ("Jamaican") chimed in claiming he had a dream to have sex with a Russian girl, that's why he came to the World Cup, in addition to supporting his team. "That's your dream?" the Russian blogger was excited. That's how hoaxes are born.

So, is sex with a Russian girl a myth or a reality during the world cup? Probably, more of a myth. But it's definitely a hot topic in Russia right now, with everyone trying to chime in with their views and evaluations.

Well, the World Cup ends on 15 July 2018 and foreign supporters will be going home.

Russian girls will have to go back to dating local guys, as there are limited opportunities to flirt with foreigners. Most Russians still are sceptical about online introductions, although some women take their curiosity further and start chatting with foreign men online though international dating sites such as Elena's Models. Many couples got together after online introductions, but to make it work you have to start!

2018 World Cup Final is scheduled at 6:00 pm Moscow time on Sunday 15 July.

Do you think that Russian guys have the right to complain about being overlooked in favour of foreigners, when they themselves are trying to "use" local girls for entertainment, going as far as pretending to be overseas visitors? Comment below!

Share this article