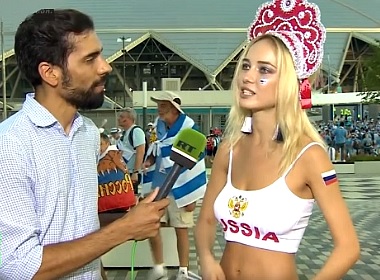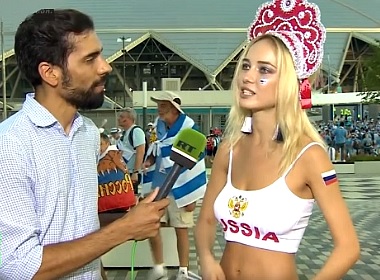 Pretty Russian girls at soccer games became a staple of 2018 FIFA World Cup. Russian girls attending games dressed in tricoloured outfits to promote their homeland are getting photographed and interviewed as much as soccer stars.
One girl in particular attracted media attention, dubbed by media "the hottest Russian soccer fan". Days later rumours surfaced Natalya Nemchinova was a porn star. Now the pretty blonde hit back stating she never participated in any porn movies and the stories published by major media outlets about her being involved in the adult industry are completely false.
The hottest Russian soccer fan
A pretty blonde girl in a national-styled red, white and blue outfit was picked by several foreign correspondents during the opening ceremony of the tournament and quickly became the unofficial face of 2018 Soccer Cup. The media dubbed the cute girl "the most beautiful Russian soccer fan".
Days later news spread that the pretty blonde was allegedly a porn star. Even UK's The Sun jumped on the bandwagon posting an article about it. So did Daily Star.
But now the young pretty blonde hit back stating she had never been connected to the X-rated film industry.
"I have never worked in porn industry. All that is written about me is untrue," she stated clearly.
Natalya Nemchinova said in an interview to MK that she used to be a model, which she considered her hobby at the time. Her ex-boyfriend had a private video of her, which he published online without her permission 5 years ago, when they broke up. As her image was picked up by the media recently, stories surfaced claiming she was a porn star. There is also an account in social networks that is ran by someone else claiming to be her, but it's not she who is posting to it. The person behind the account refuses to reveal who she or he is, although her friends tried to contact the account owner, Nemchinova said.
The girl added that she has no accounts in social media but plans to start a profile on Instagram in coming days.
"There are no movies," the most beautiful Russian soccer fan stated. "I have never worked as a porn actress."
So, in fact, Nemchinova could be a victim of revenge porn, as it appears.
Nemchinova revealed to MK that she works in a fitness club and holds a university degree. She discovered rumours about herself being a porn star through friends who read about it in social networks.
"I learn about all the news from my friends. Because I am not on the Internet, I don't read what's going on there."
Natalya is a long-term soccer fan. She had travelled abroad to support the Russian team before. She plans to continue supporting the Russian team for as long as they are in the tournament, although getting tickets to events is not easy.
Nemchinova says no one is really working in Russia right now. The World Cup is the only topic of interest. Even girls who had never been interested in soccer suddenly are enthralled by the game and want to discuss the latest results.
"I believe that we [the Russian team] will be first," Natalya said in the interview to RT.
Female soccer fans
Usually soccer was something that mostly males were interested in, but this time in Russia girls also participate and enjoy the atmosphere.
It's quite hot in Moscow right now: Temperatures soared to +31˚C (87˚F). Foreign fans are surprised that it's apparently not always cold in Russia.
Even the ice cream is melting too fast in such weather.
Russian authorities did their best to accommodate foreign soccer fans. Large fan zones are built in all cities where the games are conducted during the Cup.
Foreign fans also love the warm welcome they get from Russian girls, who are open to flirting and dating. The women also notice how good-looking and tanned are most overseas supporters.
But local men are unhappy with all the attention that foreigners get. They feel betrayed that local ladies are happy to go out with foreign guys.
Some activists even started groups in the Russian social network VK, calling to attack women who are spending time with foreigners, MK.ru reported. Russian guys are absolutely livid about local girls giving attention to foreigners. Some activists call for physical and verbal attacks "to teach these sluts a lesson" but warn against recording themselves in videos, as they could be prosecuted for that under Russian laws.
While males are unhappy about local girls dating foreigners, women post love confessions in social networks.
MK quotes a girl writing under a nickname Tonya Selderej.
"How many handsome men in the streets! The city has blossomed, it's a patch of roses, and I am in heaven, angels, angels. Let the championship last forever."
"It's time to spruce the genes with some beauty," the candid lady adds.
As you remember, it was the advice of a Russian lawmaker who warned women not to have sex with foreigners that started a big discussion about genes of the nation.
Burger King PR team tried to capitalize on the hot topic by posting a joke on the company's VK page, offering a reward of 3 million rubles to girls who fall pregnant to soccer stars, which, as the ad stated, would inject some good genes and help the game of soccer nationally.
Foreigners want to take home a Russian doll and a wife
There are plenty of videos on YouTube showing the atmosphere of the World Soccer Cup in Moscow. Looks like an exciting happening!

"Russian girls are the most beautiful in the world," some foreign fans readily cite in response to questions by a female reporter. Some foreign guys even add they would like to marry Russian girls, how much they liked them. Russian girls are the best thing at the 2018 World Cup, many of them asserted. Maybe they just wanted to be nice to the lovely female interviewer, who knows?

Featured photo: RT interview screen grab (YouTube).

Share this article