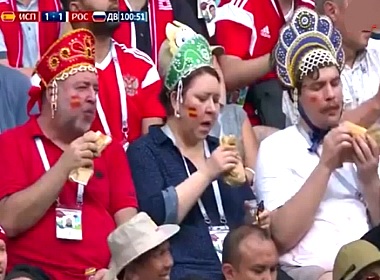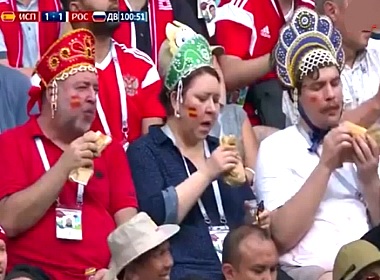 Kokoshnik, traditional Russian female headdress, is now worn by everyone, including men.
Russians embrace old-style national headdress
Traditional national female headdress, "kokoshnik", is now worn by everyone, including Russian men. The headdress became a fashionable item for local soccer fans, with online shopping malls and street vendors offering in-demand accessory in a great assortment.
Kokoshnik is ages old, although a few years back it became a trendy headgear for races, worn instead of traditional hats and fascinators. Fashion-conscious called it "crown". But it had been only trendy among women. Now men in Russia also buy the fancy headgear to wear to soccer games during 2018 FIFA World Cup, which has proven to be extremely popular in the hosting country, turning even the least interested in sport people into avid fans.
The start of the new fashion craze
The street fashion could have been possibly started by Natalya Nemchinova, the pretty blonde, whose image got picked up by media outlets during the opening of 2018 World Soccer Cup. The cute girl who had been dubbed "The hottest Russia's soccer fan" was wearing kokoshnik, and the new street fashion craze began.
Nemchinova was later called an 18+ actress, which she vehemently denied, pointing out that there had been no films with her participation.
DIY videos of how to make a traditional headdress at home are now trending on YouTube.
It is also a popular souvenir among foreigners who buy the newly fashionable item along with the nesting dolls, painted wooden eggs and balalaika (a Russian string instrument). Kokoshnik is becoming just as popular as the traditional fur hats.
Video: Kokoshnik became a must-have item among local fans and the symbol of 2018 World Cup in Russia.
Fast food eating trio becomes Russia's team icons
During the game between Spain and Russia, which the hosting country unexpectedly won, allowing it to play in 1/4 finals, a trio of supporters wearing the iconic headdress was spotted eating fast food. The shot became popular in the media and social networks and the two guys and a woman became instant celebrities, even pictured on posters in support of the local team.
They had been even invited by players of the national team to attend 1/4 game with Croatia, as for some reasons locals believed they could bring them luck. Russians are highly superstitious, as you may know.
Unfortunately for the local fans, their team lost the game to Croatia on Saturday 7 July. Now locals who are attending games in the national attire will have to pick another team to support in semi-finals and finals of the World Cup. But the craze of wearing kokoshnik in honour of national identity may stay.
Featured photo: FIFA broadcast.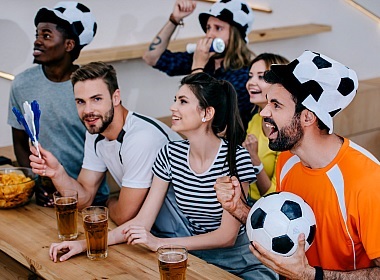 Read also: