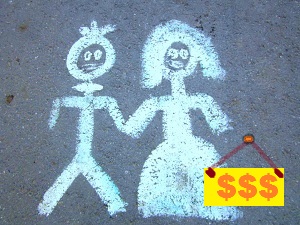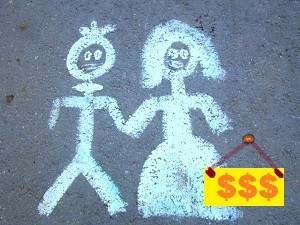 Brachka, also known as pay per letter dating (PPL) is a big business in the former Soviet Union republic, with thousands of Ukrainian women spending nights chatting with foreign men online. Due to the time difference between Ukraine and the USA, the largest consumer of Internet dating services promising to introduce a loving Ukrainian wife to lonely American males, the working shift starts at 18.00 and ends when customers go to bed on the other side of the Atlantic.
Some sources estimate the scale of PPL operations at over 100 million US dollars a year. Practices of PPL dating sites listing Ukrainian women are no secret: you must pay for every letter, chat, or minute of communication, much alike phone sex services advertised on the last pages of male magazines. But wait, there is more: you can also send gifts and flowers, and the agency will help you organize your visit to meet your dream bride.
How real is that?
Who are these women spending nights typing on the computer?
Are Ukrainian girls actually that desperate to escape harsh realities that they will happily marry a man 20-30 years older, regardless of his looks and social status?
The answers are there in plain sight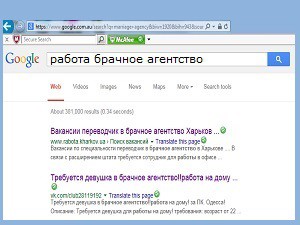 Simply enter "marriage agency work" in Russian (работа брачное агентство) into the search panel and you will find hundreds of current job listings, advertising vacancies for "models" and female "translators", mostly in Ukraine. Use an online translating program, and the ugly truth about PPL dating sites is staring you in the face.
If this makes you sick in your stomach, you are not alone: I thought I knew everything about this industry, but even I was shocked by the horrific reality of PPL hydra.
Some ads may seem like it's a legitimate job of interpreting correspondence for a dating agency's clients, while others don't even attempt to mask the essence of the job. An ad placed on the site trud.com says the following:
Marriage agency requires models and translators
Description:
We are seeking attractive girls, preferably of model appearance, for cooperation with our agency and receiving stable income. The work is simple, nothing difficult. The essence of the work is to correspond with foreign men on a dating site (no intimacy!). The foreigner pays to the site-company to use the services of the marriage agency, i.e. has the ability to communicate with the most beautiful girls in the world! 1. If you know English or can use Google-translator, and ready to work — we register you on the site and fast forward;)). Further everything is as usual — simple correspondence, chat. Payment once a month. 2. If you are not ready to work — a translator will be working instead of you. With that you will be getting 10% + gifts made by the foreigner. And it's a frequent practice! I.e. you are not working but still receiving money! Men like to send gifts, starting from flowers, Iphones, tablets, photo cameras, and ending with precious stone jewellery. Girls who work earn from 300 to 3000 dollars a month! You can work anywhere in the world! Trust us, the work is interesting and profitable. You can simply give it a try, it doesn't oblige you to anything. Confidentiality is guaranteed! If you don't like it, you can leave, which I doubt;) With all questions, call or write to the email address here!!!
Many online ads give names of the dating sites that run PPL schemes, where the girls will be writing letters and chatting (see screenshots at the bottom).
The number of vacancies is staggering: from 39 to 271 companies seek to hire young Ukrainian women to pose as "brides" wanting to marry foreign men, and translators, who will be corresponding with guys instead of pretty girls. Most ads seek translators with experience of working for PPL sites. But if you are a female, you can get a job at a marriage agency anyway. Pose as a bride, correspond using online translators, or rent out your profile to someone else to operate for a cut of income from pay per letter.
"You can work anywhere in the world", ads promise. Fast typing, creative imagination, and perseverance are listed as necessary skills to generate an excellent personal income.
Other online sources offer for purchase software programs designed to generate mails and chat invitations on PPL sites: "When the site is unresponsive and sending letters is impossible without nerves, the program sends them easily. 600 people in about 1,5-2 hours! It finds new clients by itself, the ones who are online now and sends them an invitation letter to communicate." "The girl's database will accumulate up to 200-300 people within 1-2 months", one ad promised.
But there are not enough female interpreters to correspond with foreign men, so some agencies also employ male-translators to write letters and chat posing as pretty girls. According to forum posts, if a foreigner after chatting wants to see the girl on camera, the male translator has to urgently telephone the woman in the pictures, asking her to connect to the video chat. Both models and substitutes receive a cut from the money men pay.
Scammers scammed
Dig more, and you will find forums where "translators" complain about unscrupulous operators, who lure them with promises of great earnings but in reality pay only $0.50 per letter and $2/hour for chat. Some substitutes list names of marriage agency owners who make them work for 2-3 months without pay, explaining it by problems at the bank and limits on transactions.
One woman posted a warning on a social networking site, saying the owner of the agency she had been working for didn't pay her and other translators 18-20 thousand hryvnia each (about $860-950) for a several months work. She complained about delivering the work and being scammed out of her pay. "Initially he enters your trust, tells how good and honest he is, pays the first salary, and then doesn't pay for several months." "Do not get involved with this scum. … I got scammed and was left hungry!" she tried to warn potential job applicants.
No intimacy
It is a common complaint from men that Ukrainian women they meet through PPL sites never allow any intimacy, even as much as a kiss or holding hands. The practice became more understandable when I came across a forum post by a translator, who said it was her responsibility during meetings of Ukrainian women with foreign men to ensure there was no intimate contact, as this could cause criminal prosecution for the agency for solicitation (prostitution). This is why when foreigners come to visit their prospective brides they are surprised that a girl who was so open and affectionate in her correspondence, suddenly becomes prudish.
It seems to be the usual practice for translators who "lead" certain profiles (i.e. correspond with men instead of pretty women) to accompany girls during actual meetings, so that the lack of knowledge of their correspondence never becomes apparent.
Ethical concerns of marriage agencies' employees
A forum posting from a woman asking about translator jobs at marriage agencies revealed that not all Ukrainian women feel comfortable pressuring foreign men into long correspondence, gifts, and visits. One lady wrote in a forum: "I am shocked that in our country Ukraine it's a whole business, it is a crime to mislead people, I think that authorities should be looking into it." Many posters condemn the practice saying they feel ashamed for the image that Ukrainian women get due to its notoriety, others try to defend their working for marriage agencies, insisting it's not a scam.
One woman said she would be at ease to simply write letters and chat online under someone else's identity, but didn't want to list her own pictures or have actual meetings with men. Job ads seeking "translators" state that meeting men in person isn't compulsory: if a woman desires, she can limit her involvement by online communication only.
Other translators state that they have no pity for men, who they call disgusting and despicable. "Only 20% of men are actually seeking a serious relationship, a girlfriend or a wife", stated one agency translator, whose job is to communicate with men on behalf of the girls in photos, "50% just want sex, and 30% seek an easygoing long distance relationship." "A decent translator will never lead astray a good man", she tried to insist on her moral values.
Buying and selling dating profiles
If a lady has her own profile on a dating site, she can rent it out to someone else to operate, and such ads can be found in abundance online. Others offer to open an admin panel at several PPL dating sites, which would allow the client to create his or her own "marriage agency" with personnel consisting of girls-models and translators.
There is also an ad from an online entrepreneur wishing to buy dating profiles for 1,000 hryvnia (about $47) each but only of "really beautiful girls". Another poster offers to find personnel for a new PPL business, while the third lists for sale a "good client base of real girls" for already operating agencies. "25% for us and 75% for you", invites an advertiser offering to rent out existing admin panels with already completed and approved profiles on known pay per letter sites, or you can rent a clean one for only 10% of it's future turnover.
How much Ukrainian women earn as brides and translators
The average salary in Ukraine today is about US $200-300 a month, which dropped significantly in the last year from the previous amounts of US $500-800 a month due to the armed conflict in the country and subsequent economic crisis.
Ads about vacancies at marriage agencies promise income up to $3000/month but this is only possible with additions of gifts (which women may elect to receive as cash), as the regular payment to a translator is only about $0.50-0.75 per letter and $2-3/hour for online chat. Accompanying a girl to meetings with a foreign man during his visit gets translator about $5/hour plus free meals.
How PPL dating sites' earnings are divided:
The listing PPL dating site where men pay per letter gets the largest cut.
A local marriage agency's owner gets commissions from the listing site only when guys correspond, chat with, and send gifts to "his" girls.
The owner of the local agency pays to his staff: models (the girls in the photos) and translators (people who type letters and chats).
Finding fee: bring a girl-model, and earn percentage from her earnings for as long as she is with the agency. This provides an incentive for girls and translators to involve more people in the scheme, generating passive income for themselves.
Read more: What is PPL dating? — Pay-per-letter and pay-per-minute relationships
While ads lure pretty girls with promises of great income, there is no guarantee they will be getting their pay or have the ability to remove their profiles from the PPL dating site, if they decide to leave. Reports of Ukrainian agencies continuing to use profiles of women long after they are married are plentiful.
Percentages offered by agency owners vary, with some operators promising to pay translators up to 70% of income they generate. "But you are only paid if a man opens your letter", complained a translator-substitute. Another warned, "it's all unofficial". Another substitute tried to find out how much others earned, angrily saying that she didn't want to be a "goof" and make the agency rich while "tearing off [her] eyes". "I think I am badly done with my salary", she complained.
Checking various sources, it appears that a substitute-translator earns about $500/month, with the requirement of working 8 hours/day constantly chatting online, plus 16-hour shifts on weekends. If a girl does her own typing and is skilled at soliciting gifts, her income may be significantly higher.
If a translator only works 3-4 hours, they may earn around $300 a month. Most participants of the scheme agree it takes time to develop long-term connections and find generous suitors for a girl's profile. Employers and employees of the PPL schemes are unanimous, "You need perseverance and be prepared to work hard".
A married Ukrainian woman wrote about her experience of working as a translator for a marriage agency chatting to men: "This money really helped me to live for half a year when my husband was away working… I am on maternity leave right now." She stated once she got paid real cash, her initial disgust with the job disappeared. "Many of them [foreign men] are so insecure, they simply need to talk to someone," her post said.
Real marriages
Are there any real Ukrainian women seeking marriage to foreign men? Yes, but they usually already speak English, and don't need PPL and their complex structures to find men. It also seems to be a common occurrence when translators working for PPL dating sites get married to foreign men who visit Ukraine.
Which makes it clear once again — only direct contact can result in a real relationship and connection. If you want to be sure that the person indeed likes you and not just trying to earn money by talking to you online, get her direct email and phone number, and chat on Skype, it's free.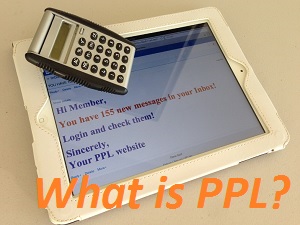 Read also:
Actual screenshots from websites and forums taken on 16 April 2015
There is nothing secret, special, or unusual about these posts and ads. Run a search for the key phrase "работа брачное агентство" (marriage agency work) and you will find these pages. Once you have found them, use an online translator to translate Russian texts into English (or any other language). Today's online translators are pretty good. They may not be perfect, but they do convey the meaning quite well.
Each screenshot here has an English translation on the left. I made the translations, they may not be ideal. I tried to keep the texts as close to the originals as possible, so it's basically a literal translation. It doesn't mean that all these posts are 100% truthful. People may have different intentions making certain types of comments, such as trying to get potential employees to sign up, posing as a successful PPL operator for a certain employer.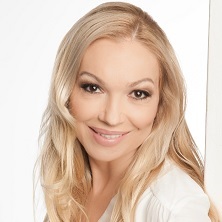 Do your own search and make your own conclusions. Go and read the actual posts that are out there right now, you don't have to believe my word. I trust you are smart enough.
Thanks for reading, and I hope it helps.
Elena Petrova
Founder, Elena's Models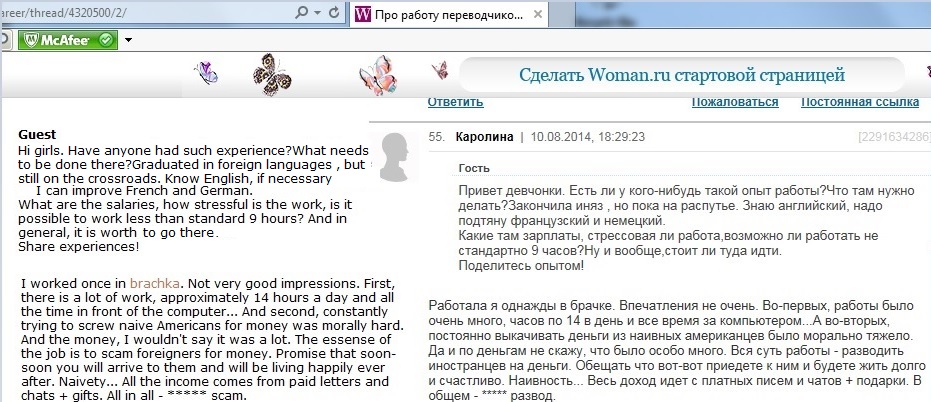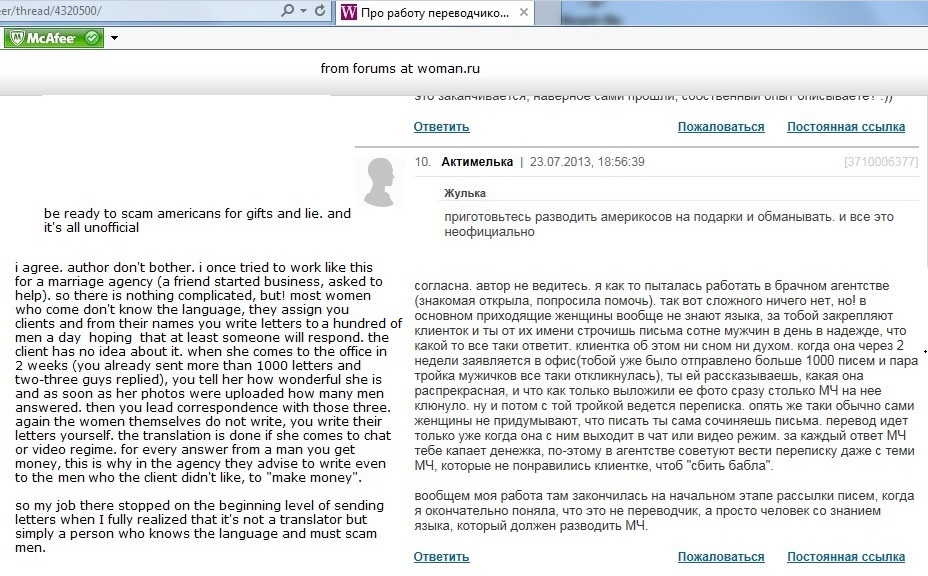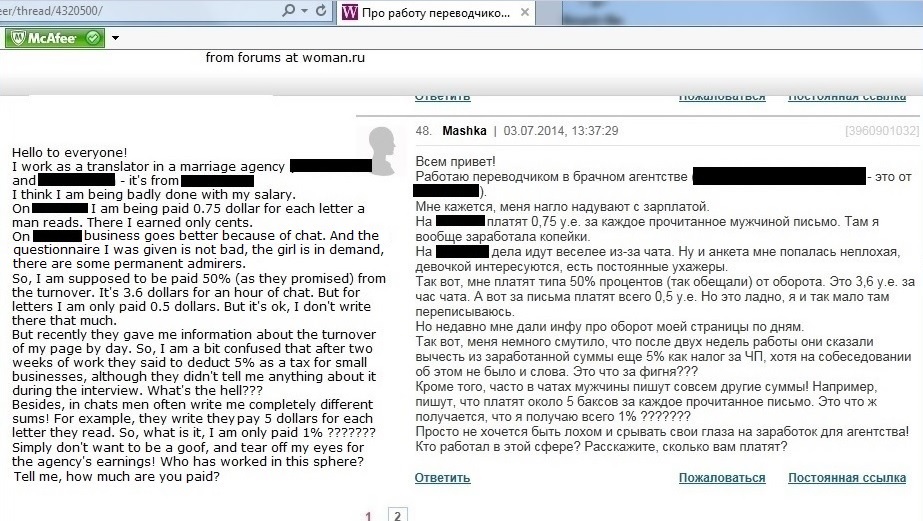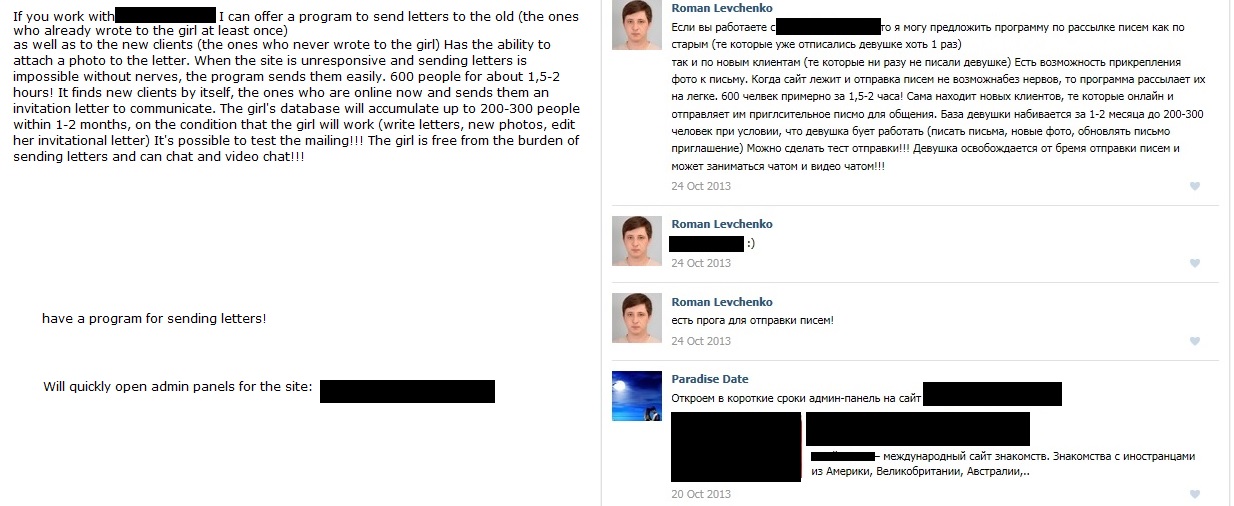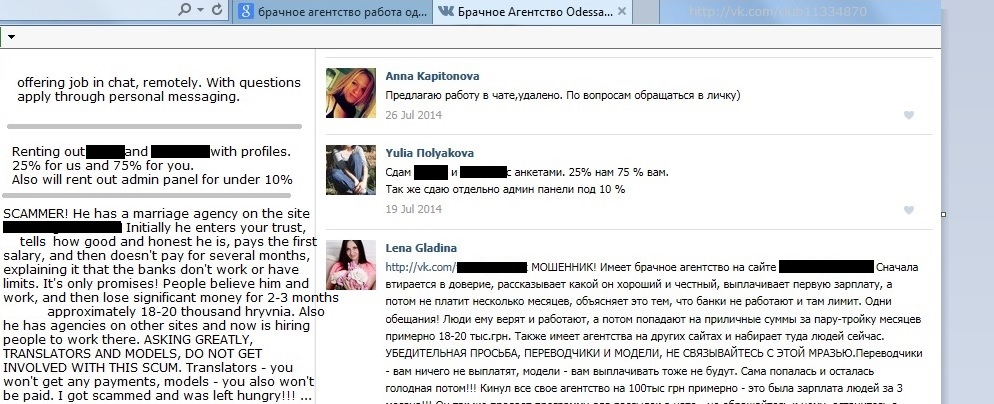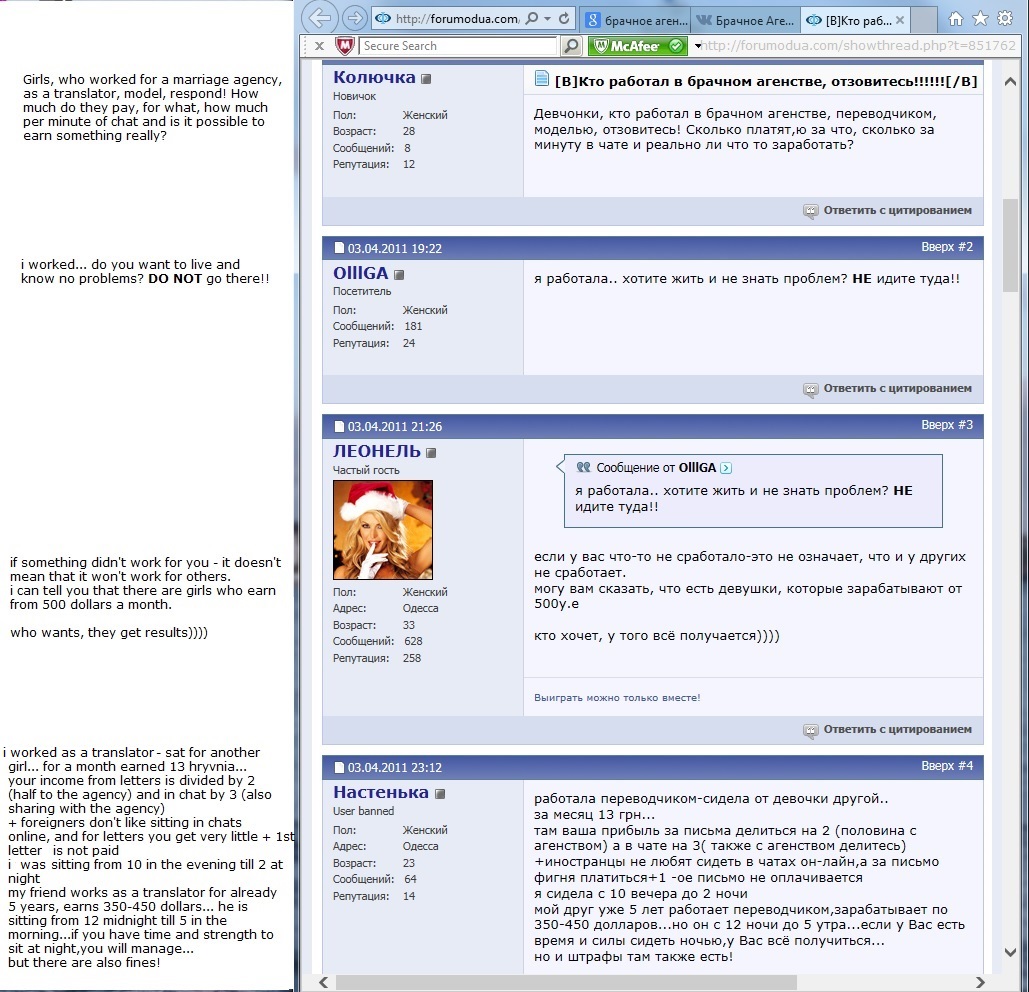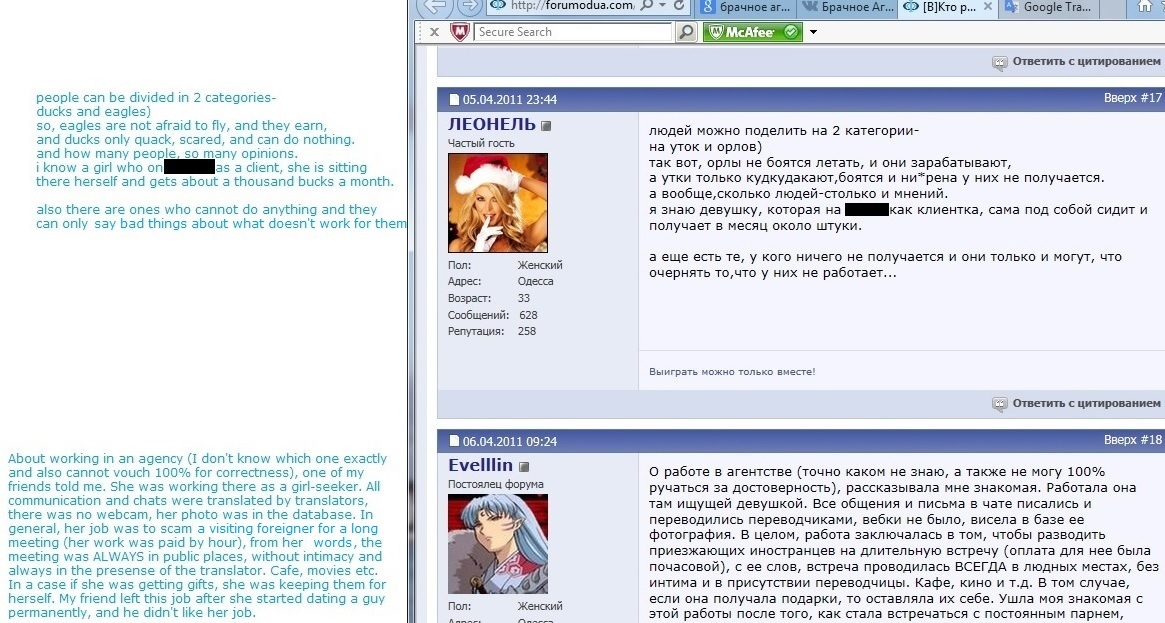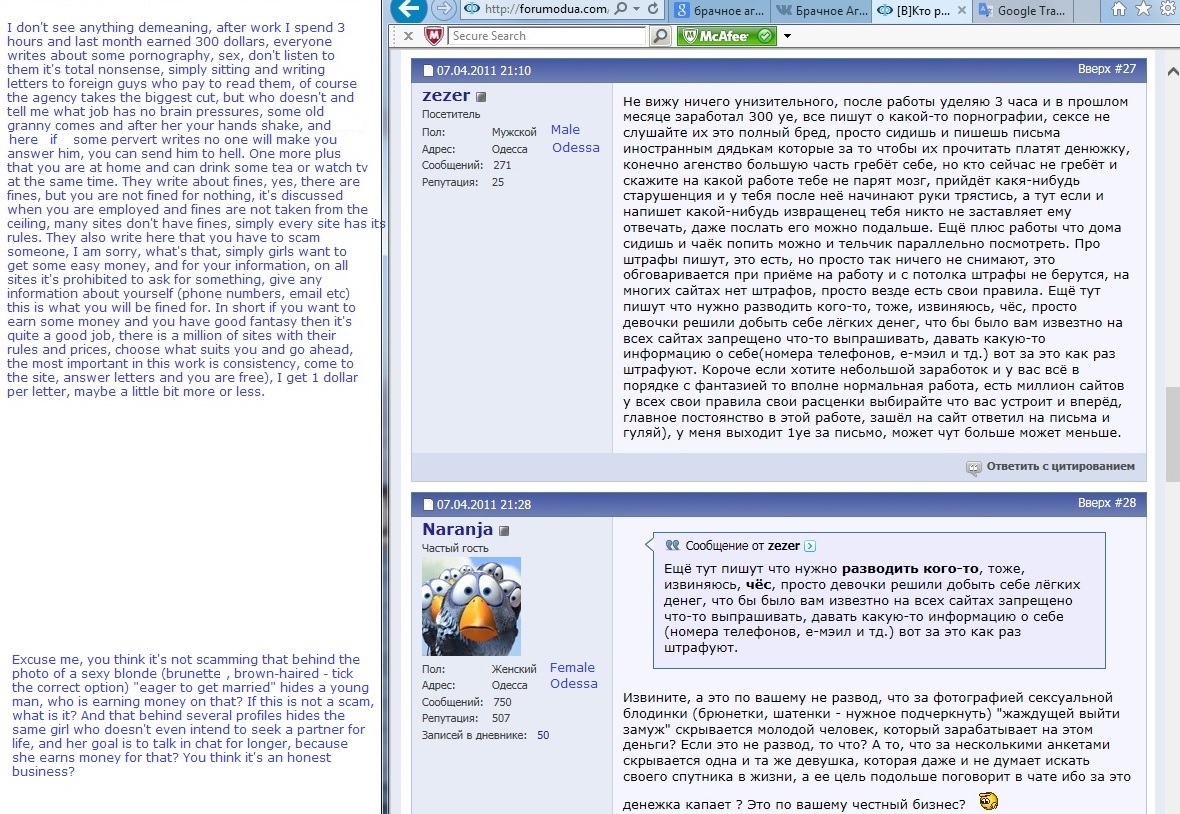 Shaun Walker (The Guardian): "The men pay for every minute they chat online to a woman, something that it becomes clear is a dangerous part of the business model".

Share this article