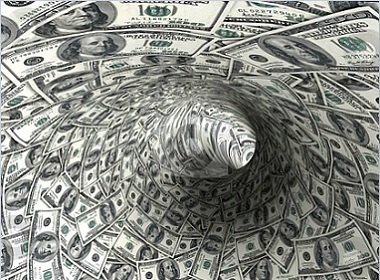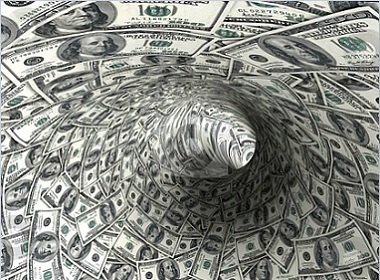 PPL dating has been getting a smooth ride since early 2000s, when it was invented. The first company that implemented the "pay per letter" scheme got scathing reviews from everyone in the industry and its clients, and then the creators of the system got so rich so fast that they managed to buy one of the most popular dating sites for Russian women seeking foreign partners.
The owner was happy to sell out and the takeover of PPL dating began.
One by one, legitimate Russian dating sites submitted to the lure of high profits that PPL provides. Even the websites ran by Americans, who claimed dedication to true values of matchmaking, adopted the PPL scheme; that's the ultimate appeal of effective money-extracting systems. Men pay, why not take their money? Everybody else does.
As the result, PPL has spread in the body of the international dating industry like cancer.
Right now, there are only 3 large Eastern European dating websites that haven't succumbed to PPL—Elena's Models is one of them.
The reason why paid communication is such a problem is that payments-per-letter destroy dignity and integrity of all participants. It's the cancer in the body of international dating that threatens to kill it. Falsified communication and fake relationships permeate the body of the paid correspondence scheme. PPL irreversibly corrupts souls and minds; turns people into slaves of dollar balances.
Recent shocking revelations of PPL agents (see screenshots below) show the pay-per-letter sites have miserably lost their advertised battle against fakes. Moreover, the new and widely promoted websites are inherently designed for fakes.
PPL sites have been getting away with so much for so long, they've decided they are invincible. And this is probably where they got it wrong.
The day when my eyes opened to what PPL was
It was only in April 2015 that I did a research and understood the true essence of PPL systems: paying people wages that depend on the amount of content they create (letters, chats, photos, etc).
Until then, I, like many others, believed that women listed on pay-per-letter sites were legitimate: PPL is quite good at convincing.
Yes, I knew there were some problems, but I thought they were minor, not systemic. It is only after reading the vast amount of content on Russian forums that I realized that the system was inherently flawed.
Wistleblowers figured it out much earlier (2006-2007) and tried to warn others. But strangely enough, PPL sites still managed to prosper, suing and silencing anyone who dared to speak up. Their bullying tactics used to work. But with the culture of transparency slowly but surely winning, it's hard to keep hiding the cat in the bag.
New revelations confirm what whistleblowers kept voicing for a decade. Scams in PPL are not a system glitch but the product of the system.
Only last month the largest PPL site started to put pressure on its agents for pre-recorded video broadcasts streamed to falsify a woman's activity in chats. Only last month! Before that, agents could turn away the camera, broadcast a prerecorded video, or cover the camera (giving the viewer a black screen) and claim it's a "live video broadcast". Why would they do it? Agents earn twice as much on chats with live video (US$0.12 instead of $0.06 per minute if the camera is on; $0.24 if the man is watching).
And here is the question. I have learned in a couple of days the tricks that agents use—by simply reading an online forum. How concerned are PPL sites about the wellbeing of their clients and integrity of their services? Seriously, they "didn't know?" All these years? Come on.
By the way, PPL sites are only deducting fines from the agents who fake live video. They are not closing the agents down. PPL portals just take an extra cut off the agents' commissions—for themselves.
PPL ingenuity
Pay-per-letter systems are ingenious.
The secret is in layering: The top layer of players separate themselves from providers of content (agents), who are paid commissions that depend directly on the amount of supplied chats, letters, or photos that male clients download and pay for.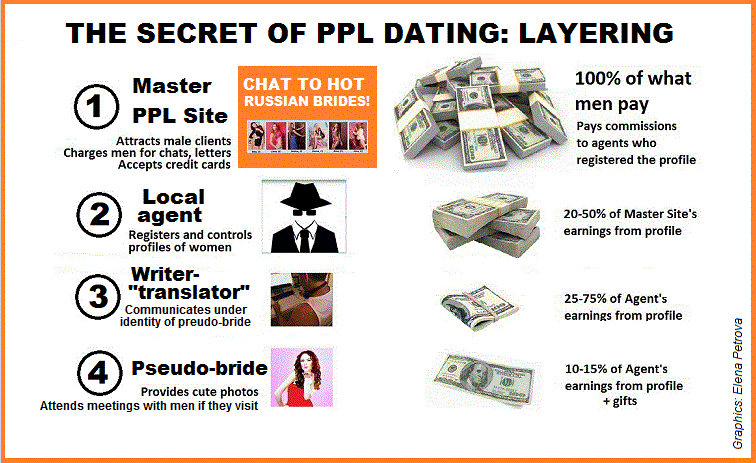 The Master Site on the top layer designed the system that makes people on the bottom cheat (fake relationships), but at the same time Master Sites act as if it's not the norm. They act as if scamming is just a "transgression" of some of their Agents.
But Master Sites still pay commissions to Agents happily, knowing very well that no genuine woman will be sitting at her computer for 5-8 hours daily (at the time that is night at her location, so that it matches evening after work in the USA) chatting to dozens of guys.
We operate a dating site that doesn't pay commissions and doesn't charge for correspondence (all chats and mails are unlimited and free), we have no agents and people register themselves directly. Typically, after 1-2 weeks 80% of women disappear from the website, hide their profiles, and only communicate with one man they really like and think he could be The One. You simply cannot make them keep talking to dozens of guys daily for months. It's absolutely improbable and impossible.
Just as hard is to encourage women to initiate communication. Despite all our advice to ladies to choose the men they like and send the first message, women don't do it.
Ladies may do it once, send messages to 3-4 gentlemen they found attractive, and if one or more of these guys do not respond or answer negatively, women are so hurt by the "rejection" that they feel uneasy about doing it again. Even though we keep encouraging them not to wait for contact from men but be active.
But PPL systems close eyes on agents plugging in bots, which send automatic chat invitations and emails to all men who are online. This is what allowed agents, who are getting paid 20-50% of the amounts that Master Sites charge men, make USD$30,000 per agent per month in 2008. For what? Communication. The thing you really don't need to be paying for! Skype is free, as well as MSN messenger or email.
Love bots
Previously popular mail-sending bot WMID boasted over 43,000 users; it was recently banned by major websites for collecting customers' personal information.
Svadba.com banned WMID some time ago, as well as certified some other bots (in addition to their own in-house bot "Soul mate search") for the use on the site. Svadba even gave agents individual APIs to connect bots to the site.
Automatic sending of invitations (presentation letters or chats, supposedly initiated by girls, but in fact generated by the software) is the main feature allowing websites of paid communication to attract and keep clients. Popular bots are Sender.Services and Chatos. Many agencies develop their own bots.
Because of agents trying to send as many invitations as possible, some Master Sites limit the amount of mails or invitations per minute from one profile. For instance, agents inform that Svadba limits sending of invitations to 8 per minute. Other PPL sites have a limit of 4 invitations per minute or 200 letters a day.
PPL bonanza
Sender.services website lists Master Sites (hubs) they developed the software for.
svadba (Anastasia)
office.loveme
natashaclub
foreignladies
zolushka.net (Hot Russian Brides)
charmdate
jump4love
romancecompass
mystep2love (Step2love)
amolatina
russiandesire
find-bride
globalcompanions
asiame
latamdate
mariya-club
arabiandate
dating
victoriyaclub
marriageagency-nataly
hanuma
bride-forever
bridge-of-love
ladadate
brides4love
loveinchat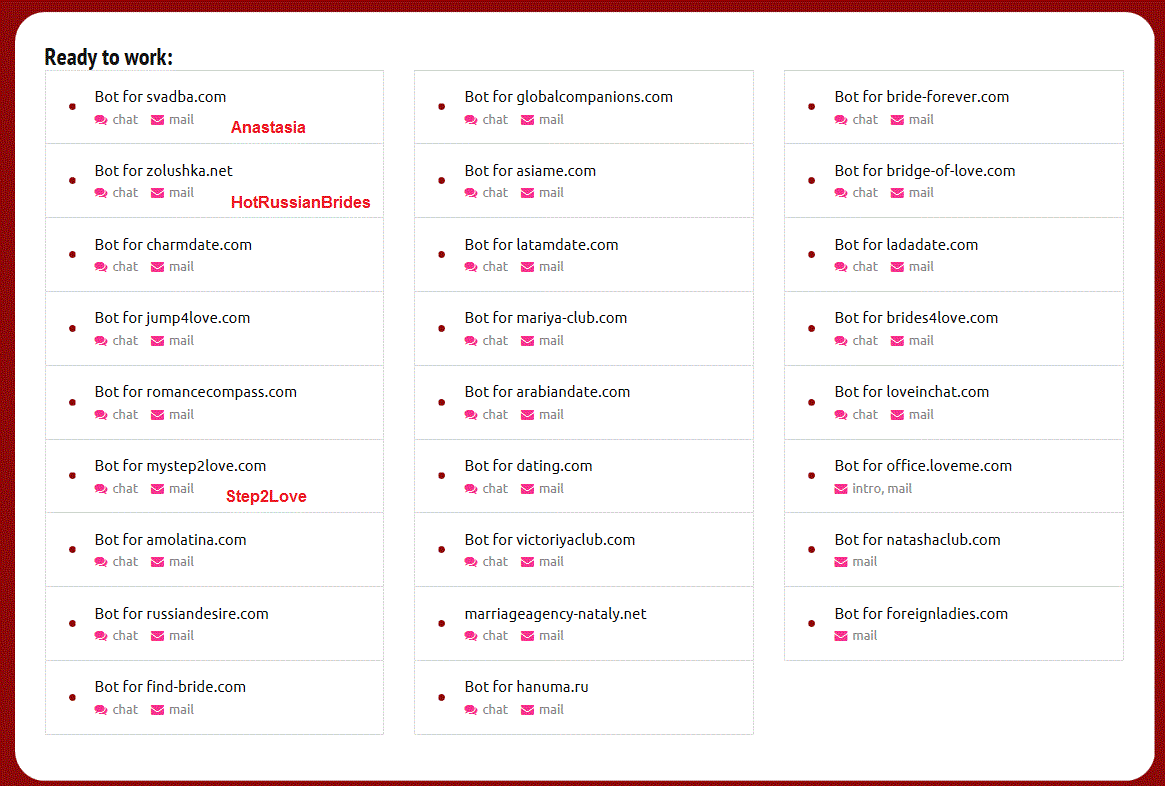 Those are the hubs that approved users of the PPL system login to view their earnings and do the job: chatting, emailing, posting photos.
However, the URLs where men login may be different to the ones listed above.
In fact, one Master Site can have many "skins", which are easy to produce. (Each "skin" sits on its own URL, confusing  already confused users of PPL sites further.)
What is hard to develop is the database of pretty "Brides" and trained "Writers" who know how to keep a man's attention. Better still, if a website has females who work as Brides writing their own chats and letters: Such women are able to leave the webcam switched "on", which for many men specifies legitimacy (more about it later).
But such "Brides", who are using their own pictures while chatting to men and know how to keep a man hooked, are not easy to find.
The reason? Materialistically-inclined pretty girls with the knowledge of English, who can keep a man's attention, could easily find a sugar daddy in the real world and live happily ever after, rather than entertain a mob of lonely foreign males with love tales.
However, it's not impossible. For instance, if a girl has an ailing parent she is looking after, this might be a profitable job for her.
Bots send automatic invitations to men who are online at the moment, so the Writer can concentrate on the existing clients, who are eager to get some love chats right now. The use of bots makes it easy for Writers to find new willing ears to listen to their love confessions.
What workers of PPL sites think of male clients?
Male clients are generally treated by workers of PPL sites with disdain. It helps employees of PPL sites to silence their consciousness, as they know very well their jobs hardly could be called ethical.
PPL employees usually claim:
"These men are trying to buy women."
"They are imbeciles that no woman would talk to, so we are doing a service entertaining them; they get their money's worth. "
"These men are users and abusers; they just want girls to strip or try to show women their dicks; we are protecting decent girls from such horrible guys."
Most genuine Russian, Ukrainian women have no idea about pay-per-letter systems and how they operate. When they hear what's happening there, they are shocked. They feel sorry for the guys who got misled and scammed.
However, sometimes I get comments from women on the Russian blog that reflect the three points above. Then I know it's someone who worked for PPL sites. There is a precise training system, how the employees are duped into scamming foreigners. The positioning of foreign men as abusers and bad people has a big place in that training.
In the meantime, pay-per-letter male clients think they are studs, with so many pretty young women—one younger than the other—vying for their attention. What they don't know is that workers of PPL websites see them as scum; they don't even see them as human beings worthy of compassion or affection.
PPL amusement
What amuses me are the guys who are trying to find "someone legitimate" within PPL systems.
Some of these guys still think they can connect with a genuine woman through PPL sites.

What type of a "genuine woman" do you want to find on sites of paid communication?
The one who gave the agency her details in exchange for gifts sent by men and "passive income" from her profile (usually agents promise 10%). A translator corresponds instead of her, trying to keep as many suitors as possible hooked on letters or chats. She, unfortunately, won't make the "V" sign on camera, because it's not her talking to you. And if there is no live video on the site, you are most likely talking to a translator. Maybe even different translators as the time goes. (More about it below.)
The one who personally chats to dozens of men promising them love and affection. She is here to put up with the men she despises in order to earn 50% of 12 cents per minute, or US$3.60/hour. It's $144/week ($624/month) if she works 40-hour-weeks, which is quite good for Ukraine—the average wage there is $276/month. For instance, teachers and medical doctors earn less than the average wage. (Sure, if she meets a Prince, she might decide to give up her vocation of extracting money per minute from hundreds of love-hungry foreigners and marry you. She will surely make a fine wife.) "She is sitting on a rollback, which is quite common in B2B," an agent pleads. "If you are sitting in chat rooms for the sake of earning on the chats and then a prince appears about whom you dreamed all your life. Your actions: sit further entertaining perverts for percentage [of what they pay] or go to personal correspondence, get married and live happily?" In the view of agents, this is perfectly OK. In the view of guys like Carlos above, this girl is "genuine". Because she happily put an awkward V sign on top of her head! But the reality is this: If a woman corresponds with you on a PPL site, you are not her Prince. If you were, she would have gotten off the site to take you away from all the thousands of women there.
Go on a real dating site with Eastern European women who are not paid to be nice to you (for instance, elenasmodels.com). Then you will quickly find out the truth, how attractive you are to pretty women from Ukraine and Russia. You don't even need to pay. You can send women expressions of interest for free. Guaranteed, you will get a lot of refusals rather than unanimous admiration.
Examples of PPL scams
There is an overbearing amount of examples of PPL scams in the forum, willingly shared by agents who operate under Master Sites.
Still not convinced?
OK, here is a link to a translation of the forum where PPL workers communicate. (Direct link to the content in Russian here.) This is where I got the information "from the mouth of the horse" on internal processes of paid communication platforms. This forum thread is 9 years old—since 2008. You can discover everything about the paid communication industry there. How it was working before and what is happening now. But hurry up, who knows—it could disappear, just like other evidence of PPL scams seems to vanish quietly from the cyber space.
Read and learn. There are 223 pages to satisfy your curiosity—with no need to pay per letter (or per minute) to find out whether the person on the other end of a pay-per-letter website is being paid and just faking the relationship.
For instance, as described earlier, one PPL website recently started to go hard on video streaming (the video of the "bride" pre-recorded and broadcast during chats by a translator). So, what clever agents came up with?
Put the real girl in front of the camera.
At the same time, the writer ("translator") types on another keyboard (instead of the girl) to get around the requirement for women to conduct their own correspondence.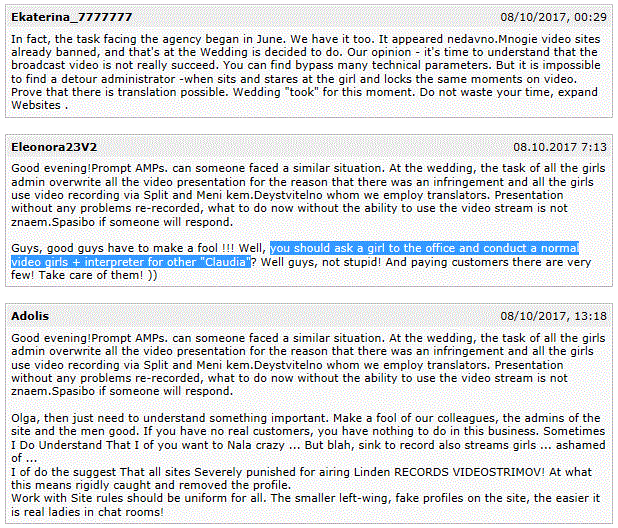 If you are paying to communicate, someone gets rewarded if you talk for longer
The truth is simple: If you are paying for communication, someone is being paid for talking to you.
If you think you are being clever trying to "catch" scammers (or find some "genuine" girls) through PPL, realize that they are playing this game way longer than you and there is no chance of your winning.
They are actually laughing their way to the bank while you are attempting to ask their "Brides" to do some signs on video.
You know how easy it is to circumvent your genuine "sign request"?
The real girl from photos is called to login on video by the chat writer (the girl is getting 10% from the earnings of her profile, so she is directly interested in having her little enterprise going).
You ask her to do some "signs" to demonstrate in real time it is her.
You think she is "genuine" and continue to chat with the writer.
This is how easy it is to get around "sign checks"!
Don't be unintelligent. You are paying even to discover that you are being scammed!
How clever is that? It's very clever—but not for you, for them.
Difference between paid communication and membership with NO pay-per-letter
In short, there are 2 types of Russian dating sites:
Paid communication: Men pay for each message or chat they send or receive. "Brides" are unwilling to use free messengers like Skype, Viber, WhatsApp, or others. Because they are not paid when talking to you on Skype!
Membership: Men pay one-off fee and they are able to chat with women without any limits or charges. Women register directly without agents and they only communicate with men they like. Ladies prefer to use free messengers like Skype, Viber, WhatsApp or talk to you through Facebook personal messages for free. Because they are seeking a partner, not cents per minute!
On the same forum of agents for websites of paid communication, a woman asked which site to use to meet a real foreign man 30-38 years old for a relationship. She said she doesn't want to worry about earning any money. One of agents, frequent contributors to the forum, advised her to use Elena's Models.
"Comrades, a real question) On which site should I register for a real acquaintance and communication with an American/Canadian [man] in the age category 30-38 years old? I want to correspond myself, without an interpreter, without worries about earnings, minutes and cents. My priority is a real acquaintance to get married. In general… where is the serious gentlemen's habitat?"—"Try the site of Elena Models," one of agents suggests.
By the way, we don't have any agents. We also pay no commissions to anyone for content or registering profiles on our site. Men and women register and communicate directly, just like on eHarmony or Match.com. No bots on our website either. Women and men need to make the first move. No move means no contact. But it's also more honest, what do you think?
Why marriage agencies are not interested in girls who want to get married?
Another pearl from the same forum (you can easily find the message by date and time in the archive page 216 or live forum).
User Vishnupriya asked, "Respected dames and gentlemen, tell me why administrators of MA [marriage agencies] so strongly do not want to register actual girls who come [for the purpose of] why this site works—to get married? Why should I have an interpreter to sit instead of me, if I would like to practice my language skills and earning something would not hurt me either."
What do you think agents responded?
Real girls do stupid things.
Real girls don't spend a lot of time on the site and therefore won't make money for the agency: "Just usually they either sit for a couple of hours in the middle of the day for a couple of days and whine that the money from the sky is not raining on them, or straight away commit offences [in the Master Site's view]."
They ask for money or break some Master Site's rules and the agency gets a large fine: "Yes, there is such thing as acting stupidly, but no matter how many beautiful girls I met, today her goal is a handsome foreign husband, and then something clicked inside her and she asks for financial assistance or presents, and here it goes,"  one agent complains. "If the girls themselves were sitting, then there would be trouble. It would be constant begging for money and lack of discipline," second agent chimes in. 
They speak poor English: "People are lazy, they don't want to work, just f**k around. This is why an experienced translator [writing instead of girls] is cool. I am not even talking about the level of English of those girls who want to find love themselves."
Real girls only want to talk to guys they find attractive, which means they won't make any money for the agency: "Long ago I was also thinking that I would be only registering real girls, so that they sit [communicate] for themselves. But despite all my instructions, in the first month one of them asked [to send her] money on Western [Union], and another one told the peasant guy she didn't like that she was already married (although she wasn't, just wanted him to stop pestering her), that's why I changed my mind. I am not talking about the ones who are simply lazy, or another funny thing—writing only to the guys who are attractive 😀 So, now first pass test on IQ, if your IQ is higher than 120, welcome to the club)))"
So, PPL agents not only think that paying customers (foreign men) are old perverts, but they also believe that women they represent are cash-hungry lazy bums with low IQ, unable to talk to males on their own. Are you sure these are the people you want to give total control over your relationship?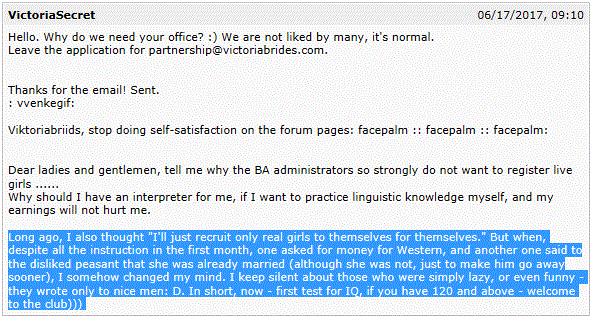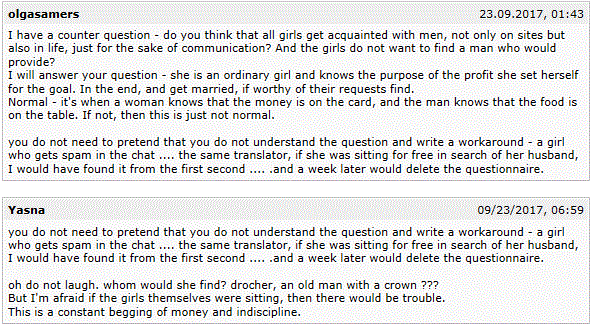 Reality hurts
This is why real girls are only required as pretty faces, but the job of talking to a man and making him stick with the site is better done by "translators" (writers). The woman is better of not knowing full details of promises made on her behalf to suitors. She'll sleep better.
Agencies use recordings of streaming videos of the "bride" and an English-speaking writer-substitute (aka "translator") communicates instead of her. Although the "translator" doesn't translate anything, just writes what she or he wants.
The "bride" is also asked to attend meetings with men, if they visit (for a fee).
But officially, "girls do not work". If a girl or a translator admits to be paid to communicate with men, the agency will get a huge fine. The same if Master Site administrators find her photos with another man online. It indicates a romantic involvement in the real world besides her job of an online bride, which is prohibited by PPL rules.
In other words, women registered on PPL sites must not date men at home. (Otherwise her love tales and promises to foreigners are an obvious scam.) Of course, Master Site cannot prohibit female users to date men at home. But it can put a rule that if photos of a girl with another man are found online, the agent will be fined.
Strangely, women's love confessions to 100's of online customers for years do not concern Master Sites. But if a photo of a girl registered on the PPL site has been found online in a company of a man, the agency that controls her profile will be fined.
Giant fines
Such fines could be $4,000-5,000 plus all the money the agency earned on communication of this girl. This can be as much as $30,000 in two years.
This is why the awful secret about falsified communication and fake relationships is closely guarded. The aggregated earnings of the whole team of fakers are at stake.
Girls, who are not "smart enough" to "sit for themselves", so a translator is communicating with men instead of her, are pressured by agents to attend meetings and provide streaming videos of them sitting in front of a computer in chats (which are prohibited on PPL sites but widely used by agents).
Girls, who are "smart enough" to type their own chats, are pressured to communicate with men they do not like, so that the agent (and, of course, the girl herself) can earn money.
For as long as you are paying for chats per minute or for mails, you have no idea what is the motivation of the person saying nice things to you.
Constant fines do not make agents stop faking: As explained above, it's impossible for agencies make money without faking. If an agent makes money, it's girls with IQ over 120 who either fake correspondence or their interest in a man. (The ones who found a Prince got off the site, right?)
Fines just make agents more obedient and easily controlled. Then it's up to the agent to control their employees; Master Sites don't want to know anything about it. (Remember, Master Sites "don't know"; that's their excuse every time.)
Fakers will do anything to protect their earnings. They will provide any "proof" required. Sincere women feel humiliated by such requests and quit in anger, but fakers have no shame.
Thus, no matter what rules agencies put in place, fakers find ways to get around them. It's like a challenge to them: You want to make it hard for us? Here, we are smarter than you. Got you again!
Earnings of agents
On PPL sites, it's usually earnings of 6-12-24 cents per minute of chat (on most sites).
For instance, typical rates (as per forum posts):
6 cents per minute of chat with the camera switched off.
12 cents with the camera on but the man not watching.
24 cents with the camera on and the man watching.
The above rates reflect how much agents earn.
Some sites only offer paid communication by mails; obviously, these are easier to fake. Mails give agents $1.50 per letter.
How much do employees earn?
Translators usually earn 50% of the agent's commission if they are experienced and 30-40% if they are new.
Girls may be promised 10% of the earnings of the agent plus gifts.
Faking gifts, looks and more
Gifts are the most important thing for the majority of PPL brides who are not actively sitting in chats in person. Writers and girls split the money that should be used to purchase the gift. The girl simply goes to a shop and takes a photo with flowers. The agent forges a receipt in Photoshop (agents talk a lot about forging various documents in the forum).
According to the forum of agents, some translators use wigs and coloured lenses to impersonate girls from photos in live video streams.
Interestingly enough, some PPL sites operate in the European Union, where fake profiles and substituted communication are outlawed. One dating site's owners were arrested for fake profiles not long ago.
One large PPL dating site's headquarters are now in Malta, agents claim on the forum. The company recently requested everyone to sign new "Partnership agreements" and courier them to Malta.
Reading the forum of agency owners, there seems to be a lot of violations with paying taxes by agents and having a fake director registered as the operator, while the actual operator receiving money is someone else. The company is aware of that, since they can see discrepancies in names. But agents-substitutes keep working and the company keeps paying. Just like agents keep paying "Brides" for chats and the company pretends it's not happening.
If you have someone Russian-speaking to read the forum, they will be shocked. I thought I knew PPL, but I was absolutely flabbergasted by what the agents talk about.
Essence of websites of paid communication
Another quote from the forum of agents:
"I have no illusions about our business. The system of work has been known for a long time and natural scam-agencies don't live long, but with time owners of the sites start feeding illusions and change rules, tighten control over the agencies, but the business doesn't become better because of that, just more problems for the veterans of this business.
It is almost impossible to create families via the system of paid correspondence, and a successful result is an exception, how it happened, hard to understand. The audience of men who are sitting on the websites year after year is 50+ years old, mostly with complexes and ungroomed. It is a necessity to register girls 20-25 of model appearance, because only these girls are able to arise interest in such men. For all the years of my work, I had over 30 [female] clients 40+, and only on 3 of them I didn't lose money spent on photo sessions and video shoots.
So, we have a difficult situation:
If you register young and beautiful [girls], you earn, but you have problems all the time. Because no reasonable girl 20-25 years old dreams about a family with a man 50+. [In such connections] the real goal is to find a sponsor for financial assistance, shopping and travel. But this is already considered as a scam, because girls should be pure in their intentions to find a husband. Although in fairness, if you are 50+ and you want to spend time and communicate with a young and beautiful [girl], then be prepared to pay. [Then] everyone will be happy. If you are not ready to pay but feel that you are being deceived, when you are being told that she is dreaming about you, then date women of your own age.
If I register mature people who are really interested in getting married, then I do not earn, there are no problems, because there are no connections [with men] and problems cannot arise.
So, owners of websites and agencies should stop being hypocritical. This system won't work differently for anyone, no matter what severe penalties are invented."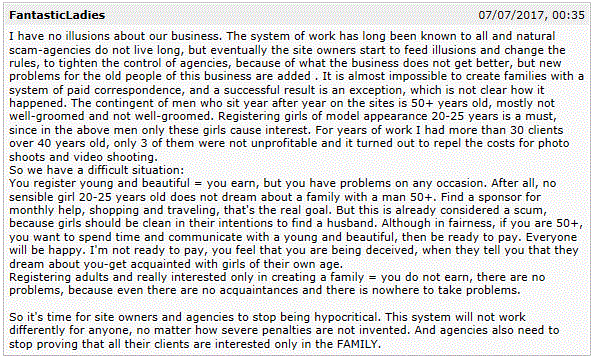 How long PPL is going to last?
The above conclusion, "The system won't work differently for anyone, no matter what severe penalties are invented," repeats the point I have been trying to put across for two years. The system of paid communication with participation of agents who are rewarded for the amount of generated content is inherently faulty. It simply cannot work differently.
There is no reward high enough for agents to attract interested women, only the ones who are "ready to work", as all PPL ads demand.
My question is how long PPL websites are going to last. What do your reckon?
Nigerian scammers still manage to get people to send them hundreds of thousands of dollars, even though this fraud has been debunked for nearly two decades.
But Nigerian scams are outlawed both in African states and in western countries, where their gullible victims reside.
PPL systems act openly and try to position themselves as legitimate. In fact, a large portion of the whole online dating revenue is produced by pay-per-letter sites (at least 10%, according to industry insiders). PPL websites call themselves "premium international dating" and their executives go to international online dating conferences to mix with industry professionals and recruit affiliates (who may be unaware about the true essence of these systems).
So, the question is:
How long PPL schemes will be able to survive in their current form, without putting prominent warnings on their pages, just like cigarette boxes have to include health warnings by law?
Phone sex services are obliged to post certain warnings about their costs and essence. Will pay-per-letter sites get an order to display warnings, too? Or will agent-layered commission-based pay-per-minute schemes become outlawed completely?
With the overwhelming evidence of the system being overpowered by fakes, it's time to call for an official in-depth investigation.
PPL has lost its chance to self-clean from the inside. Practices of PPL websites and their agents need to be put under a microscope by proper investigators and audited, and a conclusion made whether it can be qualified as a deliberate consumer fraud.
Maybe, if the cancer is removed, it's not too late.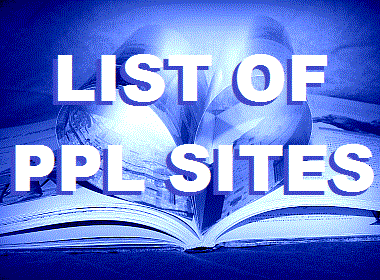 Read also:

Share this article