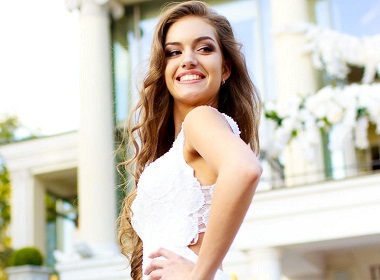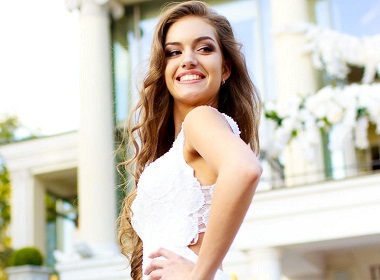 18-year-old Oleksandra Kucherenko became Miss Ukraine 2016 last weekend. The stunning girl has never worked as a model and plans to become a journalist. She will represent Ukraine at Miss World beauty pageant in the Washington DC, USA. The contest starts in November this year.
Last year Russian Sofia Nikitchuk became Vice Miss World (the 1st runner-up).
Miss Ukraine 2016 Oleksandra Kucherenko
The new Ukrainian beauty queen is a young student from Kiev just like the last year's winner Kristina Stoloka.
Oleksandra Kucherenko was born in the city of Dnipro (formerly Dnepropetrovsk) in 1997. She graduated from a school with a gold medal just one year ago. Apart from this, the girl can play piano as she studied in a music school.
Her mother works as an economist and her father is a financier. They supported their daughter and believed that she would win the contest.
Lucky #13
The #13 tag made Oleksandra even more convinced she was to win. Her birthday is on 26th, which is 2 times 13. She believes #13 is the lucky number for her.
Beauty, grace, and poise, what a worthy winner and a candidate for Ukraine at Miss World 2016.
The Talented Miss Kucherenko
The winner admits that she can't live without ballet dancing. Oleksandra has been going to dance classes since she was 5. Perhaps that is why the new queen looks so good. Her parameters are 87-61-92 (34-24-36), height 177 cm (5'8″).
However, Oleksandra has never worked as a model. When asked why she took part in the beauty pageant, Kucherenko said that she saw an ad and came to try, KP.ua reports.
The Ukrainian beauty has a boyfriend but prefers to keep her personal life private. That is really true, just have a look at her Facebook or Instagram pages. Most of the girls have hundreds of photographs whereas the beauty queen's pages are not abundant with pictures.
Oleksandra is happy to talk about her studies and plans for the future. She has always dreamed of being a TV anchor and now she's studying it at the University of Kiev to become a presenter. Her biography writers can mention that she followed her dreams since the age 7.
Funny enough, during the contest the new Miss Ukraine forgot the name of the Ukrainian prime minister. When one of the judges asked her who's Ukraine's current prime minister she failed to answer the question. After the competition, Oleksandra told in the interview that she was very nervous and the name of the politician slipped out of her mind.
Now her main goal is to prepare for the Miss World 2016 pageant.
Photos: Miss Ukraine official Facebook, Oleksandra Kucherenko Instagram
Video: How she won
The newly crowned queen looks even better on video. See the embarrassing moment of her forgetting the name of the Ukrainian prime minister. But the judges had already made up their minds, and the little hiccup didn't stop her winning.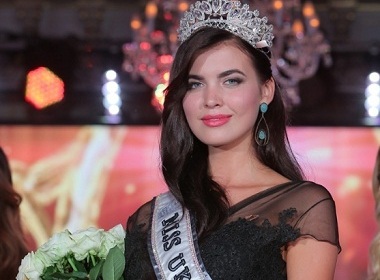 Read also: