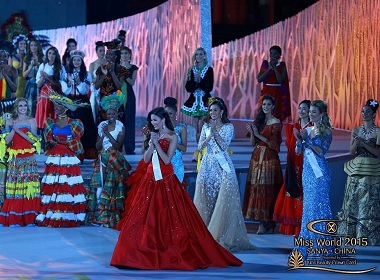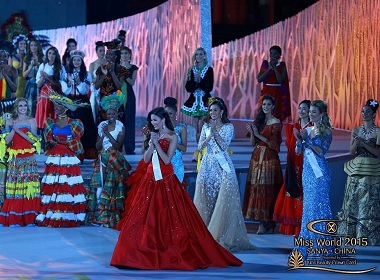 Sofia Nikitchuk from Russia is Vice Miss World 2015, after the completion of finals in Sanya, China, and the announcement of judges decision last night. Miss Russia scored the coveted title of the first runner up after being selected as a part of top 5. The winner is Mireia Lalaguna Royo, Miss Spain, who was awarded the top crown in the prestigious beauty pageant. Miss Indonesia Maria Harfanti won the title of the second runner up.
Sofia Nikitchuk, Vice Miss World 2015
The 22-year-old Russian brunette with a sweet smile is from Yekaterinburg city, which located in the Ural Mountains, dividing European and Asian parts of Russia, population 1.5 million. The city is known as the homeland of the first Russian president Boris Yeltsin, who was the city's Mayor for many years prior to his ascending to the country's political elite in Moscow. Yekaterinburg is also infamous as the place of execution of the family of the last Russian Tsar Nikolay II, including princess Anastasia, whose fascinating fate inspired the famous Disney animated film.
Beauty pageants appeared in Russia following Perestroika and the collapse of the Soviet Union. During communist times, Russian girls didn't participate in Miss World competitions.
Nikitchuk is a graduate of the Federal University, which she completed with distinction. She was born in the nearby Chelyabinsk region in the family of an army officer, and moved to Yekaterinburg to study at the University after completing her high school qualification. It was during her student years that she joined a modeling agency and participated in her first beauty contests.
Sofia indicated she would be interested in a career in the movie industry, which has been the path of many former models that ensured their long-term popularity. Her success at the Miss World 2015 finals, where 114 gorgeous girls were competing for the coveted top placements, will surely assist the smart brunette in achieving her ambitions and life goals. The Vice Miss World is expected to pick the crown, if anything prevents the winner from fulfilling her duties.
More about Sofia Nikitchuk in Miss World 2015 – video, photos.
Miss World 2015 Top 10 (+ Miss Vietnam, People's Choice)
Russia
Philippines
Guyana
Lebanon
Spain
Indonesia
Jamaica
France
South Africa
Australia
Miss World 2015 Top 5
(Miss Vietnam wasn't included, in the last minute decision by judges, into "+1".)
Indonesia
Jamaica
Lebanon
Russia
Spain
Photos: Facebook Miss World
Video: Winners of Miss World 2015
See the announcement of top 3 title holders and the crowning of Miss World 2015.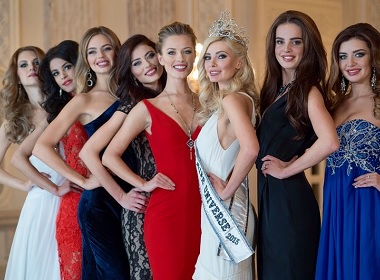 Read also: