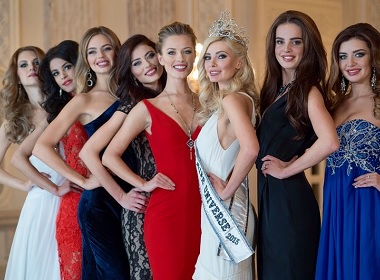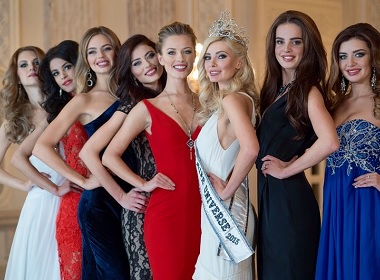 26-year-old blonde Anna Vergelskaya became the winner of Miss Universe Ukraine 2015. The young Kiev resident will represent her country in the international finals in the USA, under the patronage of presidential candidate Donald Trump.
The 63rd Miss Universe finals will take place in Miami, Florida, on January 25, 2016.
Miss Universe Ukraine 2015
This year's judgement of the national winner was unusual for Ukraine. The committee decided not to run it as a show but opted for a more down to earth online format. The committee stated it was done as a gesture of respect for all who suffered during the unstable times and their families.
The 2015 winner has been simply announced online without much fuss. Dark-haired Olesya Pravnik became the first Vice Miss.
The competition has been held in Ukraine since 2005.
Past achievements by Ukrainians in the global finals:
2014: Diana Harkusha became the 2nd runner-up
2011: Olesya Stefanko became the 1st runner-up
2010: Anna Poslavskaya became the 3rd runner-up
About Anna Vergelskaya
At 26, the 2015 winner of Miss Universe Ukraine is older than most global champions. The current Miss Universe Colombian Paulina Vega is 22.
Her height is 174 cm (5'7), which is also slightly shorter than the canonical model height. Her measurements are 90/60/92.
She was born and lives in Kiev, which is her favourite city.
Asked about what would she do if she became the national title holder, Anna said, "I would thank God and ask a blessing from my spiritual mentor."
She stated she would be happy to take part in many social projects, aimed at renovations of churches, supporting cultural treasures and attracting attention of young people to the problems of ecology. She stated that we are only guests on this Earth and should not forget that we should not only use its gifts but also leave the best to our descendants.
She believes her position would be important to promote the peaceful image of the country, and show Ukrainians as open, proud, and kind people.
Anna loves looking after animals, roller skating, parachute jumping, and scuba diving. She also enjoys painting in her spare time and making handcrafted gifts for people she loves.
Vergelskaya studies marketing, which is also one of her passions.
Her favourite custom is a wedding ritual, where the groom has to carry his bride over a bridge, for a long and happy family life.
Her favourite book is Bible.
Miss Universe 2016 Chances
In the past decade blondes had a terrible run in beauty pageants, with hot brunettes scoring all the top prizes.
The last time a blonde took the international title was in 2004, when 20-year-old 5'11" Jennifer Hawkins from Australia acquired the crown.
26-year-old brunette 5'7″ Brook Lee from the USA took the title in 1997, also being shorter and more mature.
25-year-olds Leila Lopes from Angola and Gabriela Isler from Venezuela scored crowns in 2011 and 2013 respectively. They both were 5'10".
Let's hope the new Ukrainian winner will be able to become an exception to the rule against the odds.
Photos: Missukraineuniverse.com.ua
Video: Anna Vergelskaya Presentation for Miss Universe Ukraine 2015 Contest
What is your advice for men?
"I think in our times there is a new model of relationships appeared. They are short-lasting. I want to advise to men to don't burn bridges. Don't offend women. Don't promise what you cannot do. We love you very much…"
Show love in 3 gestures…
Heart
Ring on finger
Baby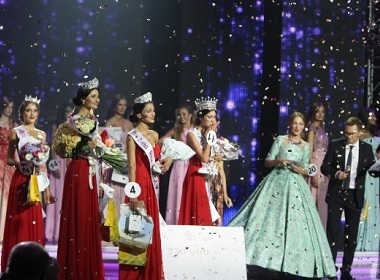 Read also: