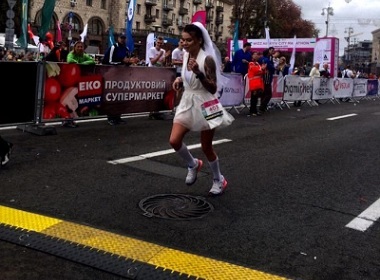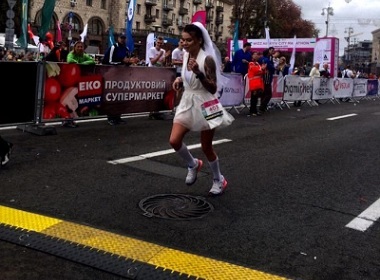 Ukrainian girl Maria Karachina completed this week's Kiev marathon in a white dress and a veil as a Bride, and finished third among women with the official time 3 hours 34 minutes.
The Sunday event in the Ukrainian capital was set up on the same date as the popular Berlin marathon.
Here Comes The Bride
The Ukrainian fitness trainer and blogger decided to run the distance of 42 km 195 m as a Bride about a week before the event.
On her Facebook page under the nickname Maria Sugar she posted photos of her medals and certificate for the third place on the day of her triumph. The finisher medal and her shiny third place award are proudly placed on top of her white bridal veil.
Some onlookers thought she was a real bride and there should be a groom somewhere among the athletes. But that was not the case.
The strong brunette is single, and implied she would be happy to accept marriage proposals through the distance, KP.ua reported. Karachina didn't manage to score an introduction along the 42 km track, but it may be that her dream of finding a relationship partner interested in fitness will come true following her newfound fame as the most famous Ukrainian bride of week.
"I have 1 word — unbelievable," she wrote in English on 27 September 2015 on the social networking site after winning the coveted third placement in Wizz Air Kyiv City Marathon 2015.
"Not only marathon finisher today. Not only running girl in wedding dress. I want to cry and smile and run else else else. I am happy. Thank you." (Sic.)
She added in Russian:
"I am in shock. 3:34 official time. I don't know, where this strength came from. It's all inside, it's love. It's not a struggle, these are emotions of love. I am not adequate right now, I apologize. Thank you for everything. Love."
Maria's goal was to qualify for the next Boston marathon, which she was extremely happy to achieve. The time she scored is more than sufficient to register. The Kiev's track is certified to be eligible.
Maria's determination saw her improving pace after 35 km mark, while running uphill. It is this drive that allowed her to achieve the excellent result. She passed multiple male runners during these last miles, scoring applauds from the crowds on her way. Her pace at the finish was impressive. The cool weather with a little bit of rain made it easier for athletes, as compared to the hot days of previous weeks.
Maria has already completed marathons in Lvov and Kiev in Ukraine before, and done a half-marathon in Brussels and 50 km ultra-marathon in Stockholm in Europe. Now her title changed from a runner-blogger with cute Instagram photos to a bronze medallist of Kiev marathon, thanks to her determination and persistence in training.
She plans to rest and train again to achieve a good result in Boston, USA, for the first time running on another continent. Will she run there as a bride again? Let's wait and see.
Photos: Facebook Maria Karachina

Video: Ukrainian Bride at the Start of Kiev Marathon 2015
The Bride's outfit of a wedding dress and a veil became the focal point of the event, stealing limelight from other competitors. The guy in a black T-shirt and leggings, who ran closely behind Maria for some time, was nicknamed The Priest, because of crosses on his top. See our heroine at the start of the distance (around 39 seconds in the video).
On her page Maria wrote about the perseverance that helped her to achieve results:
"I could have stopped several times, when running brought not only joy but also pain. I could have left like many others with whom I started running and who used to motivate me."
"I want to say a great thank you to all, who believes in me and supports me (and to those professional sportswomen who decided not to participate in the marathon this time))), otherwise I would not be able to score like this. If you are not a runner yet, become one."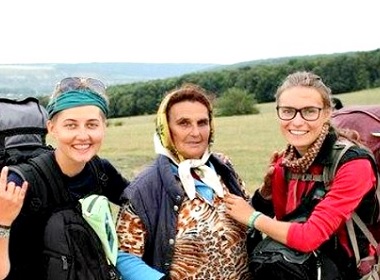 Read also: