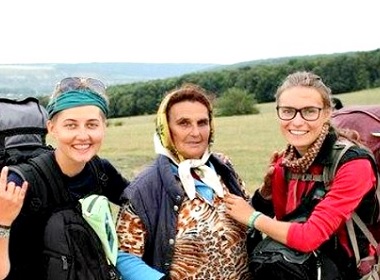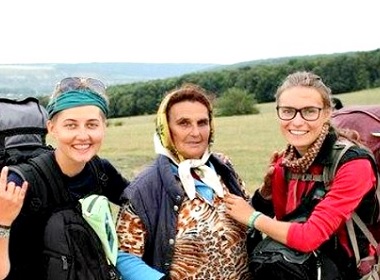 Two Ukrainian women, Anastasia Evsyukova and Olya Solovyeva from Dnepropetrovsk, walked across Ukraine from border to border in 93 days, having covered the distance of 2000 km (1242 miles). During the trip the girls were posting reports on blogs to showcase the beauty and diversity of their home country, its architecture, culture, and people.
The project named Inside of Living started on 20 April 2015 and was completed on 22 July. The girls started from the Russian border and reached the point near Slovakia at the end, from Kharkov to Uzhgorod, carrying necessities in their backpacks.
After a few weeks ladies realized that makeup wasn't really a necessity, and threw it away to carry less weight. The only things they kept was a small mirror and a hairbrush.
The brave ladies mostly slept in a tent, and only once every 10 days stopped at hostels to recuperate. Their food budget for the trip was 100 Ukrainian hryvnia a day (USD $4.60), so they had to buy and cook their own food. Initially the trip was supposed to take 2.5 months, but it took 2.5 extra weeks to reach the final destination.
Because they planned their trip through small villages to avoid busy roads, there were always people interested in talking to young travelers. Kids asked for photos.
Nearly all the time someone volunteered to accompany the pretty duo on the way, so they rarely walked alone. After a few weeks, they could put up the tent and pack backpacks with their eyes closed. The girls took thousands of photos of villages and towns they passed, people they met.
Locals didn't believe them when they said they had been walking for months, and were surprised they looked so well.
"How else should we look?" smiled the girls. "We are outside, seeing the most beautiful places. How could we look bad?" "Why are you doing it?" was also a regular question.
Old Ukrainian women in villages gave them milk, bread, and potatoes, offered fresh meals. A dog from speleologists' base in Khmelnitskaya region joined the pair unexpectedly on the way, and accompanied them for over 700 km (435 miles).
The two women initially tried to send the dog home, but she refused to go.
The girls gave a ring to speleologists but they were not concerned, and told ladies not to worry, that Marusya would come home by herself.
After 27 days on the road the girls realized that the dog was expecting and close to giving birth soon, and had to leave her with speleologists' friends in one of the towns on the way.
The most important thing that girls took from their trip are not thousands of photos but understanding that any dream can come true, if you really want to make it happen.
Olya and Anastasia said they became more confident and found inner harmony, discovered not only beautiful places in Ukraine, but also a new part of themselves.
They can now go back to civilization, and enjoy makeup and dresses, which they are most looking forward to, after wearing pants for 3 months.

It may be also more than only the inner harmony that young Ukrainian ladies have found. One of the guys who joined the pair during their trip may have become more than just a friend… During the conference that girls arranged after the completion of the trip, they didn't talk much about the new found love for one of them, but their travel photos tell a different story.
This is how it happens: get out there, and things change. Just take the first step.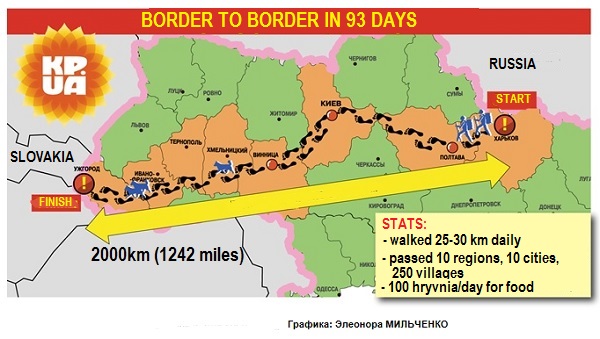 Read also: