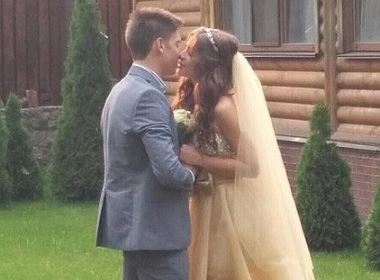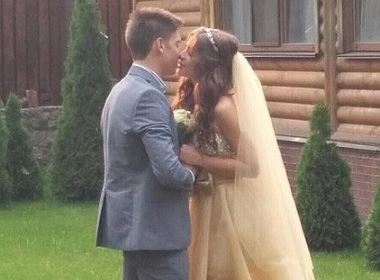 How people meet in today's Ukraine? Just like everywhere else, large numbers of Ukrainian women and men meet online.
KP.ua reported that last weekend a prominent Ukrainian sportsman Ilya Kvasha married his sweetheart, whom he met online. His bride Ilona Sergeeva has no connection to the sport universe, and is 6 years younger than the Ukrainian champion. Sergeeva is a lawyer from Kharkov.
27-year-old Ilya Kvasha is a platform diver, who won the bronze medal at 2008 Olympics. He is a 7-time European champion and 3-time World champion.
The couple met online through a social networking site, and after some time the future groom traveled to see his virtual pen pal to another city, giving start to a real-life romance.
The couple dated for a few years before tying the knot last weekend.
The bride and the groom didn't stage a huge event for their wedding, and decided on rather subdued colors for their outfits.

The groom was wearing a blue-grey suit with a stripy shirt and no tie.
The Ukrainian bride's dress was more traditional, with a veil and floor-length silk gown of champagne shade complimented by long waves of her dark hair and a simple tiara. To add a modern twist, the dress was made of layers of a semi-sheer fabric over a mini-skirt.
Light makeup allowed her beauty to shine naturally.
The high-profile sportsman didn't hide how he met his future wife, as opposed to many people who still feel there is a stigma attached to connecting online. It was the fateful click of the mouse that started this romance, which now has moved to a new level. The 21-year-old bride looked relaxed and happy in the photos that the couple posted online.
Meeting with the help of Internet through dating sites and social networks is now a proven way of finding someone special in Ukraine and other post-USSR countries. This is why chatting online to men from other counties doesn't seem unnatural or hard for Ukrainian women.
Photos: VK Ilya Kvasha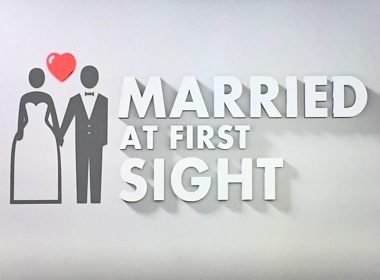 Read also: