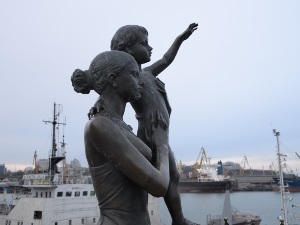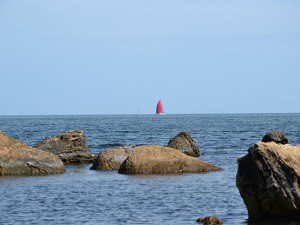 Guest author: Vika Umanets
---
Odessa may be the most peculiar of all Ukrainian cities.
Typically of large cities, there are lots of outsiders looking for jobs, visitors seeking entertainment, relaxation, or love. Students, seasonal tourists, and regional residents dilute numbers of locals so much that natives seem somewhat of a rarity.
The Black Sea
The Black Sea is undoubtedly the most profound and integral part of the city. The sea provides jobs, changes lifestyles, and influences opinions and tastes. Every second young man in Odessa dreams to work at sea, and every first girl dreams to marry a sailor.
Of course, it's a joke. 🙂 The job of a sailor only seems easy and tempting. People would do just about anything to get a sailor's ID and start earning big money.
This burning desire is what many local entrepreneurs exploit to make their own huge bucks. Crewing companies operating as middlemen between employers and employees are not only charging hefty fees for their services, but will also keep your first month salary, if you are lucky enough to score a position on a ship.
Some companies are less than scrupulous. They promise comfortable working conditions but in reality are sending sailors to work on aged vessels, where they may have no time for lunch or a decent place to have a rest between the shifts. The conditions may be so poor that some young sailors elect to self-harm, getting a trauma allowing them to terminate their contracts and get off the ship.
There are also plenty of companies offering courses for aspiring sailors and teaching them English. Only some of them are competent and give their students valuable skills, while others merely collect money from the hopefuls.
Sailors' wives
Still, men of all ages leave to work at sea. They work as engineers, chefs, waiters, and may fulfil a variety of other nautical positions. They go to the sea, leaving behind their wives.
Separation is hard on many women, and the good money that their husbands earn isn't enough to compensate for the lost time together. Some sailor's mothers don't trust their daughters-in-law to stay faithful and loyal while their sons are at the sea for months. Sometimes these doubts have grounds, sometimes not. There are girls who marry sailors only to have a good life, without doing anything themselves. But not all girls are cynical and materialistic. Most sailors' wives live from meeting to meeting.
This category of Ukrainian women is commemorated in Odessa in a monument at the Passenger Terminal, which is called the Sailor's Wife. This statue depicts a woman who is desperately looking at the sea, holding a small child in her arms.
Odessa scams
For ages Odessa has been known as the breeding grounds for scams of all types. The modern city still has plenty of those.
There are tons of employment agencies that ask money from job seekers but have no jobs to offer them, which is clearly stated in small print of their contracts. Other scammers lease out apartments for long periods of time for a discounted price, after renting them for a short term from real owners. Barmen and waiters of dubious places overcharge and underdeliver. The famous Odessa food market, Privoz, is classically known for its underweighted portions, while the clothing market is notorious for sellers passing cheap Chinese fakes as genuine brands.
An unsuspecting tourist faces the likelihood of being scammed at every turn.
PPL marriage agencies
Local girls have an endemic way of earning money through pay-per-letter marriage agencies. Ads about job vacancies in marriage agencies are everywhere. Ukrainian women who can speak good English are offered positions of translators in PPL firms, and girls who are beautiful and pretty are invited to list themselves as brides for foreign men.
The scheme works like this: a cute young girl lists herself as seeking a foreigner who wants to find a Russian or Ukrainian wife, and an English-speaking lady communicates with him in English. The firms provide computers and other gadgets to enable smooth communication, a comfortable office, and the database of foreigners who pay the agency for the privilege to converse with gorgeous girls.
The girls tell suitors about their achievements, brag about their wonderful traits, and demonstrate their attractive looks — and then complain about their hard lives and lack of money. To score in girls' eyes, foreign men send them money, jewellery, and electronics.
If the suitor is not as generous as needed, he is subjected to psychological tricks of all kinds, designed to manipulate his feelings and achieve desired results. Later, when the initial introduction turns into attraction or stronger feelings, the foreigner visits his bride to get to know each other better. She meets him, arranges his accommodation, and starts taking him to restaurants and shops — naturally, the man is paying for everything. Often girls take back to stores expensive presents that men purchased for them only an hour ago, such as clothing, jewellery, or perfumes.
To streamline the scheme, enterprising "brides" pay commissions to store employees. Communication with men continues after the man goes home, until such times that a guy becomes very insistent about the girl joining him in his country. Sometimes girls end the communication after getting money for the tickets to the man's country.
Young females, locals and visitors, students and unemployed, are the ones earning money through this system. Oftentimes these girls have local boyfriends who are fully aware how their girlfriends earn their living, and see nothing wrong with that.
The fine youth
Certainly, not all Odessa girls are so greedy and unscrupulous. There are diligent students who pay for their tuition by waiting tables or working as dancers in restaurants and cafes. You can see on the Promenade romantic young ladies with books in their hands, or active girls rushing through streets on roller blades or bicycles.
Many young people pursue creative hobbies, study acting and drama, and perform in student performances, often offering more exciting and brilliant shows than official repertoires of accredited theatres.
You can see inspired eyes and find open hearts everywhere. Local beaches, which Odessa is famous for, are full of cute girls in bright swimsuits playing games or going through pages of magazines and books. You can make friends with locals who will be happy to show you around their beautiful city, and won't expect expensive meals or gifts.
But you definitely shouldn't trust everyone in Odessa: Use your common sense, or better still, your intuition.
Odessa's biggest love
Everyone in Odessa loves the sea. The ones who don't, simply don't live here. If the sea is not what feeds you, it provides relaxation and keeps you healthy.
There are plenty of beaches, as the city is stretched along the coast line. City beaches that belong to clubs have everything for comfort and relaxation. Sun lounges, swimming pools, bars — everything is first grade. But it all comes at cost, and such beach clubs charge sizable fees.
Free public beaches are also charming. They provide garbage collection, street vendors sell snacks, shrimps, kebabs, souvenirs, and all types of services, from massage to hair braids. However, these beaches are extremely busy.
To avoid crowds, beachgoers venture to wild beaches that are not maintained. It's possible to find a quiet little piece of shore hidden between large rocks not far from public beaches. This is where you may unexpectedly find people sunbaking in the nude, but if this doesn't bother you, enjoy the sea and the sun, without being constantly hassled by sellers of sweets or corn.
Watch video: Odessa beaches
Entertainment
You won't find a piece of empty land along the sea shore. If the place is not occupied by a beach, there is a bar or restaurant. The tourist season is from May to October, during which various establishments offer all types of entertainment to holidaymakers.
The most popular place in Odessa, after the historical centre of the city, is Arcadia. It is the playing field of the rich and location of the majority of elite clubs, which offer delicious food and cocktails, entertaining and dancing all night long, which may cost you exorbitant amounts of money.
It is also the place foreigners like to visit, so it's easy to meet an overseas guest and make acquaintances. The clubs are busy, the public is diverse, the dance floors and tables are tightly packed. Every Friday girls are preoccupied with finding a new outfit to go out to Arcadia on Saturday.
Watch video: Night Club Ibiza
Foreigners in Odessa
In Odessa you can meet people from anywhere in the world. Chinese, Vietnamese, Koreans, and Africans work at wholesale markets located just outside the city boundary. The 7 kilometre market is another type of sea, the sea of merchandise. If it exists, you can buy it here. There is a district of apartment buildings next to the market, purposefully built, and some foreign workers don't venture anywhere outside their little world.
Italians, Turks, and Arabs are usual visitors to the city. Typically they own clothing and shoes stores. Polish, Filipino, Italians, and Malaysian sailors come by boats. Russian and English speech is heard everywhere throughout the city.
Jobs
Most residents work in the service industry, shops, restaurants, cafes, and hotels. Educated people with degrees routinely select jobs in the service industry over working in their professional fields because government employment offers awfully low pay.
For example, the average salary of a bank specialist, a lawyer, a schoolteacher, or a medical professional is only $200-300. It is about the same as the price of good quality shoes or a pair of jeans.
People in Odessa like to dress well and prefer expensive brands, as well as good quality entertainment and food, aspire to buy expensive cars, and in general live a fine lifestyle. This is why most people try to find ways to get some extra income, often by cheating authorities or scamming tourists.
Positions at sea provide the best income of all the occupations.
Family life
An average family in Odessa has 1-2 kids. Affluent families rarely have more than 2 children. Usually families with many kids live in poverty.
The last decade saw the emergence of a new phenomena called aged mothers. Those are women who had their first child after the age of 35 or even after 40. It is nothing special in Europe, America, or Australia, but in Ukraine it's something novel.
The older generation of Ukrainian families is mostly of classic upbringing. Grandmothers are active participants of the childrearing process. Although there are some older women who hang onto their youth with the help of various cosmetic procedures, and are regulars at discos.
The city of contrasts
Odessa is the city of contrasts. Among the luxurious restaurants and boutiques with brand name clothing you can notice people living below poverty line. Some of them are homeless because of personal reasons such as alcoholism, but there are also city dwellers who are forced to live on minuscule incomes.
The Russian issue
The language is another contrasting issue. Odessa is mostly a Russian-speaking city. Ukrainian is mostly spoken by visitors from regions.
At the same time an anti-Russian attitude is prevalent. Maybe it's not supported by the distinct majority of the city population but definitely a sizable part of it.
The events of the last year demonstrated it by and large. As in all Ukrainian cities, in Odessa there were demonstrations in support of Crimea. Kulikovo Pole, the square close to the Central Railway Station, was covered in tents erected by supporters of a new proposed country, Novarussia.
The sad events of 2 May 2014 highlighted the separation among people. People say it were out-of-town activists brought to Odessa that were responsible for rampages, but it's surprising how many locals condoned the events.
Personally, I do not understand why Odessa residents believe that Europe needs them and think that acrimony with Russia will lead them to prosperity. It is a thankless and useless task to try to decipher influences of propaganda or how mistaken a certain viewpoint may be. But what is clear is that Odessa got seriously scared.
Heated arguments are abound even today, supporters of opposing viewpoints hold meetings (although numbers of enthusiasts have dwindled as compared to the times before May 2, 2014), family members cut off relations due to opposing political views, neighbours are wary of each other and prefer keeping to themselves, fearful of being reported to authorities.
Odessa in 2015
It may seem that things are not much different to what they used to be before, and Odessa avoided military activities, but the cold breath of war permeates everything. Many Odessa residents were voluntarily or against their wishes sent to the conflict zone; families fear bad news or celebrate when a husband, a brother, a son, or a father comes home alive.
Regular folk are on high alert for the news, and although Russian channels are banned, people still watch them. Residents share news and discuss the latest events in the kitchens of their homes. People only communicate with others supporting their viewpoint. Odessa, just like the rest of Ukraine, is divided into two non-contiguous parts.
Now it's spring in Odessa. It smells of newness, and souls are filled with hopes that Ukrainian skies will become peaceful, and the city may embrace the easygoing summer spirit once again.
And despite the catastrophically inflated prices, along with yesteryear incomes, vanished tourists and more criminal activity than ever, Odessa residents will do their best to enjoy life and carry on — because we are people of a special kind!
---
POEM
Early morning and late at night…
I will never drive away,
I will never walk away…
Because I love you so much
And so sincerely I love you!
If you were alive,
You would save my life!
Because you are my Odessa…
You are incapable of lying!
---
Read also:
>> All blog articles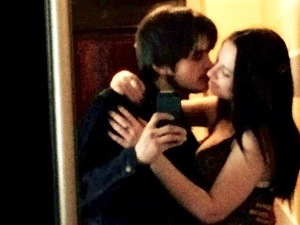 Share this article