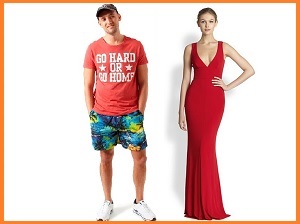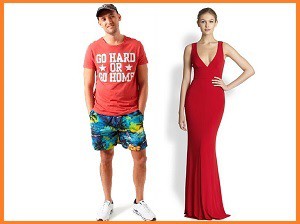 One reason why western men date Russian and Ukrainian women is because even a below-average-looking guy can meet and marry a really beautiful girl. It's true. In fact, a Russian saying holds, "A man should be only slightly more attractive than a monkey." However, there is a pitfall, which scores of men do not understand.
I get plenty of comments from ladies on my Russian blog. One theme that comes very strongly is that many western men who come to visit their Slavic girlfriends fail to make a good impression, because of one simple reason: They are poorly dressed.
Yes, guys, Russian and Ukrainian women may say "No" a perfectly good man only because they do not like your clothes. So, you may fly 10,000 miles to see her, and be rejected because your T-shirt had a hole or wasn't ironed. Actually, you may even be rejected for simply wearing a T-shirt.
What women think about your clothes
A girl wrote on my Russian blog:
"The first thing, I evaluate a man by his clothes. Once I had a date with a man who came in shorts and a T-shirt (which looked worn), but with a rose! It looked horrible… that was our first and last date."
Another Ukrainian woman asked for help:
"I have a personal question and it may sound silly. I understand about differences in culture, mentality, etc… But my boyfriend, he is American, arrived for our second meeting in a jumper that had holes… it would be OK if it was just a recent tear… but the jumper was really so untidy and torn on the sleeves that I was ashamed to walk around with him for 3 days, the rest of his clothes were also very old and worn. In our country you will never see a man who walks around in a torn jacket or shirt, only if they are homeless or extremely poor. I was feeling awful, but I could not find a moment or words to chat to him about his appearance. I feel it's simply disrespectful to look like this. Can you please advise how to tell a man about that correctly, as I don't want to offend him, so that he looks decent and doesn't dress so horribly when he is with a woman?"
I get similar messages all the time, those two are just examples. Russian and Ukrainian women want to like you but they feel deeply disappointed when you come to a date looking sloppy.
Why your clothes matter to women so much
You may think it's superficial, and I will agree with you, it is. However, before stomping your feet and thinking, "This is crazy!", consider this: Do you like fat girls? What if a woman whose picture you liked and enjoyed talking to her online, had 120 pounds extra as compared to the photos in her profile? Would you feel resentful?
This is how women feel when you arrive in a shabby T-shirt or simply not dressed well. They are instantly repulsed. It's similar how you may feel about a bad body odour, or picking one's nose in front of everyone, or a girl swearing all the time. Revolted. She may be a nice person but you just cannot step over this little thing.
Women's decision is not conscious. It is emotional. It's nearly like a physical feeling when you see rotten food or smell something disgusting. Most Russian and Ukrainian women take great pride in their appearance. They are brought up to take care of themselves and look pretty. If you arrive looking badly, they feel deeply insulted, like you don't care.
It's very simple:
You want a pretty girl.
She wants a man who is well-dressed.
In fact, with Russian and Ukrainian girls, even if you are not good looking and athletic but you are well-dressed, you will score better than if you were handsome but badly dressed.
What Russian and Ukrainian women like
Meeting fashion standards of Slavic ladies is simple: dress slightly more formal. Even if you wear a jacket, collared white shirt, trousers, and dress shoes for a walk in a park, they will not think that you are overdressed. They will actually feel good. They will feel that you care.
Instead of a T-shirt wear a collared long-sleeved shirt.
Instead of shorts wear long trousers.
Instead of sandals or trainers wear dress shoes.
Wear a good quality suit jacket.
Even if it's warm, you can take off the jacket and roll up the sleeves of your shirt. Your trousers could be light slacks or cool designer jeans. Traditional lace-up dress shoes (derby or oxford shoes), which usually are not very comfortable, could be replaced with brand name loafers or monk-strap shoes.
If you do not even know what these names mean, don't worry: you don't need to. Shop assistants in department stores do.
Why should you change your dress style for women?
I know what you think: dressing like this is less comfortable. Sure. For Russian and Ukrainian women, it also would be more comfortable to cut their hair short, wear no makeup, dress in sandals and track suits, don't shave or wax, and shower only when they feel like it. But they do things that are uncomfortable. They squeeze into pretty dresses, wash and curl their long hair, paint their nails, wear high heels, shave their legs and underarms, and use moisturisers and perfume. In short, they could be looking like ragged chaps but they take care and look like fair ladies.
The simple reason why you need to change your dress style when meeting women (even if you don't wear such clothes every day) is that if you don't, you cannot hope to find a Russian and Ukrainian woman who is very pretty. Beautiful women in Ukraine and Russia are used to care for their looks. This is why they care how you look, too.
You may think: But why do I have to do it, she is the one who wants an American (Australian, European) husband, she should simply stop being silly and get on with life!
Again, a valid point. Then you may also stop caring about women's appearance and just get on with local girls, regardless of their looks and behaviour. No, you can't? Why not? Well, she can't either. And it's so much simpler if you just buy new clothes, that will solve it for everyone.
You can find brands of clothes and shoes that are more comfortable than others. For example, Coach loafers look great and nice to wear (according to my husband), they are also pretty inexpensive. Some shirts feel more comfortable than others, and Calvin Klein, for instance, offers dress shirts that do not require ironing. The same is applicable to trousers and jackets. There are materials today that are very low-maintenance, and you can find some cuts that suit your body type and feel good when you wear them.
The last point
3-4 collared shirts, a couple of trousers, a pair of shoes, and a jacket will only cost you $500-700. At the same time it will cost you $1500-3000 to visit a woman in Ukraine or Russia.
It makes sense that if you are going to spend $1500 on travel it's worth to spend $500 on clothes beforehand, so you have a much better chance to be successful.
You don't have to buy top brands (although it won't hurt if you can afford it) — middle-price brands will do the job. A European brand that has taken the world by storm, Zara, offers latest looks for men that will melt girls' hearts, and is priced inexpensively. Today you can buy any types of goods online, so there is really no excuse for looking poorly.
For ladies from Russia, Ukraine, and the former USSR, when they see a well-dressed man it's like for you when you see a bit of cleavage and leg… it simply works wonders.
Tips
Take a stylish female friend with you shopping — offline or online.
Ask shop assistants to recommend brands that are comfortable.
Buy clothes in neutral colours that won't go out of fashion.
While you are at the shops, buy a cool perfume and antiperspirant, and remember to use them.
Shower 2-3 times a day when visiting a woman you are dating. Shave daily.
Have a clean shirt and deodorant with you in hand luggage, so you can change and freshen up on arrival, if a woman is meeting you at the airport. After 8 hours on a plane, you may not smell like roses.
Use breath freshener strips or mints. A pocket toothbrush may also be of assistance.
Remember: NONE of your clothes can be old or worn off, or have holes.
Your clothes have to be modern. 5-year-old outfits won't work. Simply buy new.
All these things are very simple. But the difference it makes in how Russian and Ukrainian women view you will be tremendous.

Read also:

>> All articles (in English)

Share this article