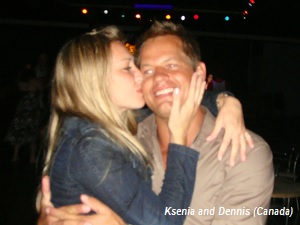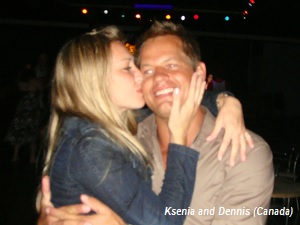 After you met a Russian girl online, sooner or later, you will want to see each other in real life. It's very simple and cheap to do yourself. There is no need to buy expensive organized tours to meet Russian girls.
In essence, you can either visit Russia to see her, organize a get together in a third country, or invite your friend visit you. Most men think that inviting the girl to visit would be the easiest option, however, in many cases women may hesitate to travel to someone they met online, as females are more vulnerable than males when travelling abroad alone.
Think of meeting your girl the same way as if you were in a bar with many men and women in one place. The one who approaches first has the greatest chances of leaving with her. If you are the first to visit your lady, and she is talking to 10-15 men online, most of them will never travel for a personal meeting. If you take a real step, she may be yours.
Meet Russian girls in Russia
If you decide to use this route, you have full control over your arrangements. Ask the Russian girl you are planning to meet about the best hotels that foreigners use in her city, and which ones are closer to where she lives. You do not need to visit for a long time, even if you come just for a long weekend, this will be enough for you to get to know each other, and better than spending weeks and months chatting online.
After your girl gave you a few hotel names, check them on sites like Trip Advisor, and review their rates.
Find cheap plane tickets. The easiest is to book your air travel online.
Confirm that your lady will be there and can see you during this time.
Book your accommodation.
Organize your Russian visa through sites like VisaToRussia.com.
Check our Facebook page for listings of the best local hotels and great places to take your date.
Meet Russian girls in a third country
The best places will be the ones that are not too far to travel for both of you. For example, if you live in Australia and she lives in Vladivostok, it's easy to meet in Bali or Thailand. If you decide to use this opportunity, ask your lady to check organized tours offered by travel agencies from her city, which are usually very reasonably priced.
Then book your own plane tickets and accommodation to be at the same place at the same time. Transfer money for her tour directly to the travel agency's bank account. Organizing your trip in this way may cost the same or less than when you visit Russia.
Invite Russian girls to visit you
In many countries ladies may have trouble getting a tourist visa but usually women from Russia, Ukraine and former Soviet Union can easily travel to Europe and Asia. If you live in one of these countries, this can be a great option. To assure your lady that you are a legitimate citizen, do a police check on yourself (you can order it online) and send her the results.
Also send her a link to Google Maps, so she can see your address and home. Send her a copy of your ID, so that she knows you are a real person. Talk to her parents or a friend online, for example, through video chat. Girls usually are happy to meet you but they are naturally scared of people who may not be who they say they are.
Read also: