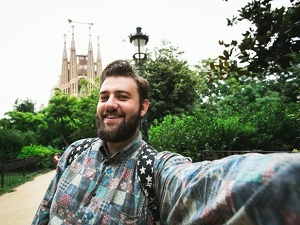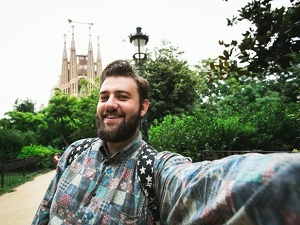 Being popular with the ladies is something no man can refuse. Even if you are not a stud, this article will help you to gain more popularity with women. If you take on board these tips, you will notice significant increase in your response rate and stop wondering why women don't answer.
When you are writing to a woman on a dating site, what do you think is the first thing she is looking at? Your photo, that's right!
Your primary photo is the most important, because if it didn't impress her, most likely, your mail or chat request will be instantly deleted. When she is searching the site, she will only open profiles of men whose pictures has caught her eye. Unless she opens your profile, she will not see your extra photos or read the text.
However, if your photo looks great, it's likely she will open your profile, and will be even forgiving of empty fields in your questionnaire.
If you think that Slavic (Ukrainian and Russian) women are only looking for passports, you are an idiot have been greatly misled by the media. That's not the case at all! If this were true, you would be getting hundreds of mails no matter what was in your profile. But that's not what's happening, and some men complain that they don't get answers to their mails. Most likely, your photo is the reason why!
This is why, if you wish to skyrocket your popularity with women, you need to start with your photo.
Even if you are young and great-looking, you can still get it wrong. But if you are older and average-looking, you need to really button up. Women's response to your photo is instinctive and instant. It only takes her 1/4 second to decide whether she likes you or not, and you won't get a second chance. So, read on.
What kind of photos are popular with the ladies?
I will not reveal a top secret by saying that we all like people that are likeable. You know what I mean. The type of people you see in TV commercials eating porridge or driving the latest car. Nice and clean-looking, with white teethy smiles, happy and relaxed.
Smile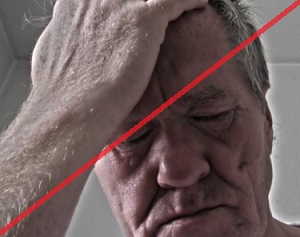 The emotion an ad conveys is more important than the actual looks of the people. They may be in fact quite average-looking but they are always likeable. That's the type of feeling you want your photos to convey!
Working in the dating industry for 15 years, so far I have not met anyone who would prefer angry-looking people to happy ones. If you are unable to smile nicely even for a photo, this is not a good signal about what happens in your life and mind. Simply put, you must have a picture with a smile.
Dress nicely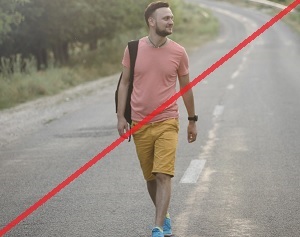 The way you are dressed is also very important. Imagine this were your first date. How would you dress? Most likely, you'd wear "smart casual" style clothes, the way you dress when going for a dinner in a fancy restaurant. This would be the best way to dress for your photo on a dating site. A white collared shirt, dress pants, leather shoes, may be a tie or a jacket. You know the drill.
Shorts, trainers, and T-shirts look too casual for a dating site's profile picture. Even if you are young, use such pictures only for secondary photos, if at all. If you are older, most likely, such photos won't flatter you, unless you have an absolutely stunning body. In this case, feel free to include photos showing your body in a respectful and appropriate way (for example, in a gym or playing sports).
Clean background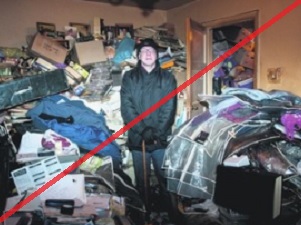 The background of your photos affects the immediate emotion they produce. Water, blue seas, waterfalls, and lakes have a clean and powerful feeling to them. Blossoming flowers are sweet. Mountains are grand. Limitless plains make you think of eternity and openness.
Look at a picture of any scenery and evaluate your feelings. If you have your face or body in front of this scenery in the photo, these feelings will rub off onto you, and the woman won't even realize how. Nature is always great for a background, and outdoor pictures usually have better lighting. But make sure the background is not too busy and your face is still the major focal point.
Look in the camera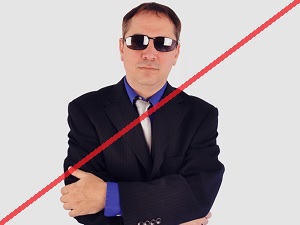 It's important that you look in the camera and not away on your primary photo. This way women feel like you are looking at them. When you look away, you appear disinterested and distraught (unless it's an action photo of your doing sports etc).
Try to avoid glasses, both clear glasses and sunshades. Sunshades make you look like you are trying to hide something. Clear glasses prevent viewers from seeing your eyes. Watch your body language. Crossed arms make you look closed up.
Lighting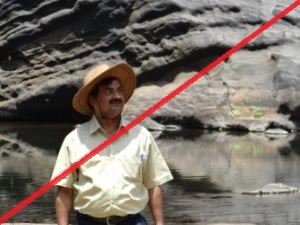 Dark or shadowy photos look gloomy. It's hard to see your eyes and facial expression. Photos made indoors often suffer from poor lighting.
When making photos, the light should be in your face, not coming from behind, to avoid shadows and dark circles under your eyes. Use flash if necessary, even outdoors, to make your face look brighter. Take a picture with a flash and without, and see which looks better. Hats and sunglasses are also preventing viewers from seeing your face properly.
Friend or tripod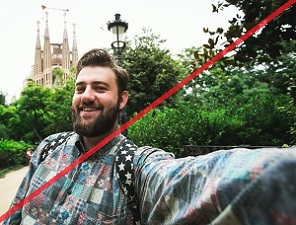 Selfies are cute but only for your follow-up conversations, not the primary photo in your profile on a dating site. Having only "selfies" in your profile makes women wonder if you are a loner, and have no friends that you can ask to take a picture of you.
If you indeed have no one to take a photo of you, then buy a tripod and use the time-delay function in your camera. If you have no camera with the time-delay, borrow one from a photo shop, or hire a freelance photographer. There is no excuse for selfies with a stretched out arm on a dating site!
It's in the cut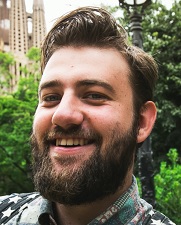 The cut of your photo is essential. Using a simple graphic editor such as Paint, which is a part of the standard Windows package, you can cut off any excessive background on your photos, to make sure your face is the most prominent thing in the picture. Even the selfie above could be cut off to size, so that it can be utilized for your profile (I used Paint to cut this photo).
The best primary picture for your profile is a portrait where your face is clearly visible. Because photos are made smaller for the gallery results, it's very hard to see your face on resized photos unless it's a portrait. Secondary photos can feature you full-length, because women will view them already on your personal page in a larger size.
Becoming popular with the ladies: practice time
Let's consider a few photos as examples, so that you can better understand what I mean.
Let's start with the selfie that we have already seen a couple of times.
Why is it bad?
For starters, selfies with a stretched out arm look lame in your profile on a dating site.
When such a photo is resized automatically for the gallery results, you can hardly see the face of the man. See how much smaller it's going to be?
The shirt has some busy pattern to it, distracting from your face. This busy pattern is still visible when we cut the photo up to the shoulders, although you can see how much better the portrait photo would look in the search results on the site.
The background is quite busy with both greenery and the building, distracting attention from the face. Imagine the same face on a lighter background, it would look tons better! (I gave it a sky-blue background and a white shirt. In search results, it would stand out stronger.)
The difference is quite stunning, right?
Which one girls would click on, what do you think?
By the way, the guy is good-looking and young. It's exactly the same photo. But you can see how much better it could look if the rules above were adhered to.
Let's check a few more pictures.
| | |
| --- | --- |
| | This picture is bad, because the man definitely doesn't look his best. Being an older man, he would need better clothes, smile and seat differently. Having someone else's arm in the photo is poor taste. |
| | This photo is bad, because of how we feel looking at it. Remember, the emotion comes first. Women are not looking for a clown. You can send a photo like this later to a woman in your personal correspondence as a joke, but don't use such pics as the main profile photo. |
| | This photo is bad, because the man doesn't look in the camera, looks sad and unhappy, and has bad body language. If he smiled and took off his glasses, and uncrossed his arms, and looked in the camera, this photo might become good. |
| | This photo is bad, because of the man's facial expression. He looks angry and unhappy. If he smiled happily, this photo would be good. |
So, how to take a good photo?
Dress nicely, may be try 2-3 different outfits
Ask a friend to take photos of you
Take lots of photos! Choose the best
Smile! Happy-looking people get happy outcomes
Here are some good photos, and why they are good:
| | |
| --- | --- |
| | This photo is good, because the man is dressed casually but nicely, he looks in the camera and smiles happily. Any girl would be happy to chat to him on a dating site! |
| | This is how this photo could be cut for the primary photo. You can upload the same photo twice in your profile: one cut as a portrait, and the other one full-length. |
| | This photo is good, because the man is smiling, looking at the camera and dressed neatly. He is older and may have a couple of extra pounds but you cannot see it in this picture. The background is clean, which makes him the focal point of the photo. |
| | This is how his picture would look cut to the portrait size. To me, it's even better! |
Now you understand what kind of photos you need for your profile. You can make a selfie at first and cut it, so it doesn't look like one.

But if you want the best results you can get (and I don't see a reason why not), have some photos made specially for the dating site.

It will skyrocket your popularity with women, no matter how you look and how young you are!

>> See all BLOG articles (in English)

Share this article