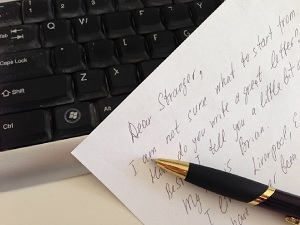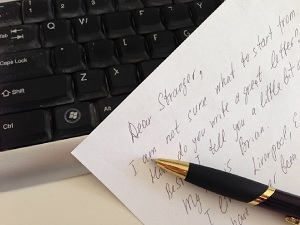 If you wonder how to write to a woman on a dating site for the first time, or what to say in your following letters, this article will help you improve the quality of your messages and your overall response rate. Clearly, writing to a woman on a dating site is different to the way people usually compose letters.
Steps
Before writing to women, do a search according to your parameters (age, education, presence of kids etc). Add the women you like to your Favourites on the dating site.
Read their profiles carefully, including partner requirements. If you feel you match her criteria, you can write to this woman. If you do not match most of her requirements, or you don't like something in her profile, delete her profile from your Favourites.
Arrange profiles in a priority order. Write to the top 10 women in your list first. To all other girls simply send an Expression of Interest. If they respond positively, you can email them later. (Platinum membership is the best option to make it work, because it gives you unlimited contacts and you can also download women's direct email addresses and phone numbers.)
Check how your profile looks for other users (the link to your profile is on the right panel of the Home page when you are logged in). Make sure you have a clear photo with a friendly smile where you are dressed elegantly, all fields are filled in, and it sounds positive and optimistic. Women look at your profile when they decide whether to answer you or not.
When you are happy with the way your profile looks and sounds, select the woman you like the most and read her profile again. Write down 3 key points from her profile that you have in common, or the ones that are the most important for you.
Compose a message in a text editor, such as Word, highlighting these 3 key points from her profile. For example, if she likes dogs, you can write about your having a dog, preferably something fun and light. If you can make a girl smile while reading your message, she is more likely to respond positively. Remember to keep the tone light and optimistic.
How much to write to a woman for the first time depends on the length of Message in her personal profile. If it's long, write more. If it's short, write less. The ideal length is about 10-20 lines of text.
Proofread and edit your message to ensure it has no spelling errors. Save the file in a separate folder, so you can re-use it, if necessary. Copy and paste the text into the message box on the dating site. Include a greeting with her name to make it personal. Attach a photo to your message that matches the mood of her profile and photos. Check everything once again and send (there is no turn back once the letter is sent).
Do the same for all other women in your top 10. Wait for their responses before writing back. If you see that the lady has logged in to the site but she hasn't responded to your message, you can send 1 short follow-up message after 3 days, asking her if she has received your mail. If she doesn't respond after that, assume she is not interested, and move on.
In your following correspondence, write about as much as she writes, and keep it positive. In each message, discuss something she said in her message, tell about happenings of your daily life, and ask her a question. Good things to talk about are your and her country, daily and professional life, family, world events, and cultural news.
After exchanging 3-4 letters with a woman, ask her if she would like to chat, and if she agrees, send her a chat request. You will be still writing to each other from time to time, so follow the same scheme, maintaining optimistic and positive outlook.
Warnings
If your profile and photo are not looking presentable, it's better to wait with writing to women. Edit your personal profile first and then write, otherwise you may be disappointed with your responses.
Always check the message before hitting the button "Send". The whole relationship may be over if you use a wrong name.
Do not talk about scams, scamming or problems in dating women online and in real life. No one wants to communicate with people who are angry and suspicious, or have a lot of baggage. Avoid innuendoes and problematic issues. It is a dating site, not a discussion board.
Communicate through the dating site until you feel comfortable with a person. Immediately sharing your personal details, such as email addresses or phone numbers, may expose you to people who are not who they say they are.
Always create your letters in a text editor, such as Word. It helps you avoid spelling errors, which make you look sloppy, and you won't lose a carefully crafted message by hitting a wrong button, or if you have been logged off the site because of a long period of inactivity.
Do not send exactly the same long letter to all women. They know it's a copy-paste. Better compose a short but special message that relates to her personal profile.
Tips
Make sure that you are writing from your heart. Women can feel it.
After exchanging 2-3 letters, write a short poem or draw a picture just for her. She will appreciate it. Don't do it for the first couple of letters, as it would seem like you were trying too hard.
Upload new good-looking photos to your profile and attach them to your letters, as your communication progresses. Ladies like looking at photos as much as men.
If a girl suddenly stopped writing to you, it's OK to send 1-2 light and friendly follow-up letters if you see she is still logging in to the site. If she doesn't log in or doesn't answer you even after 2 follow-up letters, it means this connection didn't work out. Try to write to another woman.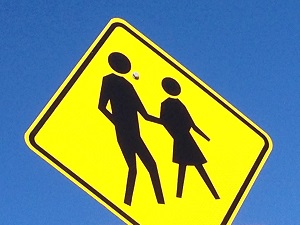 Read also:

>> See all BLOG articles (in English)

Share this article