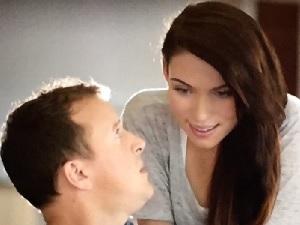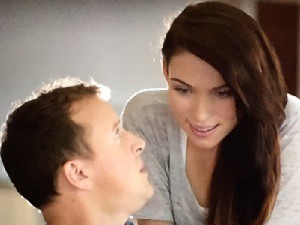 From time to time I read in online forums about Ukrainian women who take their foreign boyfriends shopping as soon as they arrive to meet them for the first time. Most guys are taken aback when a woman they communicated with for weeks takes them to a department store and expects them to pay hundreds (or even thousands) of dollars for clothes and "presents" for her.
I have mentioned this type of situations before on my blog and responded to men's questions about it, but it bears repetition.
So, what should you do if a Ukrainian woman you are dating asks you to go shopping? (Or in some cases simply brings you to a store and expects you to buy her heaps of merchandise.)
Here are a few things you need to know.
There is no custom in Ukraine or Russia for a man to go shopping with his girlfriend when they are dating
As in any culture, once a couple starts dating, a man may give small gifts to his girlfriend such as flowers or boxed chocolates. When they progress to a full-blown intimate relationship, he may give her small pieces of jewellery or other once-off little presents, travel together etc.
However, no Russian or Ukrainian man would ever take his girlfriend to a department store for a "shopping spree". Girls and boys spend time together, talk, cuddle, go to movies, walk hand in hand — but they don't go shopping for clothes, bags and shoes. (Read our real life love stories.)
If your lady says there is a "custom"  in Ukraine/Russia for a man to purchase lots of presents for his girlfriend, she is making it up, and her interest in you is purely materialistic. A lady who is serious about you will not want you to think she is being money-oriented.
This is what good, genuine women think about it:
For me it is awful when a woman asks a foreigner to go shopping to buy things for her! There is really no such custom in Russia or Ukraine! It is OK when guys pay for a woman in a restaurant, cinema or museum, but not for purchases! Russian or Ukrainian men do not do that except that they want to buy a present for their beloved. But that is a different situation. I think there are such women in every country and it is very important to identify them from the very beginning before the feelings are deep enough.
Ukrainian and Russian men would walk away if a woman took them shopping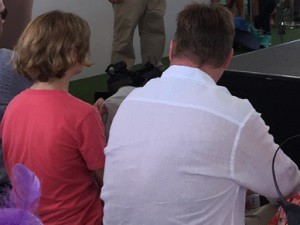 If a woman took a Russian or Ukrainian man to a store and asked him to buy her clothes and gifts, he would simply walk away. If she told him she wanted to go shopping, he would wait for her in his hotel or cafe, and read a newspaper or surf the Net while she was in the stores. He would not be walking around with her paying for her purchases.
Sometimes a couple may go shopping together when both of them need to purchase something, or when he needs to get certain things and wants her advice. Otherwise women go shopping for clothes with their girlfriends or alone.
What to do if a woman takes you to shops and asks to buy her things
First of all, realize it's perfectly acceptable to say, "No" to anything you don't feel comfortable with. Be ready to say, "No" in a nice way.
For example:
Sweetie, I am not really into shopping. You go and I will just have some coffee here. How long do you need?
You expect me to pay for this? Honey, when you are my wife, I will buy you the moon and the stars. But right now we are just getting to know each other.
If I wanted to buy love, I wouldn't need to travel this far.
OK, you want me to pay for this, right? What else do you plan to buy? Let's make a list. How much money would all these things cost? So, you say it's a custom for a man to buy this much stuff for his girlfriend? Let's ask some people here…
Nice stuff. Honey, we'll buy you even better things when you are in my country and we are married. Just not today. You know as they say, good things come to those who wait.
Sweetheart, I don't believe in buying love. I don't want my wife to marry me because I bought her gifts. I want my wife to marry me because she likes me and wants to be with me.
Darling, if you are looking for a relationship and love, I am your man. If you are looking for gifts, I am not. I am not greedy. I am simply experienced and wise. You are sweet but if all you want from me is gifts, we are both wasting our time.
Baby, gifts are made from the heart. If I feel like this, I will buy you gifts. Right now it's not how I feel.
My love, I want to spend time with you and not at the shops. We only have a limited time together now. We'll have a lifetime to shop together later.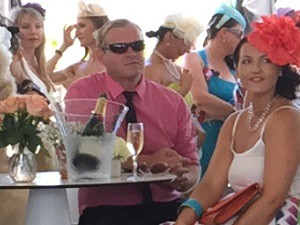 Say it calmly and happily, as if you were rather delighted, in a compassionate, light-hearted way. Don't sound offended and angry but rather amused and easygoing, as if you were talking to a mischievous child. She is trying to pull a trick on you, and you aren't buying. Treat it as a test. You are playing chess or checkers, and she made her move. Now, you make yours.
If she gets upset and doesn't want to see you again, saying she doesn't like "greedy" men, she was never really interested in you.
Women don't like and do not respect men they can trick into anything. They like and respect men who know what they want and are not easily manipulated. If she really likes you, she will admire your calm but firm attitude.
How to avoid women-shoppers
Usually the situation with a woman wanting you to pay for her shopping spree arises when you meet in person. Prevent it from happening.
Make plans in advance what you are going to do when you meet, day by day.
Ask her if she wants you to bring her some things from your country. If she gives you a list of many things she wants, she is interested in things and not in you.
If she goes to a shop to try something on, ask her with a sweet smile, "You are not expecting me to pay for this, are you?"
Before visiting a woman in her home town, upgrade to Ultimate or Platinum membership, so you can contact other girls from the same city, if you have a problem with the lady you are visiting (you may not be able to pay online by card when you are in Russia/Ukraine). This way you can get direct phones/emails of women instantly on Elenas Models site. Search the site beforehand and add potential candidates to your Favorites. Some new ladies will join as well, and you will be able to contact them, too. Having a backup plan will make you more confident and relaxed. If you decide to contact other girls when visiting, simply tell them the lady you came to see only wanted to go shopping. This will weed out any potential "shoppers".
If you have a great chemistry with your lady and you are confident she is genuinely attracted to you (see 3 signs that she really likes you), feel free to make a present from the heart. But only do it because you want to do it, and not because she asked for it or in an attempt to buy her affection.
A western guy living in Odessa, Ukraine, pointed out: "Do NOT be afraid to lose a girl… and NO shopping, do NOT let her pick the restaurants and so on… quickly FEEL if she is looking for ALL she can get from you."

This sums it all: is she after what she can GET — or is she with you because she wants YOU? Asking for presents is definitely a red flag. How my husband said after we had been dating for a few weeks: "You don't need anything from me… you just need ME." (He did give me gifts. But I never asked for them.) This is how you want your lady feel about you.

Read also:

>> All articles (in English)

Share this article