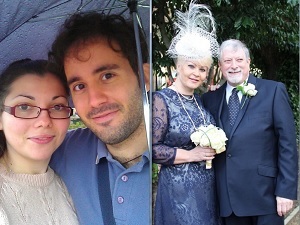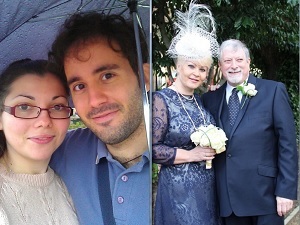 Our conscious life starts in our teens, and since then we always want to be loved and have a partner. It's great to be with a loving partner and know she really likes you.
This week we received 2 stories from 2 very different couples, which prove the point that no matter what is your age, you can find someone to love.
Anastasia and Stefano (left) are still in their twenties. They met earlier this year and since then enjoyed a lot of travelling through Europe together. Now it's the stage of "meeting the parents" before anything else shapes up.
Galina and George (right) met on Elenas Models, and for them it was probably rather about "meeting the kids" before their wedding. They happily live in England, UK.
Am I too old (or too young) to find someone to love?
Sometimes men feel they are too old or too young to meet a woman who would love them. Truth is, there are ladies of all ages on our site who want to meet a partner. If you do a search, you will definitely find someone who is looking for a man of your age.
A word of warning though: some men feel they should be going for the youngest lady they can find. Yes, many younger women put very broad age requirements in their profiles, because many girls don't really know what they are looking for (the same as guys).
Think it through before you jump heads on into a relationship. Remember, you will be the happiest with someone who genuinely loves you and wants to be with you, rather than with someone who you had to trick into marrying you.
How do I know that she really likes me, and not just looking for a passport?
You might have this worry in the back of your mind: what if she is simply looking for a passport, and doesn't really love me? Well, if you lived your life to this age, and still think you may not be able to recognize when someone genuinely likes you from a person who pretends, it is a worry indeed. Because it's very simple to tell.
How do you know when a person you are talking to likes you?
How do you know when a person you are talking to doesn't like you?
It's pretty easy to tell, right?
Someone who likes you happily smiles at you when they see you, and the ones who don't like you have a slight sign of contempt and look unhappy.
If you move closer to the person, the one who likes you also moves closer to you, and the one who doesn't like you moves away.
If you are not a self-absorbed egoist, you know if she really likes you or not. Her behaviour is the first sign. Trust the behaviour, not the words. Most people have trouble putting their feelings in words, and many good women believe a girl should be modest. Which means, don't talk about her feelings for a man first. If a girl talks a lot about feelings but doesn't prove it with her behaviour, then she doesn't really like you.
The second sign of a woman who is truly in love is that once you have crossed the boundary of intimacy, she wants to make love to you all the time. If you had been intimate once and she doesn't want to do it again, and you have to beg her, she doesn't love you. This is an easy way to figure out if the woman you are dating is truly in love with you.
The third sign: listen to your own feelings. Are you happy with this person or worried deep inside? Even if your worry isn't founded on anything, she will feel it, and it will tear down your relationship over time. This is why tricking someone into being with you never works — you are always afraid to be found out.
Remember these 3 signs:
Her behaviour
Intimacy
Your own feelings
Pay attention to these 3 signs that she really likes you, and you will definitely find someone to love!

Read also:

>> All articles (in English)

Share this article