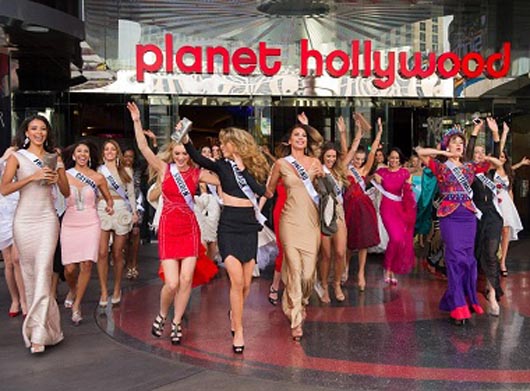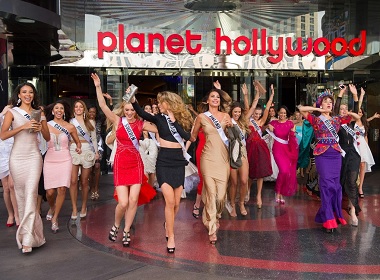 The next weekend will see the most gorgeous girls of the planet competing for the right to be called official international beauty queens: Finals of the pageants Miss World and Miss Universe 2015 are held on Saturday 19 and Sunday 20 December 2015, in China and the USA. Hundreds of millions of people around the globe will tune in to see the live shows.
Four stunning Slavic girls from Russia and Ukraine will walk up the stage with the hope to get a prized crown. Let's find out more about them.
Miss World 2015 — Sanya, China, Finals 19 December
Russia: Sofia Nikitchuk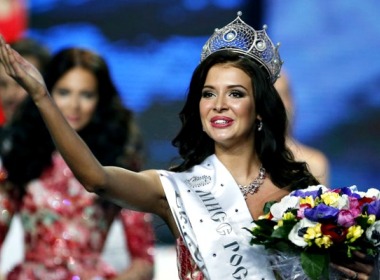 22-year-old Miss Russia 2015 Sofia Nikitchuk from Yekaterinburg will represent her country on the stage of Beauty Crown Grand Theatre in Sanya, China, in the finals of Miss World 2015.
Her father is an army officer, and the mother works in the medical field.
Gymnastics and dancing were the earliest steps of little Sofia to the future crown of the first beauty of Russia.
Parents were treating Sofia as a little princess from the early age and spending a lot of time with her, KP.ru reports.
Her mother even told her once that one day she will have her very own crown — the faithful prediction that came true in 2015, when the young brunette was voted the queen of Russian beauties.
Sofia moved to Yekaterinburg several years ago to study at the Ural Federal University.
It was during her student years that Sofia signed up the contact with a model agency and took part in her first beauty pageants. She has done modelling for print and TV.
The sweet Russian lady is not only exceptionally pretty but also smart: In June 2015 Nikitchuk graduated from the University with distinction. Her specialty is management of human resources.
The winner of Miss Russia 2015 dreams of a career in the movies but right now plans to study psychology. She believes that the career of a model is too short to fulfil her ambitions, and would only last until she is 30. She feels that the motion picture industry may offer a better professional longevity.
Predictions: One billion viewers will be watching Miss World 2015 finals, Pageantsnews.com states. They put Miss Russia in the top 15 contenders who may have the best chance of scoring a place in the Top 6. 114 contestants are listed on the site of Miss World. With China being the host country, the Russian beauty queen is likely to reach semi-finals, although her chances to get the top crown seem rather remote, given the success of other contestants during preliminary challenges. Sofia is a part of top 30 in the Top Model challenge but hasn't scored in any others. We'd still take a bet on her in Top-12.
Sofia Nikitchuk online:
Ukraine: Khrystyna Stoloka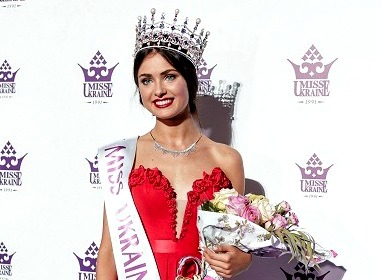 The winner of Miss Ukraine 2015 18-year-old Khrystyna Stoloka was born and lives in Kiev.
Other spellings of her name: Kristina, Kristyna (Russian: Кристина; Ukrainian: Христина).
The father of the beauty queen works in construction, and the mother is employed in the beauty industry. In her interview to KP.ua, Khrystyna said that her mother always told her she was beautiful, even though until Grade 9 she wasn't getting attention from boys and didn't think she was attractive.
It was her mom who inspired the future beauty queen to join a gym. As in real life fairy tales, she was approached at the gym with an offer to become a model.
Khrystyna is a student of the department of finance in the National University of Food Technologies in Kiev. In her spare time she enjoys horse riding, dancing, and surfing. Regular gym exercise helps her keep in shape.
To gather her willpower before the finals of Miss Ukraine Stoloka used mediation, the skill that she would recommend to everyone needing to calm down and perform at their optimum level. The night of her winning the Ukrainian crown, she had a dream of seeing herself on stage with her name called as the queen.
Stoloka dreams to create her own fashion clothing line, to make dressing up more affordable for locals.
Stoloka is single and doesn't have a boyfriend, according to press. The reason for that is the lack of time. Miss Ukraine 2015 said in interviews that she doesn't believe in waiting for her prince, and feels a more active attitude is what's needed in search for love. She thinks that after the age of 20 is a good time to get married, and doesn't believe in delaying a family until 40.
People who know the pretty young brunette say that she is highly motivated and capable of achieving her goals.
Predictions: Stoloka may be just too young to get recognition of her talents. She didn't score at any challenges so far: top model, sport and fitness, and designer dresses. We'd love to see her in Top-12, but there is a lot of worthy and experienced competition to beat.
Khrystyna Stoloka online:
Miss Universe 2015 — Las Vegas, USA, Finals 20 December
Mis Universe 2015 finals will take place in Planet Hollywood club in Las Vegas. The previous finals of Miss Universe took place on 25 January 2015, where Ukrainian Diana Harkusha took the title of the second runner-up. So, this year the competition is taking place twice, in January and December, which certainly creates some confusion for the followers and organizers.
The preliminary show will take place on Wednesday 16 December.
Yesterday Miss Universe Facebook page passed 3 million likes mark, making it the most followed beauty pageant, which contestants celebrated with a lively video posted online, featuring the reigning queen Paulina Vega and a bevy of current contestants. (Miss World's Facebook page is liked by 2,25 million people.)
Russia: Vladislava Evtushenko
Vice Miss Russia 2015, 19-year-old Vladislava Evtushenko from Chita, Siberia, is representing her country on Miss Universe 2015 in the USA.
Evtushenko dreamed of a modelling career since she was 11. Athletics, dancing, and tennis prepared the girl to the highs and lows of wins and losses, typical of beauty pageants. Vladislava said she has interest in psychology and enjoys self-improvement.
She is a student of the department of Russian language and literature (Philology) of the Moscow University of People's Friendship.
She moved from Siberia to Moscow after winning the title of Vice Miss Russia, the fact that no doubt had a positive influence on her career as a model. It might have also influenced the organizer's decision to send her to the USA to showcase her country in the world's beauty contest, as opposed to Ural-based Nikitchuk.
Evtushenko's appearance on the Vegas stage is a fluke of organization: Russian winner of the title usually represents the country in both Miss World and Miss Universe. However, this year with the dates of the two contests coinciding, the first runner-up got the chance to become #1 in the world.
It is the first year that Miss Universe competition is organized by joint efforts of William Morris Endeavor and International Management Group. The new management of The Miss Universe Organization took over the patronage of Donald Trump, the notorious presidential candidate making worldwide news headlines daily.
Recently surfaced online sexy photos of the Russian runner-up might have assisted her in getting tickets to Las Vegas instead of China People's Republic: Miss World is considered to be a more conservative competition, while Miss Universe contestants are known for taking a bit of risk.
It might be that sensual photo sessions gave the chance to the Siberian-bred brunette to show off her assets in the live broadcast to millions of viewers planet-wide on FOX.
Predictions: Online commentators put Vladislava on the short list of contestants who might have a shot at the top crown of Miss Universe 2015. However, the majority of attention pre-finals has been pulled by Latina contestants, as well the lovely Miss USA, who is doing wonderfully in her home country (last year Miss USA took the title of the first runner-up). It seems with the lack of appearances in pre-show photos and promotional materials, Miss Russia may not be one of the favourites with the organizers, and unlikely to make the Top 10. We'll hold our fingers crossed but won't place our bets on her.
Vladislava Evtushenko online:
Ukraine: Anna Vergelskaya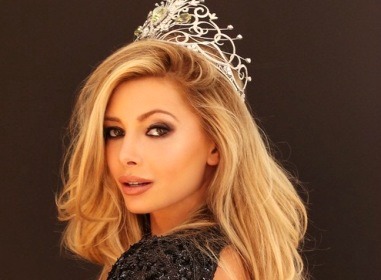 This year Ukraine sent Kiev resident and model Anna Vergelskaya to represent her country in the Miss Universe 2015 pageant.
How old is Miss Universe Ukraine?

One of these places should be wrong.
The issue of the precise number aside, she is obviously older than the majority of contestants, and therefore more experienced.
The pretty blonde has been educated in management of international economic activities and intends to continue her involvement in this sphere.
After winning the title of Miss Universe Ukraine, she said about her intentions to give her attention to social projects, directed at reconstruction of churches and historically important objects, as well as put emphasis on ecology, RBC.ua reported.
Her main hobby in spare time is drawing. She also enjoys horse riding and scuba diving. Ice skating, skiing, and playing volleyball are among the things she mentions on her Miss Universe page. Her favorite book is Bible.
The Ukrainian contender for Miss Universe 2015 crown believes that it is important to be able to demonstrate on the stage not only good looks but also the internal beauty of the soul, to be able to show people who she really is.
Talking about her dreams for the future, the Ukrainian Miss Universe 2015 said that she wanted to have a happy family with 2 children, an older boy and a younger girl. Anna would like to see an honest and decent man by her side, as she cannot stand lies and pretence.
She is sharing a room with Miss Georgia at the Las Vegas hotel, and the two girls became friends.
Predictions: The gorgeous Ukrainian blonde has been quite prominent during pre-competition filming and photo shots, and has been put on the short list of girls who have a chance to appear in Top 10 by some online commentators. But she is 26 (or maybe 27) and only 5'7″, so her chances on scoring the 2015 Universal crown are doubtful. She is also pretty slim, and the last years fashion tends to favour girls with some curves. Hopefully, she is able to achieve a place in the top 10, if things work for her on the day.
Anna Vergelskaya online: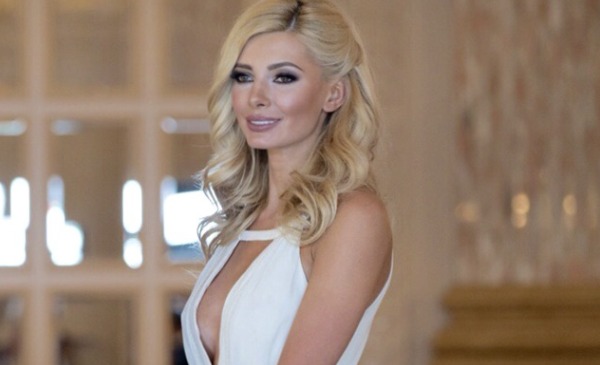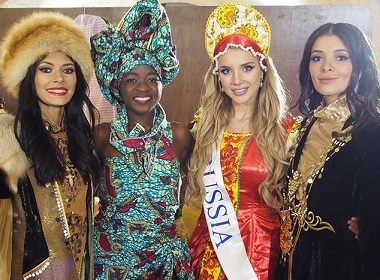 Read also: