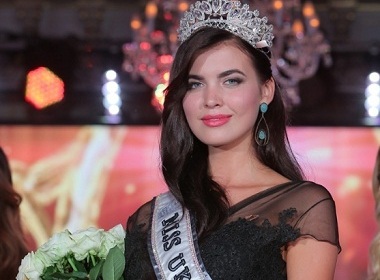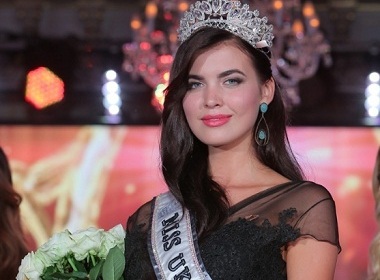 18-year-old Crimea-born Aliona Spodyniuk became the 2016 Miss Universe Ukraine. The final of the beauty pageant was held in Kiev on June 25, 2016.
This year's contest was different from all the previous ones. 15 beauties were chosen out of 300 contestants in Kiev during a special casting call. Any girl could enter herself.
The final event was closed to public as the organizers decided that it was not a proper time for grand shows. The contest took place in a luxurious Fairmont Grand Hotel. It was attended by celebrities and special guests, former Miss Universe winners, KP.ua reported.
The contest judges with the Swedish singer Bosson among them were impressed by the beauty, talent and intelligence of Kiev resident Aliona Spodyniuk.
26-year-old Yulia Hershun from Dnepropetrovsk was the 1st runner-up, 25-year-old Yulia Zakharova from Kiev became the 2nd runner-up.
Aliona Spodyniuk, 2016 Miss Universe Ukraine
The newly crowned beauty queen answered questions of KP.ua. She disclosed that she was sick on the day of the final with a cold but managed to pull herself together and win. Miss Universe Ukraine 2016 is planning to be a TV presenter and had been a member of Ukraine's Olympic reserve youth handball team for 3 years. She moved from Crimea to Kiev and she is a first year university student. She has 2 dogs, one of which she took off the street. And she is not a model!
Aliona, you are the most beautiful girl in your country. How does it feel?
It's an unforgettable experience and quite unexpected because I'm the youngest contestant. Probably it was harder for me than for the other girls.
Did you have a feeling that you'd become the winner?
Yes, I had a dream that I had been interviewed and there were a lot of people around me. But I did not know why it was happening. I realized what the dream was about when I was crowned on the evening of June 25.
Is it the first contest you participated in? Why did you decide to take part in it?
I saw an advertisement and decided to try. I was 18, so I had the right to apply for the casting. I did everything myself.
Were you confident in your beauty?
Every girl who's going to the casting feels confident.
Do you work at a modeling agency?
No, although I had some offers. I had to refuse because I was seriously engaged in handball.
Can you say that the sport taught you to believe in victory and endure physical tests?
Sport gave me strength, tolerance, endurance, and self-confidence. I admit that the hardest thing was to get myself together. I caught a cold because of the air conditioner on the eve of the final contest and I had a fever. I felt really unwell, but thankfully I was able to pull myself together.
How many years have you dedicated to handball?
I've played handball for 5 years. Besides, I played in the Olympic youth reserve of Ukraine for 3 years. I'm very proud of my achievements in sports although this period was not long.
Why did you leave handball?
I could make a career in handball but I think that it's not a feminine sport. It's quite traumatic and requires a lot of physical strength. When I got injured for the first time, I made a decision to get a good education instead.
Aliona, you are from Crimea. From where exactly? Was it hard to move to Kiev?
I am from Sevastopol. My decision was logical, as I spent most of the time in Kiev playing sports. I lived in an athletic boarding school in Kev. And now I'm going to study in the Kiev National University of Culture and Arts. I want to be a TV presenter.
You are only 18 years old. Is it good to be young?
It's very cool. It's a wonderful age for starting something new, like a career and the right period for setting life goals.
Aliona, our readers would like to know your beauty recipe.
I'm young and have no special beauty recipes. I think the most important things are healthy eating and regular physical activities. As for me, I go to fitness and gym.
And what's about your diet or bad habits?
I try to avoid eating fast food. My diet is rich in vegetables, fruit, and juice. I do not smoke and do not abuse alcohol. I am against everything that is bad for health. I am a sportswoman and therefore I've always been for a healthy lifestyle.
At what time did you get up this morning?
At five. I have two dogs — a Doberman and a Dalmatian. They want to walk every morning, and it's up to them to decide at what time I have to get up. Sometimes it's 4 am and sometimes they let me sleep until 7 am.
Do you run with them?
We walk a lot — from 5 to 10 km (3-6 miles) daily. My dogs help me to keep fit. By the way, I picked up the Dalmatian on the street and now he's my best friend.
You are very beautiful. Do you look like your mom or dad? Who are your parents?
My father is a civil engineer, and my mother is a chef. I think I look like my mom. But I am the first tall girl in my family. I think it's because my father is tall. My father's is 195 cm (6'5″) tall and my grandfather is 190 cm tall (6'3″).
Did your mother teach you to cook?
Yes, we cook together since my childhood. I am very grateful to her for teaching me how to cook. My signature dish is Napoleon cake. I do not eat it but I can make it for somebody. My grandmother and I even improved the classic recipe.
By the way, did your grandmother give you any advice about life?
My mother and granny have always taught me to be modest. They explained to me that a good woman is the one who keeps silent. So I know that it's best to say nothing at times.
Aliona Spodyniuk will represent Ukraine at the international beauty pageant Miss Universe 2016, which will be held in Paris, France, according to Wikipedia. For a change, Miss Universe competition is going to be held in Europe this year, after many years of American-based shows. Last year competition was held on 20 December. The date and the venue of the contest for 2016 haven't been announced as yet.
Photos: Missukraineuniverse.com.ua, Facebook Miss Universe Ukraine, KP.ua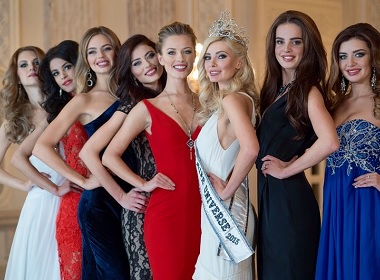 Read also: