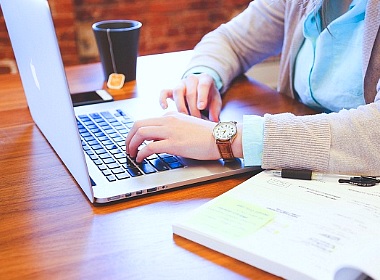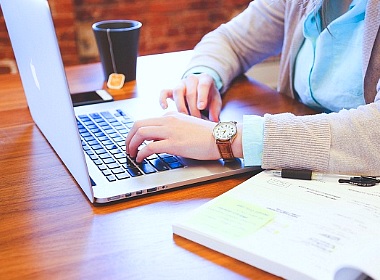 Recent survey by employment portal Head Hunter Ukraine shows that 68% of job seekers would take a freelance opportunity. 16% of applicants would like to work from home as full-time freelancers, while half of Ukrainian workers see it as a way of complementing income from a full-time occupation.
Freelance in Ukraine: Why people choose to work from home?
The majority of Ukrainians still want to build a career in the office, even though they could be earning more by devoting 8 hours daily to freelance.
52% of respondents to April 2017 research by HH.ua stated that they would consider remote positions as a way of supplementing their income. Other factors such as sharing information and experiences, the ability to socialize, also play a part in motivation of office workers who aspire for a standard type of vocation.
At the same time, 20% of people said there were no such self-employed opportunities in their industries.
Only 12% of the people who answered the survey do not consider freelance, stating they were not interested.
Thus, over 2/3 of Ukrainians would consider a vacancy as a freelancer.
The need for extra income is the main driver behind the desire of locals to dabble as freelancers. Currently, families in Ukraine only have a monthly income of about USD 111 per person. The average monthly wage in the country is mere USD $256. The lack of cash pushes income-earners to seek additional opportunities to complement the family budget.

Freelance jobs: What Ukrainians like about them?
The main advantage that attracts applicants to freelance is flexible schedule: 37% of people pointed to this factor.
The ability to earn more attracts 35% of job seekers.
32% of respondents mentioned such advantages as not being tied in an office and the opportunity to work on several projects at the same time.
However, participants of the scheme don't believe that being employed from home is more productive than an office employment. Mere 7% of users believe working remotely helps to improve productivity.
14% of the people surveyed mentioned avoidance of unpleasant contacts as something they value in positions as freelancers.
Just 15% of candidates said that remote employment provides them with more spare time.
Other things freelancers mentioned as making such jobs worthwhile are the ability to control work processes (18%), solve personal issues at any time (23%), and opportunities to choose projects that interest them (19%).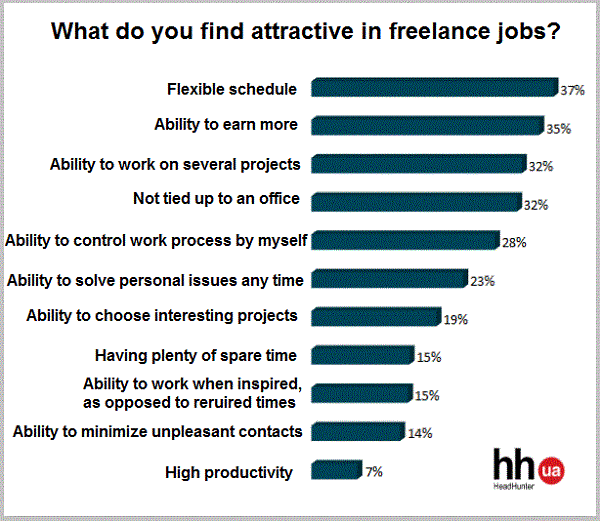 Remote jobs in Ukraine
A search on online portal Work.ua shows 88,174 vacancies in the last 30 days.
From these vacancies, only 4316 offer remote employment (4.86%).
Straight away, the first vacancies on the list seek writers for pseudo-dating online schemes. Pseudo-dating PPL (pay-per-letter) structures offer much higher remuneration than general industries: 7500 hryvnia (USD $287) for a waiter, 4000 hryvnia (USD $153) for a worker of a food processing plant, as compared to 11,000-27,000 hryvnia ($420-1032) for a writer of love letters to foreigners, with many of the ads stating, "no experience or knowledge of English required, use online translator".
With over 2/3 of Ukrainian job seekers willing to consider freelancing, such positions appear attractive.
Definitely, earning the amounts promised by ads is only possible for a hardworking creator of love confessions, who managed to accumulate dozens of paying suitors. But cash-strapped Ukrainians are willing to give it a go, and some individuals may stay involved in the business of "brachka" for long periods of time. Such vacancies, too, are classified as freelance positions.
Experts estimate that around 40,000 of Ukrainians are employed in operations of PPL pseudo-dating.
To understand the scale of operations, the size of the PPL industry (by the number of employees) may be comparable to 1/4 of Ukraine's police force.
Citizens of Ukraine are mostly looking for jobs on online employment portals and such offers are omnipresent.
Jobs in marriage agencies: What workers are supposed to do?
The ads may be vague about responsibilities or openly state the essence of the freelance job on offer as "correspondence on websites". However, most advertisements demand experience of working for known PPL structures. Advertisers stress the need for "creativity" and requirement to work hard, desire to earn. One advertisement promises applicants 40-60% commissions from the amounts earned [by the hiring agent].
Such ads have plenty of legal issues, which don't seem to bother local authorities.
The earnings listed in ads are hardly achievable.
The essence of the job constitutes a fraudulent activity.
Workers are not employed on a legitimate contract but work for cash (undocumented) payments.
At the same time, only registered businesses can place job ads online at well-known websites like Work.ua. Employers openly list their phone numbers and contact details.
These ads are placed by agents of PPL websites, who are paid commissions for chats and mails, sent through the system. (PPL sites admit they pay commissions to agents for communication on websites, but deny that their agents employ workers to falsify romantic relationships.)
It's 2017 and the system is still in full gear: Phone numbers, names of registered companies. Any bets on how long it's going to last?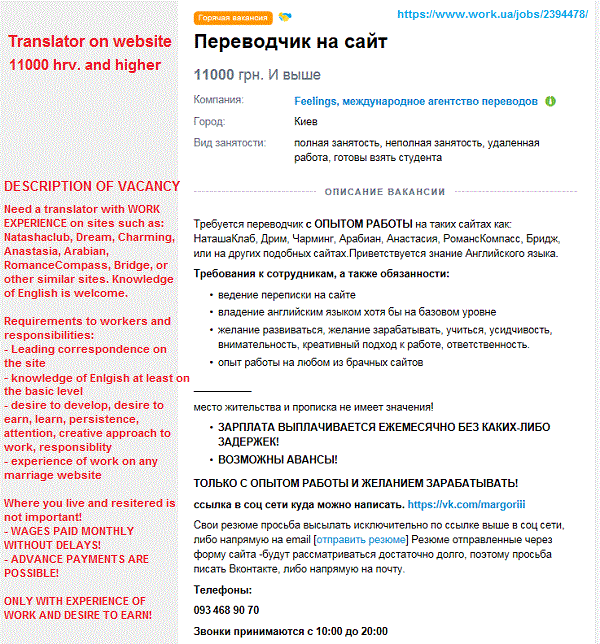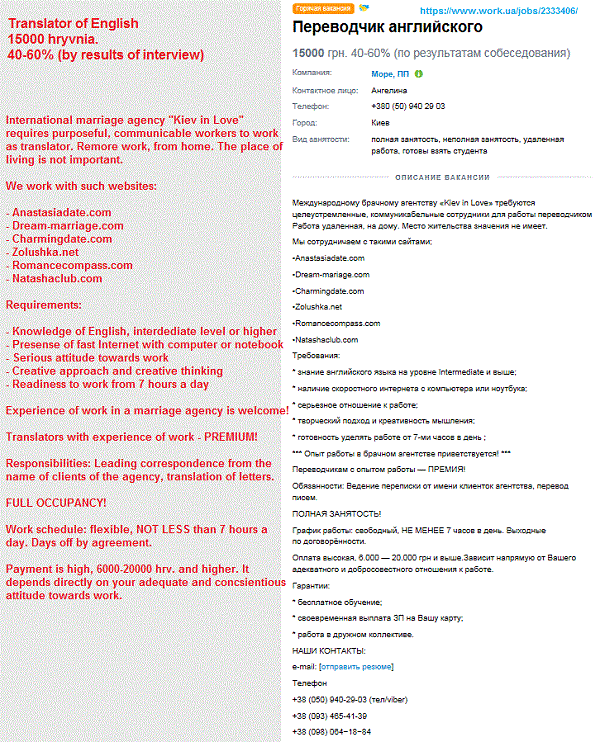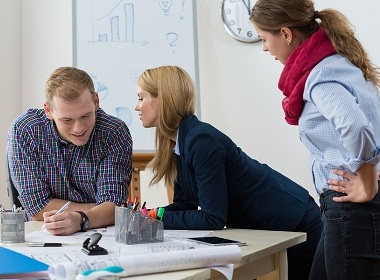 Read also: