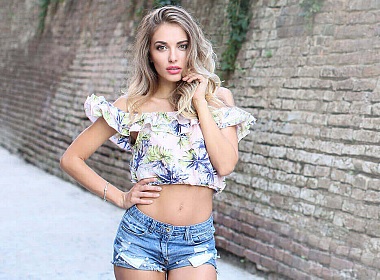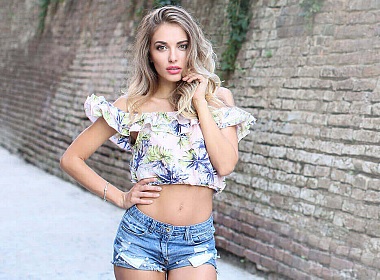 The reason why winning a Ukrainian woman's heart seems daunting is because you simply don't know much about the culture. You also probably don't understand realities of everyday life of Ukrainian ladies. Gorgeous as they are, girls face a lot of challenges in the current economic situation. Since 2014, plenty of things changed in Ukraine. Use these quick tips to make your search for love a success.
A sure-fire way to win a Ukrainian woman's heart: Get real
First, you need to understand what is happening in Ukraine, the native country of the woman, whose affection you are trying to score.
For a detailed manual how to win Ukrainian women's hearts, download the VIP Dating Coaching Program for Men. It gives you step-by-step guidance what to do and tips how to avoid potential pitfalls that will destroy your promising relationship in an instant.
A brief introduction to modern Ukrainian history
Even if you don't care about politics, international relations have powerful influence over all areas of people's lives.
10 facts you need to know:
The single most important factor, determining life of Ukrainians today, is the conflict with its powerful neighbour, Russia.
In late 2013, a pro-Russian government was forcefully removed through what is called Maidan revolution.
In early 2014, right after Sochi Olympics, Russia has taken over Crimean peninsula, which was allocated to Ukraine in mid-XX century by the Soviet Union government. Russians consider the territory historically owned by them, while Ukrainian officials view the loss of Crimea as occupation by the former ally.
Simultaneously, a conflict began in the East of Ukraine, where 2 regions (Luhansk and Donetsk), bordering Russia, started a move to separate from Ukraine. Ukrainian authorities blame Russians for supporting the troops of separatists, whom they call terrorists. It is a proper ongoing armed conflict with soldiers, explosions, and contemporary fire arms. Those two regions are considered a "no go" area for foreign tourists, although celebrities such as Orlando Bloom visited the area with humanitarian missions.
Many people living in today's Ukraine are ethnic Russians.
A large part of Ukraine's residents supports unity with Russia, as opposed to pro-European movement by the current government.
The majority of Ukrainians view Russia as an aggressor and the reason for the country's current economic problems.
Combined inflation in 2014, 2015, and 2016 years in Ukraine exceeded 90%.
The exchange rate with the US Dollar, which was 8 hryvnia for 1 USD in January 2014, reached 26 hryvnia for 1 USD in June 2017 (over 300% jump).
The average monthly wage in Ukraine in April 2017 was only 6659 hryvnia (USD $256).
What Ukrainian women think about westerners?
By comparison with how much people earn locally, Ukrainian ladies think that all westerners are rich. This means, they expect you to spend money freely when you are visiting and during courtship.
If you don't splash cash, a woman will think you are "greedy" (stingy). Because she is making US $200 a month (women's wages are on average 25% lower than men's), and you probably take home $3,000 or more. So, if you are trying to be economical, she thinks you are being cheap and simply do not value your relationship with her.
Dating foreigners as a business
The drop in income and galloping inflation in Ukraine coincided with the rise of pseudo-dating structures, built as a digital analogue of services offering phone sex at 5 dollars a minute. Just this time, it's not a hot chat about bodily pleasures that is on offer but promises of love and marriage.
Low wages made it attractive for Ukrainians to earn some cash on the side, moonlighting as "Russian brides". (The fact that Russia and Ukraine are biggest enemies doesn't seem to bother most foreigners, who don't know the 10 facts of the modern Ukrainian history, explained above).
Since you are here trying to learn how to win Ukrainian women's hearts, it's quite likely your curiosity was spiked by an online contact on one of such pseudo-dating websites.
How do you know if your relationship is real or fake? Read on.
3 types of avenues to meet Ukrainian ladies
Depending on the avenue how you met the Ukrainian lady you are trying to impress, it's easy to predict the pattern of how your relationship will go.
You are able to connect with Ukrainian girls in 3 ways:
1. PPL or pseudo-dating
PPL stands for "pay per letter". Websites that charge for each message, chat, or photo share (by deducting credits from your account) are known as PPL dating. Experts estimate that there are about 40,000 people in Ukraine employed to entertain foreigners in online dating chats. (Discover the ugly truth about PPL dating sites for Ukrainian women here.)
NOTE: You might have been contacted by a woman from Ukraine on a general dating portal such as Match.com or OKCupid, and then asked to move to a website where you have to pay for messages, after "her computer broke". It's the same rip off.
2. Real life
You came across a pretty girl somewhere through friends, work, or hobbies, and now wonder how to win her heart.
3. Legitimate dating sites for Ukrainian women
Despite the fact that most dating sites featuring Ukrainian ladies switched to PPL in recent years, there are still some companies that do not charge per message but offer a one-time membership, just like eHarmony or other general websites for singles. (One such website is ElenasModels.com)
If you met a Ukrainian woman that you are falling in love with through ways #2 or #3, you can skip further explanations straight to 10 tips to win hearts of Ukrainian ladies, at the end of this post.
However, if you are chatting to a girl from Ukraine for some time but still do not know her direct Skype, mobile number, and you are not having long online discussions face-to-face, for which you don't have to part with money, then you are up for a rude awakening. Nothing from your online romance is probably true. There is no one to try to impress, so no matter what you do, the result won't change.
To even consider tips for impressing Ukrainian women, you need to be in a real relationship, not a PPL setup.
Are there any genuine Ukrainian women seeking to move countries for love?
Yes, there are plenty of genuine females who cannot find a partner at home and decided to try their luck elsewhere.
It's demographics: With 86 men for 100 women, some girls are destined to remain single.
But even these genuine ladies often fall victims of PPL schemes. Girls see ads in local papers and submit their details to marriage agencies, hoping to find a husband abroad. But local agents work for PPL schemes.
Genuine ladies don't write letters to 1000 men a day. They also don't want to correspond for months: They seek to meet a guy quickly and get married, create a family.
So, there is no chance for an agent to make much money. This is why agents hire writers to falsify romances: Paid workers are unfazed by anything that happens in communication and know how to keep the man hooked for a long time. But as a result, the guys who keep writing (and paying for messages) are probably nothing what the woman wants.
Besides, writers' job is to keep corresponding and try to prevent the guy from visiting (usually he is put off by how the actual woman from the photos, aka pseudo-bride, treats him, as compared to passionate letters he was getting).
So, even if a guy insists on visiting, the actual girl from the photos doesn't know him and probably was looking for someone completely different. Usually age is a huge factor; most foreign guys go for much younger brides, which increases their chances to be scammed through PPL.
Are there any legitimate brides in PPL companies?
Sources state that 80% of brides in PPL structures (women from photos) only seek to earn extra cash, but about 20% would like to find a partner.
However, even with women who seek a match with a foreign man and ready to immigrate, the chance it will work is negligible, simply because their requirements are rarely met: Unscrupulous agents don't care who gets "her" letters (scripted by a hired writer), as long as the correspondence is paid for.
Unless you have direct contact (Skype, email, phone) and she is happy to talk to you for free, you have no idea what she thinks about you and potential future with you.
You can see how any tips to win a woman's heart would be pointless if her main requirements are not met, age and looks being the most important.
10 tips to win hearts of Ukrainian ladies
Great, you've done some reality checks and learned important facts about Ukraine. Now it's time for tips how to succeed with Ukrainian women.
The best guidance you will get from the VIP coaching program, which explains every step in detail, and since you are going to spend lots of cash on trips and other things, it's a wise investment. It will help you to save substantial sums of money during the course of your courtship. You will also find out how to make a girl trust you enough to visit you at your home country, which is definitely simpler and faster.
But if you think that you can just read a few tips in an Internet article and it will allow you to find the love of your life, here are the top 10 points you need to keep in mind when dating Ukrainian girls.
1.Tell her you want to marry her.
Unless she is confident that you are serious, she is not going to put effort from her side.
2.Give her a lot of compliments.
Ukrainian girls need constant encouragement and attention from foreign suitors, because it seems too good to be true. There are a lot of horror stories on the Internet and ladies are unsure about the outcome of their online romances with a foreigner.
3.Be persistent.
If she didn't answer quickly or got offended with something minor (maybe you can't even figure out what happened), treat it as a test of how serious your intentions are towards her. Yes, it's easy for you to do or say something that a woman may consider offensive, because you don't know all the details what is expected in a proper courtship process and what she hopes for. But even if you seem to have done something wrong, simply ask her forgiveness and keep courting her. Be the gallant gentleman from 1950s, if you want to score. Persistence is the most important quality she is seeking in her future husband, to whom she will be happy to entrust her heart.
4.Send small gifts or money.
Send her some small presents for holidays and her birthday. The best gift for her is money. But if it seems a bit upfront, send her jewellery or other small presents. Don't send silly things like flowers or teddy bears (except for 8 March when flowers are compulsory); they are useless and just a waste of money in her view. Flowers are for dating in person, when you visit her.
5.Start planning your visit to see her a.s.a.p.
Unless you begin talking to your virtual girlfriend about your visit within the first 2-3 weeks, she starts feeling that you are only after an online romance in letters. You don't need to instantly jump on the plane, but start organizing your visit in the near future. You may design a plan to visit in 2-3 months, for instance. Otherwise, any other guy, who offers to meet her soon, will get her preference, even if she likes you more. It's because Ukrainian women think that romances with foreigners are "too good to be true". She needs a confirmation it's not just a dream but a plan.
6.Bring gifts when visiting.
Gifts are not souvenirs; it's something a woman wants. Warning: Don't ask her what she needs or wants. You are supposed to know what she desires. If you don't bring gifts, you will be seen as "cheap", because in Ukraine it's a custom, to offer presents when visiting. If you manage to find the right present, it will make her heart beat faster and grow fonder.
7.Plan entertainment.
Yes, it's her country and town, but you are expected to be a leader and a "real man". Thus, you are supposed to decide what you want to do when coming to see her, where are you taking her, and how you will be entertaining the love of your life.
8.Pay for dates.
You have to pick the check for both of you, each time. If it wasn't for you, she wouldn't be going to these places but sitting at home watching TV for free or surfing Internet. Paying for dates without hesitation will warm her heart, especially after encountering suitors who express unhappiness with picking the bill. One way to make it cheaper is to talk on Skype more prior to your visit, and then come to see her for just a short time, if you need to save on expenses.
9.Ask her to marry you.
It has to be a surprise but an expected one. If you managed to achieve intimacy during your visit and feel that she is the woman you want to be with for the rest of your life, offer her to marry you. You can bring an inexpensive ring from home for this purpose. Don't worry, she is going to say, "Yes!" Why else do you think she is on a dating site for people seeking serious relationships?
10.Support her through waiting for paperwork.
It will take weeks to collect all the documents for her to apply to immigrate and join you at your home country. Then it will take months to wait for the decision, which will be positive, if your relationship is real and true. But during the wait, she will be worried and unsure, and she will need your support and encouragement through this process.
Most couples meet again while they wait for the fiancée visa, not necessarily in Ukraine, sometimes they vacation together in Turkey, Egypt, or somewhere else. For some countries, such as Australia, women are able to come on a tourist visa while waiting for a partner application to be approved.
Sounds like a plan?
When all's said and done, it's not hard to win hearts of Ukrainian women—if you know what you are doing and simply follow proven steps. The greatest benefit is, you are able to attract an amazing and gorgeous lady, who genuinely wants to be with you.
Want to do better than average and save money and time in pursuing love with a girl from Ukraine? Grab a copy of the VIP Dating Coaching Program by Elena Petrova.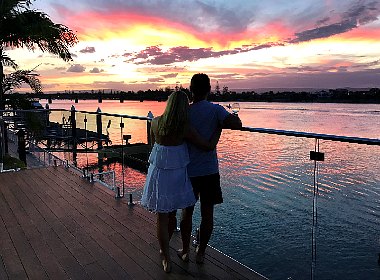 Read also: