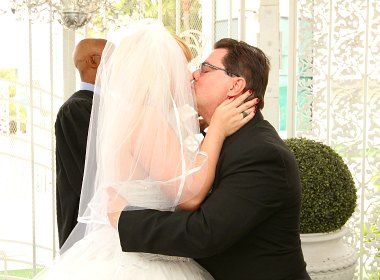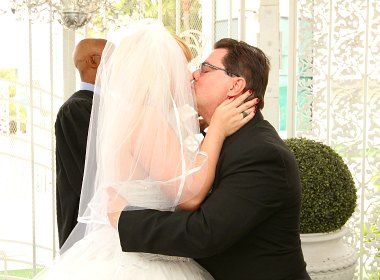 3 love stories from our clients arrived this week. People meet on Elena's Models dating site and fall in love. Robert and Aleksandra's story started from the online introduction and they got married in April 2016 in Florida.
The story of Robert and Aleksandra (USA, Russia)
Aleksandra is from Russia and Roberts is from the USA. At first, the new pen pal friends corresponded through email and after a few months they moved to talking on Skype.
Robert visited his Russian pen pal in September 2015. They spent two weeks together and realized they didn't want to be without one another. After applying for a fiancée visa, Aleksandra arrived to Washington, D.C. in March 2016. Robert met her at the airport and they flew together to his home town in Florida. The pair got married the following month.
"Without you, our dream would not have been possible," Robert wrote. "We are the happiest couple there ever was."
Read the complete story of Robert and Alexandra
How Elenasmodels.com helps singles to connect
Elenasmodels.com's goal is to provide a safe place for people from different corners of the world to connect. It's not always easy to meet the right person at home and as time goes, there are fewer opportunities locally to meet compatible singles.
As opposed to paid correspondence sites (pay-per-letter or PPL), Elena's Models offers unlimited communication with all your contacts for a one-time fixed low fee. This allows our members to concentrate on building meaningful relationships where they are not limited in how much and through which channels they wish to communicate.
Sharing of direct contact information (email, mobile phone number, Skype, etc.) is encouraged between members. You can be confident that you are talking to the person from the photos because you can anytime chat on Skype or through Facetime on your mobile. Many couples use WhatsApp, Viber, Snapchat and other applications.
Elena's Models dating app also offers free chat, video and voice chat on the go.
Elena's Models difference from paid correspondence (PPL) sites
In short, on Elena's Models you the have the complete control over what you wish to do.
Our system is free from toxic setups where people earn money by writing letters or chats as it happens in PPL. We do not employ agents to recruit women and don't pay commissions for letters and chats, as PPL sites do. In fact, there are no fees for talking to women on our site: Only the membership fee to access the full range of services. As a member, you do not pay for correspondence and chats.
Some men do not understand this difference when they sign up for an international dating site and don't even know that it's possible to talk to women directly without paying for communication.
Paid correspondence sites failed to improve their systems and remove the toxic setups, which have proven to be prone to abuse. During the same time Elena's Models changed its system and liquidated all agents in the countries of the former Soviet Union. We do not deal with any third-party providers of services, as each and every PPL site does.
Russian and Ukrainian women listed on Elenasmodels.com
Only women who register their own profiles directly are listed on Elenasmodels.com. They have access to Internet, speak English on a basic to fluent level, have mobile phones. They manage their profiles themselves, add or remove photos, post messages on their personal blogs.
Many of them are prepared to travel for meetings within their own country (if they live in regional towns, ladies are ready to travel to the capital to be able to meet in person). A large proportion of women have experience of travelling internationally and are open to flying overseas.
This makes the process of communication much easier for our members. As you can see, our system works. People meet and build relationships.
If you've had bad experience with dating sites before, try Elenasmodels.com. It is truly different.
Read also: