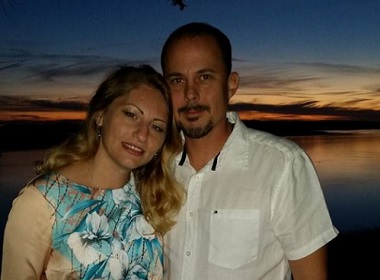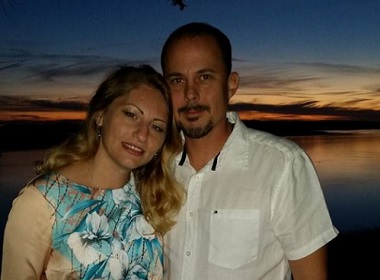 Christopher from the USA and Anna from Russia met on Elena's Models in December 2013, and recently got married. What started as a long distance relationship on the website where Russian women seek partners for love, romance, and marriage, developed into a close connection that changed lives of two people.
The Russian beauty was the one who sent the first message. After 11 months of communicating on the site and then by Skype, the new friends decided to meet.
The American bachelor came to visit his Russian sweetheart in November 2014. Even the onset of the cold Siberian winter didn't scare him away. The long time resident of the American South, he bravely ventured to Anna's home town to find out whether this Internet romance had the chance of becoming a real-life love story. Chris was a single father with 2 children, and Anna was also a single mother.
Anna said that she was very nervous meeting her American admirer for the first time in real life. But once they had a chance to spend some time together, the online pen pals felt like they knew each other for many years.
"I was so happy to have my man in my arms after those many long months", Anna wrote.
They decided to start the process of K-1 fiancée visa application after the meeting. But time apart was getting too much, so they organized another holiday together in Israel on the Red Sea. It was during their vacation that Chris proposed marriage to his Siberian sweetheart.
Both partners didn't have high expectations when they decided to register on the site and become members.
"Neither of really had much faith in an international relationship but we took a chance on love," Chris said.
It was hard for them to say goodbye again, but time passes and Anna's K1 fiancée visa application was soon approved. They went to the interview in the Embassy together, which made it easier. On August 29, 2015, Anna arrived to the USA to join her soon-to-be husband.
Their wedding took place on 30 October 2015.
"We were married in Bluffton South Carolina on the banks of the May River. It was a long journey, but we made it together helping each other all the way, we have more work to do but we love and trust each other completely so anything that happens we can manage it together," Anna wrote.
On Elena's Models, with Platinum Membership you can contact as many women as you want. It also allows you to instantly access their direct email addresses and phone numbers, where ladies made them publicly available. You can view what type of a relationship Russian women seek, which is listed at the bottom of their personal profiles: dating, traveling together, long-term relationship, or marriage. Multiple photos and a comprehensive questionnaire allow people to decide whom they wish to contact.
Read the complete story of Chris and Anna.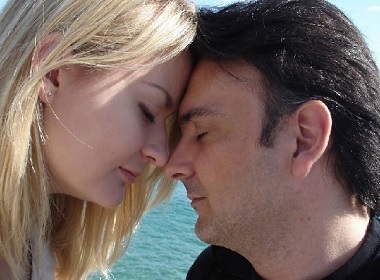 Read also: