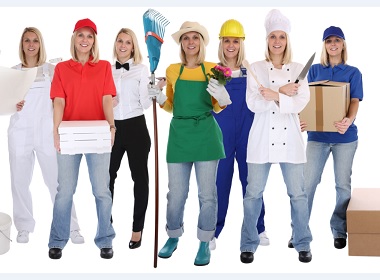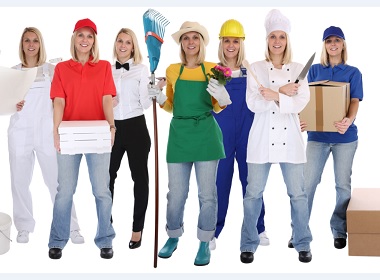 Men often ask questions about how much workers in Ukraine really earn. Average wages in Ukraine are officially around $323 per month, but people in different occupations earn more or less.
Even within top-10 most in-demand jobs the earnings differ.
Wages as offered on recruitment portals
Recruitment portals list different wages, which often may not eventuate for a position, because they are commission-based.
For instance, jobs in PPL marriages agencies where women are hired to work as "brides" and "writers" list remuneration at $500-1000 monthly but these are only achieved by their most experienced "writers" and "brides" and include kickbacks from gifts, which substitutes share with the agent.
You should also keep in mind that wages in Ukraine are paid monthly, not weekly. So, all the numbers in the infographics below show monthly amounts.
It's quite clear how much certain professionals earn by looking at what salary people seek and what they are offered in listed vacancies.
Wages in Kiev
Typically wages in capitals are higher and Kiev is not an exception. For the majority of jobs employers are prepared to pay more in the capital.
Surprisingly, for some positions the average pay check desired by job seekers is lower than the average salary offered by employers. It may be due to some positions offering high income but possibly requiring some special skills.
The highest salary is offered to web developers, but it's much lower than such professionals wish to earn. The reason is that such specialists can work online and they are able to earn around $3,000 a month, having 2-3 permanent clients from abroad they are doing work for. As the result, what employers are able to offer is insufficient and web developers want to earn 50% more. Web developers in Ukraine seek pay chekcs of $1,188 but they are only offered around $740.
The lowest remuneration is offered to sales personnel: USD 297. But they seek the same level of payment.
Statistics provided by Rabota.ua.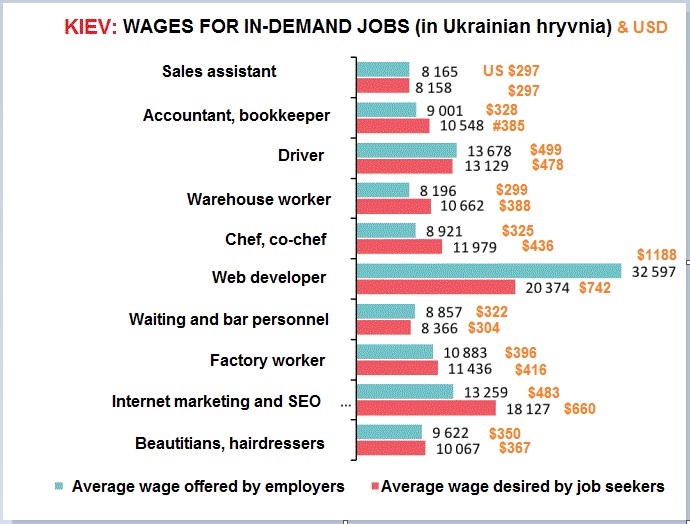 Wages in Ukraine country-wide
Sales assistants in other cities and towns of Ukraine are only offered on average $251. But they seek even less, $232.
Web developers who don't live in Kiev can hope to get $100 less than in the capital, $623. But they want $1,040.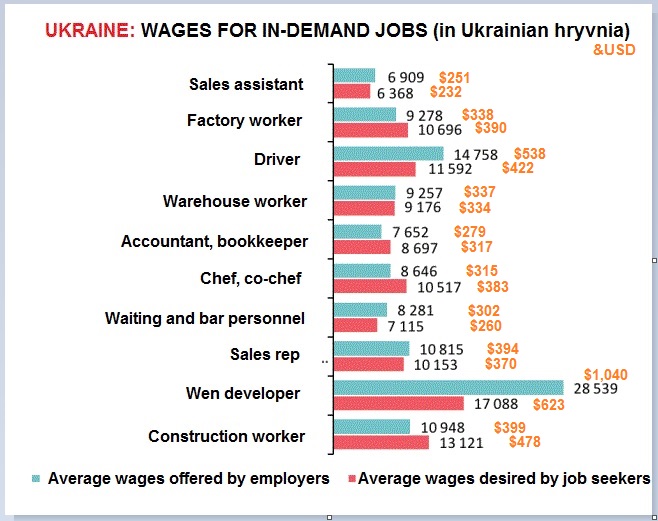 In regions construction workers are in high demand and could be earning $400 monthly. But they want 20% more than that.
Salaries of teachers and doctors are not listed here, since these professions are obviously not in high demand in Ukraine. Most of these specialists earn very little.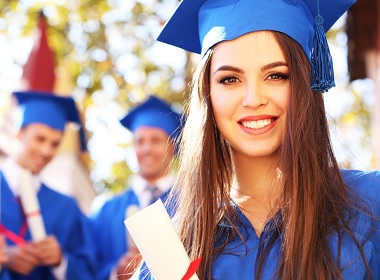 Read also: