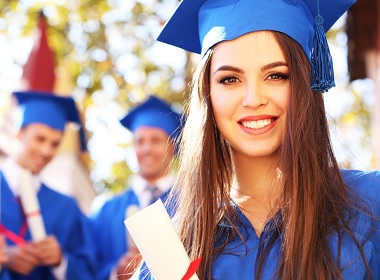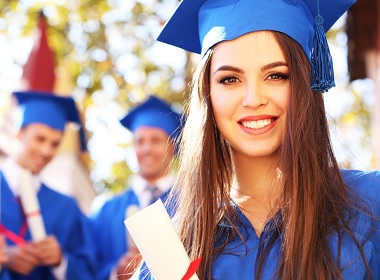 Kiev universities are the most expensive in Ukraine as compared to non-capital cities. One year tuition costs on average 30 thousand hryvnia (US $1,120). It's cheap by American or Australian standards, but it's pricey for Ukrainians where the average wage is around $320 a month.
Ukrainian universities received over 900,000 applications in 2018
Summer is the time when students apply to universities in Ukraine and go for entry exams. The system of acceptance is different here. Future students are required to pass exams on entry, to ensure they are judged by the same standards. The best applicants pass; others are not accepted and have to apply the next year or find another place to study.
In 2018 over 900 thousand applications were filed by 146 thousand candidates. It is possible to apply to several universities at the same time, but they all consider applications and run entry exams during the same short period of time. This year the cut-off date was 26 July, the press centre of the Ministry of Educaton informed. 76% of 2018 high school graduates applied for a place at a university to study for a degree. Studying for a degree is considered desirable and normal after completing school.
Ukrainian colleges, which provide what is called here "professional secondary education" (as opposed to "higher education" through the system of universities), are still accepting applications. There is no need to pass exams to be accepted to study in a college.
How much for a degree?
Finance.ua reported on costs of education in the universities of Ukrainian capital. These prices are for local students. Foreigners have to pay much higher prices and there is also a different entrance procedure.
The National University of Taras Shevshenko is the most expensive, and it's also the most prestigious. Students pay around 52,500 hryvnia ($2,000) per year to study international relations. Other specialities are cheaper. A course in journalistic costs $1,700; IT or management — $1,230; science specialities — $1,100.
The National University of Kiev-Mohyla Academy is cheaper. A course in international relations and law costs 46,000 ($1,700); foreign languages — $1,400; management — $1,200; Ukrainian language and literature — $1,045; sciences — around $800.
A course in the National Technical Institute of Igor Sikorsky costs from 17,000 hryvnia per year ($630) for engineering specialties. Computer engineering is more expensive ($1,040), cyber security — $800, aviation and space engineering — $730. The cheapest course here is in math and physics — only 13,700 hryvnia ($500).
National Dragomanov University for teachers charges on average 17,000 hryvnia. Sciences and math are also cheaper here — starting from 13 thousand hryvnia ($485) to 15 thousand UAH ($560). The priciest tuition is in foreign languages — 22-26 thousand hryvnia ($821-970). Psychology and physical education cost 18,000 UAH ($672); Ukrainian language and literature — 16,800 UAH ($627).
Kiev's University of Borys Grinchenko also educates future teachers. A course in foreign languages costs 21,600 UAH ($800); Ukrainian language or primary school education — $600.
Kiev's National Linguistic University trains translators. There are also different prices for courses, depending on the language, from 26 to 32 thousand hryvnia ($1,000-1,200). Slavic languages are cheaper, Arabic and Latin-based languages are more expensive to learn.
National University of Food Technologies offers courses priced from $640 (food technologies) to $740 (hospitality and tourism).
National Academy of Internal Affairs that trains future police force charges from 17,000 to 22,000 UAH ($630-820) for various degrees in law enforcement. So, you can become a lawyer in Ukraine for only $4,000 for a 5-year degree.
Bohomolets National Medical Academy that train future doctors charges around 26,000 per year ($1,000) for degrees in pharmacology, psychology and paediatrics. Dentistry costs more: Students pay about $1,300 a year. So, if you wish to train as a doctor, this will only cost you $6,000 in Ukraine for a full 6-year training.
Karpenko-Kary Theatre, Film, and Television University charges 35 thousand UAH ($1,300) per year for degrees in acting, directing and TV presenting. Circus artists training costs around $650 annually, ballet $680.
Higher education in Ukraine
Most Ukrainians study for a 5-year degree. This length of education was compulsory during Soviet times. In recent years the system has been changing, but people still believe that the proper "higher education" is a 5-year course. To calculate the total costs of getting a degree, simply multiply the yearly price by 5.
In western countries, many people obtain 2-3-year college degrees, which are sufficient for working in most professions. But Ukrainian students still have to study full 5 years to get the proper "diploma of higher education" required by most employers.
At the same time, local students complain that the courses are not closely related to what they will be required to do at their future workplace and spend more time learning the theory, rather than providing practical knowledge.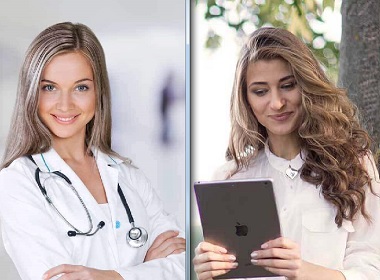 Read also: