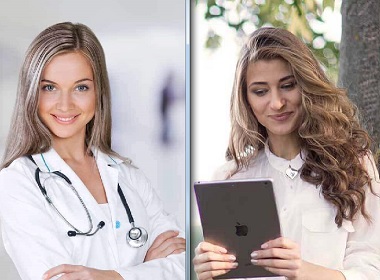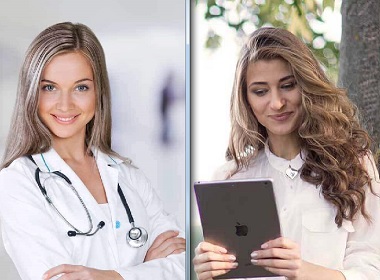 People often ask questions about wages of certain professionals in Ukraine: lawyers, teachers, accountants and other groups of employees.
On average, jobs in Ukraine pay about 10-15% of western salaries for similar positions.
However, for top professionals the disparity is higher, and they could be getting only 5% or less of the remuneration typical for this occupation in your country.
For instance, the health industry in Ukraine is financed by the state and workers are paid from the government's budget. Thus, wages in the medical field, including doctors, are lower, not higher than the average remuneration in Ukraine.
Official statistics on wages in Ukraine
The average monthly salary in Ukraine in 2017 was 6953 hryvnia (in total through January-November) or

US $246

, according to the government statistics service Ukrstat.
In the health industry the average monthly wage was only 4869 hryvnia ($173).
Educators earn higher salaries: 5736 hryvnia ($203).
Medical doctors and teachers are mostly women. These two vocations are traditionally among low paid jobs.
About 54% of workers in Ukraine are paid "white" salaries, without additional payments in the form of cash in the envelope or gifts (gratitude). Usually the employees who get 100% official wages work for the government. Which means, teachers and doctors, who are paid by the state, are indeed getting these meagre salaries as the official statistics tell us. There are no additional cash payouts by the company trying to pay less tax or pension contributions. What you see is what you get.
How much teachers earn in Ukraine?
From 1 January 2018 salaries of teachers have been raised by 25%, in accordance with the directive of the Cabinet, Interfax reported. The decision was made on 11 January 2018.
This means, we can expect earnings of educators to progress to the level of 7,170 hryvnia ($250), which is still below the average wage in the country.
On average, according to the Prime Minister Volodymyr Groysman, teachers will be getting extra 1,500 hryvnia ($52) monthly. Teachers earn salaries in accordance with "tariffs" for government employees. They don't get extras in the form of "gratitude" gifts (or cash) that doctors sometimes get from patients.
Teachers' wages are 100% "white", without extras such as cash in the envelope, typical for commercial private structures. Many teachers opt to earn extra money by doing private tutoring in their spare time.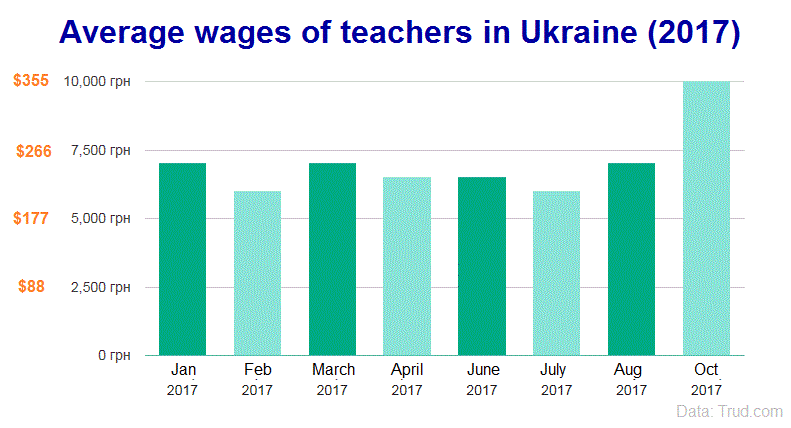 How much female medical doctors actually earn in Ukraine?
Certainly, it depends on the company where the medical doctor works.
If she is working for a government hospital, her wages will be low.
Employees of private companies may be earning higher wages, but they still will be incomparable with the typical income of medical professionals in western countries.
Top specialists in every country earn more. In Ukraine, this may include tips and gifts by patients, if the doctor works for a state hospital.
Right now Ukrainian recruitment portal Work.ua lists 402 vacancies for doctors of medicine. The majority of them list wages in the range of 5,000-10,000 hryvnia monthly (US$177-355).
Although there is one vacancy offering 80,000 hryvnia ($2,841) per month to a dentist, listed by a private company, promising "European standards of earnings". However, the majority of listings offer wages far below such numbers.
Trud.com, another employment website, has a graph showing that average wages of medical doctors in Ukraine moved from around 7,000 hryvnia in January 2017 to about 10,000 hryvnia in October 2017.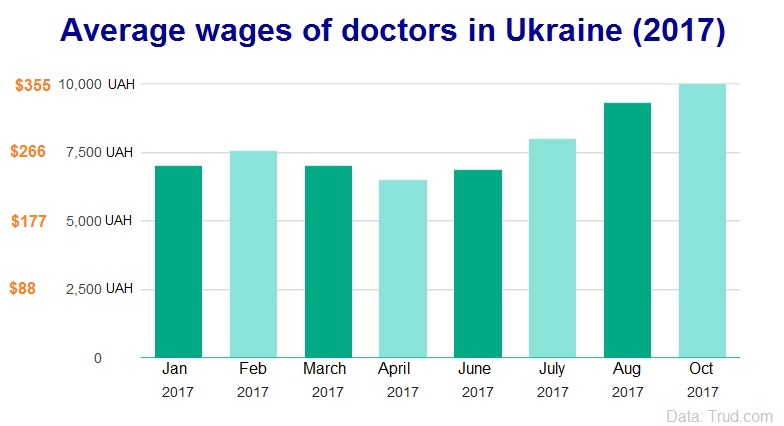 Wages offered to medical professionals in Kiev are higher than in other regions. There are also some vacancies offering positions abroad with a higher pay.
Find out quickly how much workers earn in Ukraine in any industry
Not sure the official statistics provides a true picture of earnings by profession? There is a way to find out the current situation on the job market.
Even if you don't speak Ukrainian or Russian, which is still widely used by websites from Ukraine, you can still see current job listings and wages offered to workers of certain professions.
Follow these simple steps:
 1. Translate the job name from English to Russian (or Ukrainian) through Google Translate tool.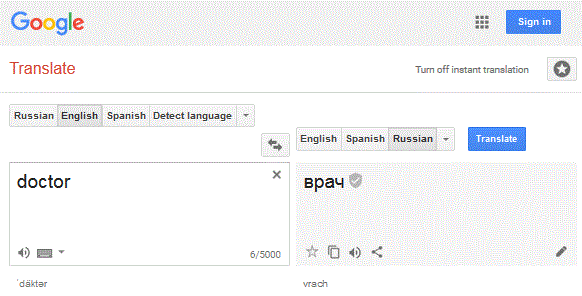 2. Copy the word in Russian (Ukrainian) in the form on Work.ua. Click the red button on the right.

 3. You will see the list of vacancies. The size of salary in hryvnia is listed next to the name of vacancy for majority of jobs.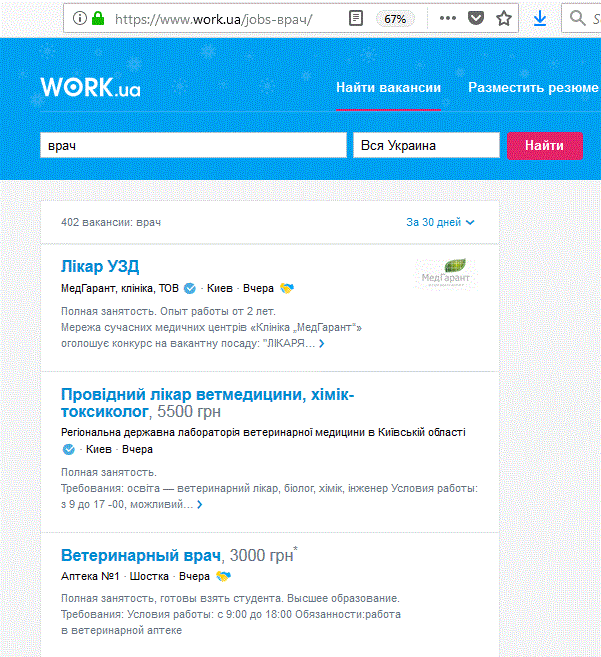 4. Use Google Translation tool in the direction from Russian to English to understand the search results better. Simply copy the URL of the page and paste it in the form and click the button.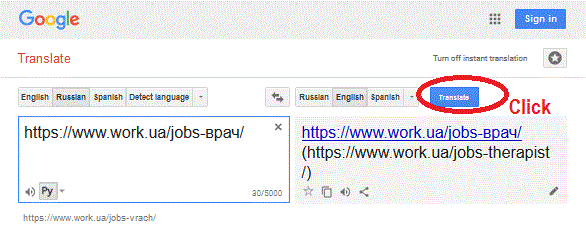 5. You will see the same page with the results (available vacancies) in English. The translation may not be perfect but it's understandable enough.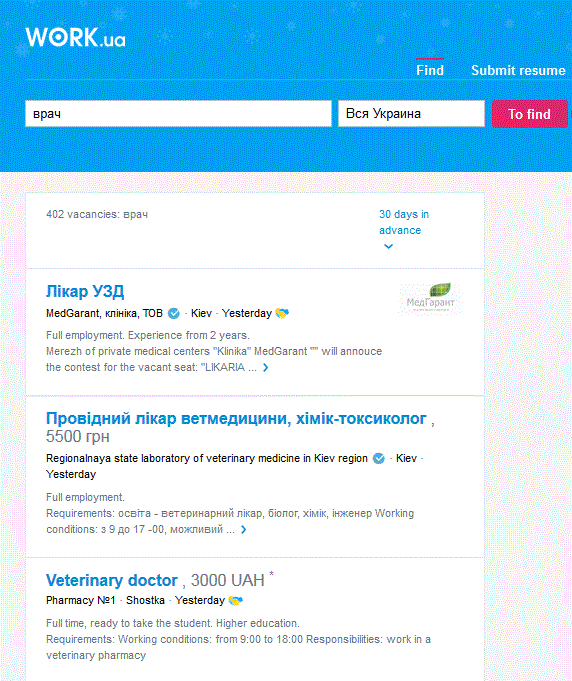 6. This way you are able to find out current levels of remuneration offered to employees in a certain industry. The highest offers may be rather improbable, requiring several degrees or years of experience of working abroad, so look for the most commonly listed wages.
 7. Use a currency converter to find out the value of wages in your local money. Simply search on Google for the key phrase "hryvnia to [USD or other currency]" and you will see the converter. Enter the amount and see the value in dollars or other currency.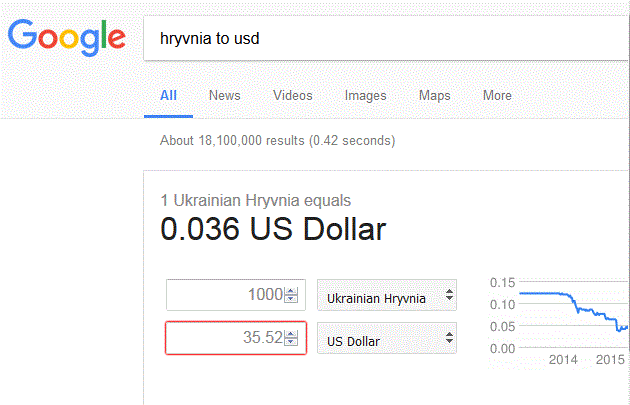 8. You can also search by city. Payments offered in various cities may differ substantially.
Kiev is known for higher salaries than smaller regional towns.
You can also view offers in Odessa, Lviv, Kharkiv through the main search form on the Home page of Work.ua.
The list of jobs by region (including smaller towns) is located here: https://www.work.ua/jobs/by-region/?grouped=1.
The data on wages that you see will be current.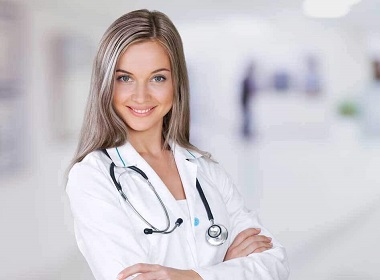 See also: