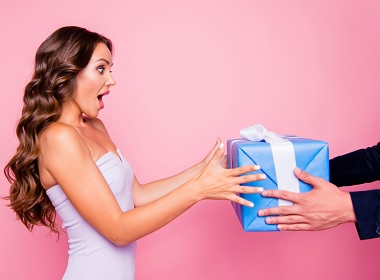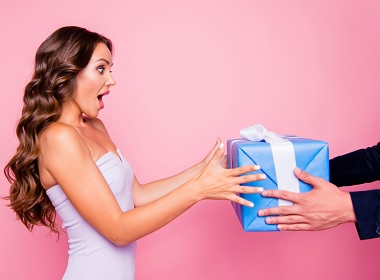 What women want is a mystery for men despite the vast amount of online portals dedicated to education of a mere male. Now, add a foreign nationality to the equation, and we have trouble brewing, right?
The statistics by WCIOM.ru, the All-Russian Public Opinion Research Centre, will give you an insight into tastes of Russian women and girls of different ages, what they wish to get as a gift and how local guys usually resolve the dilemma of finding the perfect present for their girlfriends.
What Russian women want
Desires of ladies from the land of snow maidens have changed over the years. So, what kind of gifts females from Russia wish for in 2019?
This is what girls were hoping for last weekend during the celebrations of Women's Day 8 March. It's a holiday similar in significance to Mother's Day in the western world, just this time all females are celebrated, young and old, single and married, mothers and girls without kids, simply because they are women.
The most popular gift among Russian girls is travel. 38% of female respondents would love to get tickets for a trip as a present. The share of travel lovers is even higher among the groups aged 18-24 (49%) and 45-49 (47%).
Can't afford to buy her a trip away? Flowers are another gift that ladies from Russia would love to get. 36% of local females wish to get a bunch of pretty blossoms.
Theatre and concert tickets are rated at #3 with 23% of ladies wishing for it.
The same share of girls (23%) don't mind to get a gift voucher or money. Among the age group 18-24, 35% of female respondents would prefer money or gift certificate, so they could get exactly what they want.
16% of Russian women hoped for a mobile phone or other gadgets for 8 March.
14% of females were wishing for some household appliances.
Jewelry was in thoughts of 13% of local ladies.
A car would be a perfect present for 12% of local ladies (among males, 17% of respondents in Russia said they wished for one for Men's Day 23 February, so the girls are rather modest in their dreams as compared to guys).
11% of ladies would be happy with perfumes, cosmetics, or costume jewelry.
A book, a computer, or a camera would be welcomed as a gift by 8% of ladies each.
Surprisingly, clothes and shoes, which ladies love, only scored 5% of adepts. Possibly, ladies are unsure in the taste of their significant others?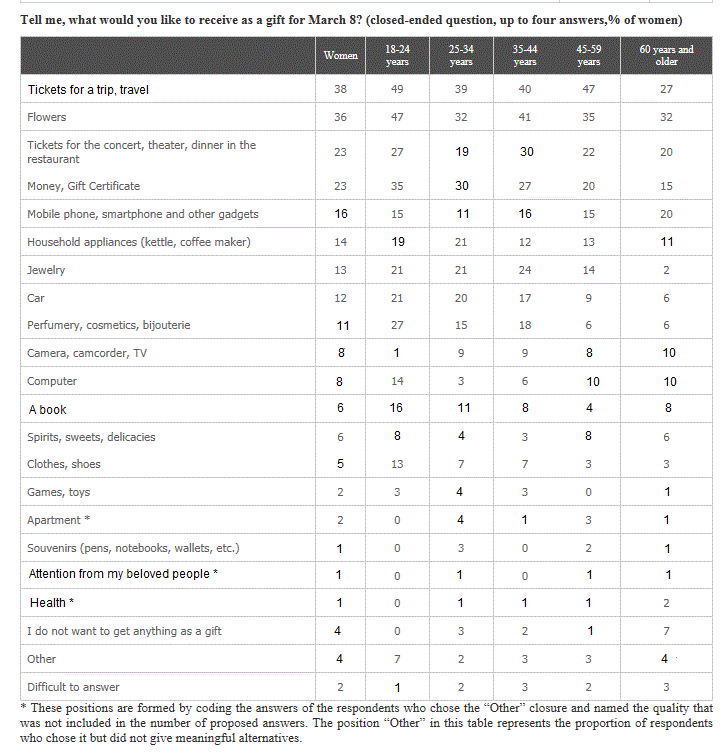 What Russian men are giving to their girlfriends and wives? Flowers are always the answer
What Russian woman wish for and what they are likely to get are, of course, two different things.
As we already know, the majority of Russian guys believe that flowers are the answer to any situation requiring presenting a gift, and this is what they are resorting to when a holiday such as 8 March, International Women's Day, arrive. Other typical options include perfumes, makeup, cheap jewelry, candies and champagne.
68% of Russian men, or 2 out of 3, will be giving flowers to women in their lives on 8 March.
Perfumes, cosmetics, or bijouterie are the choice of 23% of Russian guys.
Candies, alcohol, or some deli products will be given to 22% of Russian women.
17% of guys simply give money or a gift certificate as a prefent.
10% of men choose either souvenirs (pens, wallets, notebooks), tickets to a concert or theatre performance, jewelry or household appliances.
Mobile phone or other electronic gadgets are picked by 9% of local guys.
Toys, games scored 4% of adepts, as well as clothing and shoes.
Tickets to a trip or travel voucher as a present is chosen by 3% of males.
2% of guys will gift a book to a special woman in their lives.
Surprisingly, 1% of respondents intend to make substantial presents by gifting either a computer, a car, or an apartment to their ladies.
7% of respondents don't plan to make any presents to anyone.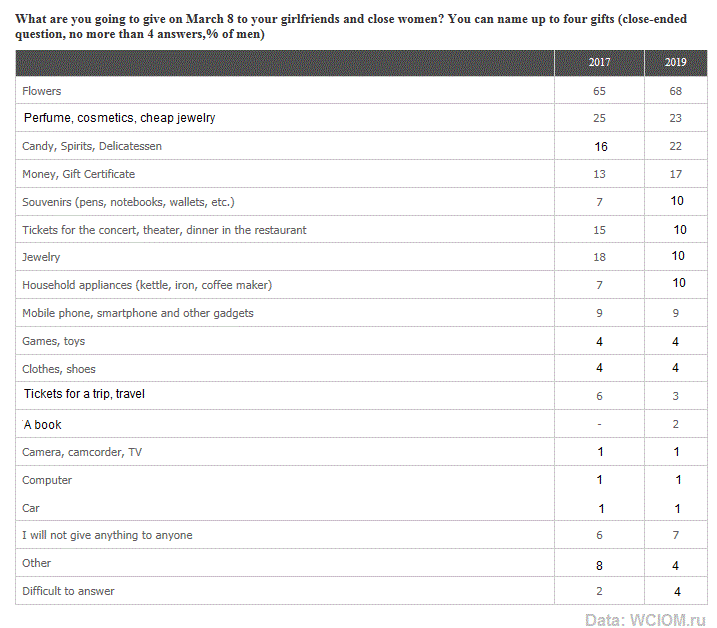 How to choose the perfect present for a Russian girl
Choosing an appropriate option seems to be a hard task even for locals, most of whom are trying to pick on clues from their partners as to what she would like as a gift (28%).
The second most popular option is to simply ask the lady what she would like to get: 25% of males opt for this variant.
20% of guys simply give money, so the woman is able to purchase whatever she desires.
Further 20% of respondents just choose something they can afford.
Standard set of candies, flowers, and perfumes is favoured by 18% of gentlemen.
8% go as far as to ask friends and family members of their special lady about her preferences.
1% of respondents just pick something they have in stock, such as unwanted present they have got earlier.
4% of males, apparently, oppose the very idea of giving gifts on 8 March.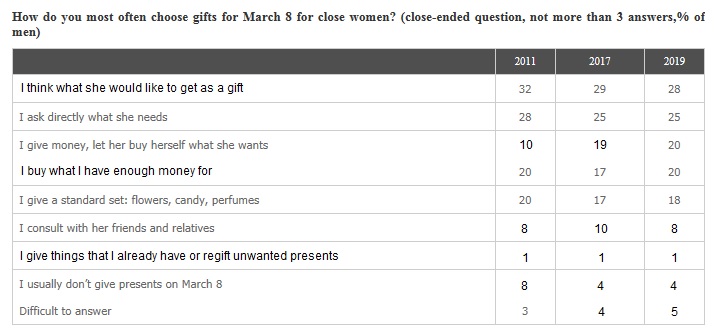 Here you have it! Preferences of ladies and what the local guys do when in doubt. Now you should be able to find something perfect for your special lady. Remember, in the Russian culture a visitor is always supposed to bring small gifts for the hosts and of course the lady of his dreams.
Earlier we reported what Russian men want as a gift for Men's Day. 17% of guys from Russia apparently expect a car as a present from their wives and girlfriends for the day of all men!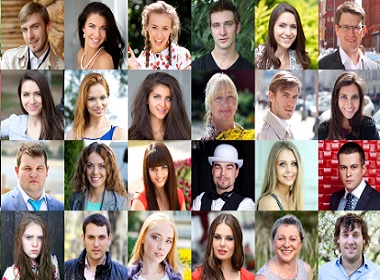 Read also: