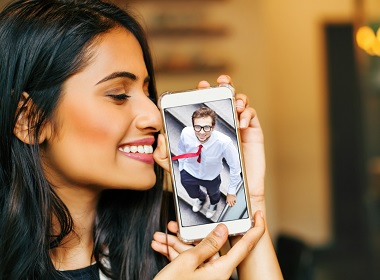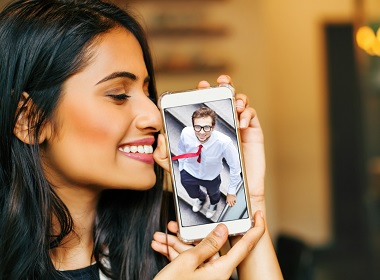 Apparently, some men still struggle with starting conversations online!
When we discussed recently the giant dilemma of online dating, some guys commented that they didn't know how to begin and develop a conversation into something that could be a loving relationship.
Would you like to learn how to do it — in a way that would produce the best results?
This is how to begin the conversation with the woman of your dreams online.
Starting right
Let's forget for a second that we are on a dating site where you hope to meet someone you will fall in love with — if this is your goal.
(I hope this is your goal, because otherwise what are you doing here?)
The start of a meaningful relationship is an important moment in your life and you probably would like to get it right, if you had a chance, correct?
But too many guys come to Elenasmodels.com with the idea, 'I will just have a look, it's not going to work anyway," or even worse, 'I do not believe it is possible to find love online' — and then they are surprised nothing seems to be working!
It's like coming to a job interview for a position of a CEO of a company with the idea of just 'having a look' and thinking it is not going to work anyway. Of course, it won't work, if you didn't prepare to make it a success!
Just for starters, to get the position of a CEO, you need the right resume. You need the right resume here on EM to meet the future Mrs. Right as well. If your resume is wrong, it's hard to attract Mrs. Right. Your resume is your online dating profile. You need the right things written there.
You need to look the part. Your photos and video (what, you don't have one? Yes, you, too, need a video in your profile) must present the guy she wants to trust her heart with.
You need to position yourself right. Get yourself the right position in the group of contenders — be at least on the first page of the results when she makes a search, not somewhere at the end. Your profile is at the end of the search results on EM when you are a free member, and if you are the Ultimate member, then you will be on top of the search results. The next level is Platinum VIP, then Platinum. Profiles of these guys appear near the top of search results when women do the search.
And all these things affect your search before you even started talking to women!
These things, if done right, will attract interest of women who are serious in their search for a partner abroad and you will be getting mails from women, and your job is becoming much easier — instead of starting the conversation, you simply answer letters and messages from women.
Here is the brief summary about 5 simple steps to improve your profile.
Starting the conversations with women online
Girls want to hear from you online! They are desperate to get noticed. You can basically say anything, if you are the right guy.
If you are the wrong guy, you can also say anything — nothing will improve your chances.
How to be 'the right guy' for her is explained above, as well as in my VIP coaching program for men dating Russian and Ukrainian women. It will give you answers to all the questions you have about dating women from the former Soviet Union with the view of establishing a long-term relationship or marriage.
Of course, even appearing to be the right guy you may say something that will turn the woman off.
Talk about the same things that she is talking in her profile on Elenasmodels.com. Check her message, descriptions of her personality and interests, requirements to the partner — you will find something that unites you both, that's the right start for the first conversation.
Avoid any questions that may appear too personal and you wouldn't ask them from a lady you met at an industry convention just a couple of hours ago.
Move from online conversations on a dating site to video chat on Skype or WhatsApp quickly — this way you have more feedback such as the tone of voice and facial expressions, to assist you in communication. Only 10% of all communication is verbal (words) — the rest is all the voice and the body language! So move to a medium that helps you build a true relationship, rather than getting stuck in a fake reality of messaging on a dating site — this is how PPL (pay per letter) scam operating.
Remove any chance of fakes and improve the quality of your communication dramatically with being real and upfront — the ladies will appreciate it.

Good luck in your search!

Share this article