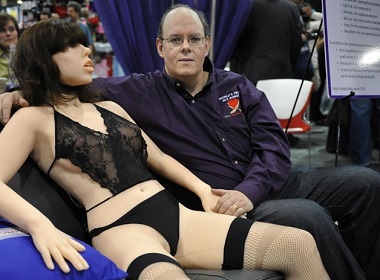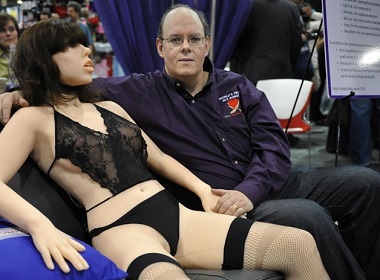 No kidding — the website under the name TrueCompanion.com is the home of the world's first sex robot, Roxxxy, which designers are intending to sell for about US$7,000.
Last month we wrote about experts predicting that in 50 years we might be able to have sex with robots.
Now it seems that the future is already here.
Douglas Hines (pictured), the human behind the world's first "True Companion", unveiled the prototype in 2010, promising that the future robot will be able to carry on simple conversations.
According to the company's site, Roxxxy will be aware of the owner's name, likes, and dislikes.
The company is based in New Jersey, USA.
In addition to carrying on discussion and expressing "her love to you", Roxxxy will be also offering the warmth of being "your loving friend". (Still no kidding.)
But wait, that's not all.
You will also get… No, not Ginsu knives. That's a rarity today.
The wonderful Roxxxy "can even have an orgasm!" (Not our claim. It's a real quote from the site.)
The actual female sex robot is supposed to be much more advanced than the prototype of 2010.
Talk seems to be quite a trend today. Imagine that… talking to a robot. So much more advanced than talking to a PPL substitute. (That's would be so 2014.)
But wait, that's still not all!
The company is also releasing a male sex robot soon.
His name is Rocky.
(Is there a need for that? Really? We thought any girl can get sex any time she wants it. But maybe they are selling the talk. This would make sense.)
Basically, anyone seeking to get uncomplicated sex or "for sale" friendship can simply sign up for the True Companion newsletter (it will let you know of the developments and release dates, and also may offer discounts, the website states), and you no longer need to:
Yes, the price of $7,000 may seem a bit steep, but definitely it will last a while. There is no need for food or life insurance, or clothing. It's a lot of advantages compared to a real human.
The only downside is that robot ethicists started a campaign to ban sex machines for humans, reported BBC. The leader of the movement Dr Kathleen Richardson from De Montfort University in Leicester believes it's undesirable and unnecessary, and considers the trend "disturbing".
What do you think about this idea? Submit your comments below.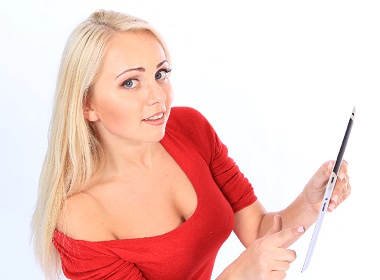 Read also: