A Russian couple from St. Petersburg intend to divorce and marry again, because they were refused to officially register their nuptials in outfits of their choice.
Actors Andrey Bulgakov and Viktoria Moskvina were turned away by representatives of the Primorsky Office of Registrations of Civil Acts because they wore outfits of Peter I and Ekaterina I, two prolific Russian royals of the past.
Empress Ekaterina (1684-1727) survived her late husband, the most admired Tsar of Russia Peter The Great (1672-1725), who died of ill health at the age of 52. The pair had 12 children. The acting duo had been impersonating the legendary royal couple for many years, including serving as presenters at weddings.
57-year-old Bulgakov and 42-year-old Moskvina were told by St. Petersburg officeholders that their "theatrical costumes" couldn't be accepted for the ceremony of registering a marriage. The bride and the groom had to change into more acceptable for bureaucrats clothing if they wanted to become husband and wife, which they did.
The registrars explained it by an "internal instruction", which apparently doesn't exist, reported KP.ru.
The pair conformed and went ahead with the registration, which took place last week. But now, after the storm of support in the media and online, the Russian performers decided to fight for their right to the ceremony of their dreams, and consider the option of getting an official divorce and then remarrying.
A registrar office in the nearby Pskov region indicated they would wed the couple in the attire of their choice, while St. Petersburg officers of several districts refuse to let pairs clothed in a non-traditional way to attend a marriage ceremony.
An ultra-conservative St. Petersburg politician Vitaly Milonov previously called for an introduction of a dress code for newlyweds. It seems that local officials might have taken the call to their hearts a bit too early. According to Andrey Tyndik, a Russian lawyer, there is no legislation prohibiting brides and grooms to dress the way they wish.
The unfortunate "royal couple" intends to file to the court for moral damages. However, they are still unsure which article of law could be utilized, and are currently consulting with their attorneys on the matter.
The civil servants defend their stand, saying that general rules of appropriateness should apply to an administrative registration of marriages.
The actors work as impersonators of the historical characters as the two former Russian rulers, attending various celebrations in the former capital. This is how they met and started dating, and that's why their alter-egos have a special meaning for the mature couple.
The pair are professional entertainers, offering services of wedding presenters as well as historical impersonations. They work in the Parody Theatre of St. Petersburg.
However, they couldn't get their own wedding to run the way they planned. Their page on the Russian social website VK illustrates the long story of playing the beloved characters.
Russian commentators were divided in their opinions about the couple's plight.
"I think they simply have nothing to do," wrote one author. "Or they want to be talked about. I understand if they were 20-22, but 42 and 57 and such a kindergarten, it's too much."
"It's a very strange couple," agreed another.
Others saw the bureaucratic orders as unlawful and supported the pair.
"Correct, go to the court," wrote an anonymous contributor.
"It's a criminal article of breaking the law and self-ruling. Internal "instructions" have no validity for citizens. They [newlyweds] should apply to prosecution and the court," categorically pointed another writer.
Some authors expressed stronger views:
"Yeah, they should demand for newlyweds to be dressed in clothing of certain affiliated brands as well — what's the difference, what they are dressed in — jeans or a tuxedo? If there is no money for a tuxedo — do you have to mortgage your apartment/car to buy expensive outfits? People didn't come naked to them — no, "we are ordered not to allow — the wedding firms bribed us, so we have to work it off."
"I remember there was a bride a few years ago, she came to the registration naked, just a white swimsuit and a veil, flowers, that was all her outfit. And they were registered and shown in all the news. And here we have some non-offensive outfits, beautiful, and they were forbidden. It's very strange."
"Because of all this nonsense my wife and I registered our marriage in Las Vegas. In a Hawaiian shirt and shorts, 10 minutes, and without any previous arrangements. After that simply do an apostil, in Russia go to a notary and confirm the translation, and then get a stamp in your passport."
But Russian administrators in St. Petersburg are not moved. They insist couples should not turn their registration of a marriage into a show. The ones who feel differently might think of Las Vegas.
Photos: VK Viktoria Bulgakova 
Video: How Russian "Royals" Were Refused In Registration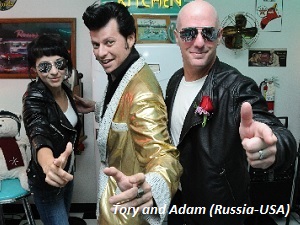 Read also: