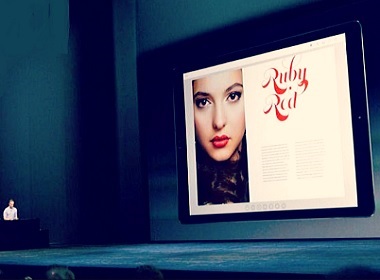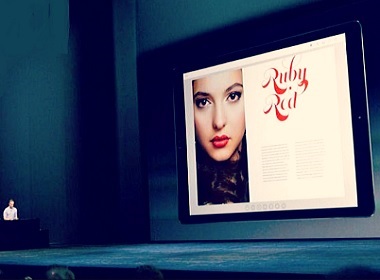 Kristina Litvinova, the Russian model from Krasnoyarsk whose image was featured during the recent presentation by Apple's new gadgets iPhone 6S and iPad Pro on 9 September 2015, is now receiving tons of mail and even marriage proposals.
The 22-year old Siberian model wasn't aware of her upcoming world-wide eminence, and quietly went to sleep ahead of the global presentation, reported KP.ru.
She was woken up by her boyfriend in the middle of the night, who told her what happened. After that the chance to go back to sleep was null, because she was swamped by calls.
The unexpected fame is easily explained: As a model Kristina had some photos taken by a photographer, which were later sold on photo stock sites. The images that Apple marketers selected for their international presentation were made 2 years ago.
The young model was pleasantly surprised by the reaction her face on the screens of Apple caused, although constant mails through social networks from admirers are not something she particularly enjoys.
"Now my smile is discussed all over the world," she wrote on her VK page on 10 September, after the article on BuzzFeed.
Among the scores of mails through social networks, the marriage offer particularly amused the young Russian model. Others invited her to model for their products or tried to introduce themselves with romantic intentions.
But the Siberian beauty simply laughs it off. "I have a boyfriend, and we are doing well. He is not jealous, as he knows this is my job," stated Kristina.
Just a few months ago Litvinova graduated from a university with a degree in engineering. She works as a manager of a coffee chain (because it's not always easy to find a job according to one's profession in Russia), and complains of a lack of time. She loves reading, watching movies, and the TV series "Game of Thrones".
When asked about her future plans, she said that in 5 years she sees herself as a young mother with children, reported KP.ru. She also would like to settle in a warmer climate, obviously Siberia can be pretty cold in winter.
On her page on the Russian social network VK on 13 September, Litvinova wrote that she is still trying to sort out the huge heap of messages with greetings and job offers after the presentation.
She says she would consider working outside Russia, if the offer was good.
On her VK page, she gives the link to her portfolio (molokosaxar.tumblr.com) and asks to contact her through the internal messaging system.
The first present she received was iPad Mini — surprisingly, not from the giant Apple corporation but from the Russian store TechnoMax. "It's not iPad PRO, but where do you get that one," the model joked. "It was an unexpected present, it will be a wonderful replacement to my old faithful friend," she wrote, expressing her gratitude to the store, which offered her the gift.
Kristina's birthday is November 19. She is a Scorpio by her star sign.
The sudden fame may help the lovely model with unusual face to fulfil her life dreams and aspirations, whether it's aspiring to be a mother and a wife or concurring the international modelling circuit. Maybe even become the next Miss Universe?
Photos: VKontakte Kristina Litvinova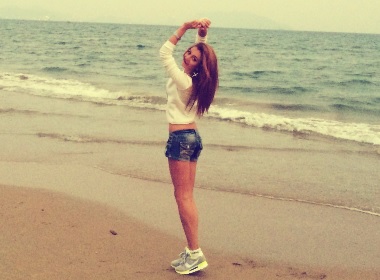 Read also: