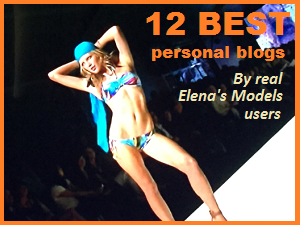 Do you know that you have the option of a daily blog included with your Platinum and Gold account? Your personal blog on Elenas Models goes to all your contacts — which means, every woman who positively answered your EOI or message, or who wrote to you.
You can write about anything! You may also post a picture with your blog. The blog post becomes accessible to your contacts immediately. (Check this post on how to use your personal blog.)
Read posts from other members below and start using your blog today! It's the perfect tool to be in touch with many beautiful and educated ladies using Elenas Models. They love seeing a thoughtful man who can express his feelings (I am not kidding)! 🙂
Here are the best 12 personal blogs this week from men and women…
6 best men's blogs
Rienk:
I notice that ladies come and check me out multiple times after I sent them an EOI (and/or a message) but they don't reply, nor do they say anything. Are you interested? Are you not interested? Or are you performing a deep investigation on me? 😉
Shawn:
2015 is an EXCITING year! I resolve to focus more on love and relationship. If it worked for my friend Richard and his wife Anna from Vinnitsa, it can work for us! So this year instead of hugging a bear under the Christmas Tree, I think I'll be holding my beloved.
Zsolt:
Actually a really difficult thing to go back to the progress of work after 4 weeks of rest and relaxation. And this is true even if the work is also a hobby. New year, new plans, new points of old work. 🙂 But it was a target, I'm here. The left will continue.
Joseph:
The happiest people don't have the best of everything. They just make the best of everything.
Carsten:
Egon the storm is about to hit Denmark, don't worry girls I will be safe in my house, dreaming of the perfect wife for me, is it you?
Mark:
I'm new on here and am looking for anyone from Russia to talk to… I want to learn the Russian language and Cyrillic writing style. Also want to meet someone willing to come to the US to spend time with me.
6 best women's blogs
Valentina:

Dear men! I'm back here again.
I hope this year I will find my love… my soul mate…
I wish true love for everyone of you!!!

Valeria:

A man needs to understand life better to try to deepen his relationship with a woman, because for men, women are mysterious like nature. For sure, there is no wisdom for a man without a woman, pure intellectual knowledge is very limited. Happy New Year 🙂

Yulia:

In late July, after I signed up here, I met a man. This was the reason for my silence.
But now I am free again and dream to meet my soul mate!! I hope that this will happen in the near future)))))

Elena:

Hello my dear! I wish all of us in the new year and the fulfilment of all desires in the first place to find personal happiness. It is so important when you are not alone, when you know that you are loved and welcome. Let everyone find a mate.

Ekaterina:

Happy New Year to everyone! If you are wondering why I am congratulating you only now, I can say: better late than never! ;)) Anyways, today is the New year's Eve old Russian style. :)) So I am not way off base… just a little bit maybe.

Oksana:

With time people may forget what you said, may forget what you did, but people will never forget how you made them feel. I'll make my man feel the happiest and most loved man alive!

***

Want to see your own blog here? Upgrade to Platinum and start blogging today! 🙂

More user blogs:

>> All articles (in English)

Share this article