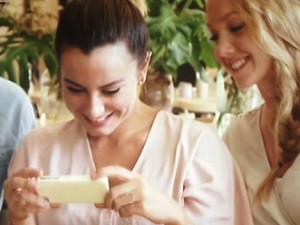 HAPPY 2015! It is the biggest event of this week, and even on TV all I see is New Year fireworks all over the world: Sydney, Moscow, Berlin, Paris, London, New York… Mobile phone companies and email servers are working at the top of their capacity, sending greetings to families and friends.
This time I am bringing you personal blog posts from our members, sharing love, joy, and hope for the great future awaiting us ahead. If you didn't get enough New Year greetings, here is something to fill in the void… Enjoy! 😉
That's the best time of the year to start anew, and why not send an EOI to someone cute and pretty? You may find the love of your life, as many our members do. Elenas Models is a dating site with 15-year history of helping people to find love. It can work for you, too!
Wishes of happiness and love from Elenas Models member blogs
Natalia:

Happy New Year! I wish everyone peace, happiness, health and love, of course!

Elena:

Happy New Year! Greetings from Ukraine!

Clint:

Happy New Year! This past Christmas and New Year was very special for me! I was with family and friends and all things fell into a perfect rhythm. But there was someone missing… Was it you?

Boris:

Happy new years!!! I would like to wish everyone a Happy New Years, and I hope that this year you will find that special someone you been looking for.

Jim Bryan:

Happy New Year Everybody! I watch NYC from home I make a toast, with all of you, my friends, to a better year. 🙂 I here for you if you need me for any advice or just to talk. I have a bag with no bottom, full of love for you all 🙂 I wish for just world with peace where we free to choose our own destiny. 🙂 Happy New Year! XO!

Nivhans:

Happy new year 2015 ladies! Wishing you a happy new year 2015. Wish all your dreams about hooking up rich husbands come true. Hope the year 2015 brings you lots of free air ticket travels from generous, buy everything, spend everything & giving men. :-)))

Gulnara:

Happy New Year 2015!!! Yes, love, may I stay number 1 in the line.

Jan:

2015! Happy new year to everybody, may we all find love in this new year.

Hitesh:

Happy new year to everybody. I hope that everybody finds their dream partner in 2015!

Kirk:

Happy New Year. I hope 2015 will be the best year yet.

Viktoria:

Happy New Year 2015! Happiness, health, good luck!

Liza:

Happy New Year to you all! Let this 2015 bring you the most wonderful moments, events and meetings in your life!!!

Oksana:

Wishing everyone a very Happy New Year! May every single heart find love in coming year!

Zsolt:

Happy New Year to everyone, a lot of beauty, love you in the New Year!

Mary Vorzheva:

I'm sending my warm wishes to everybody! May the next year bring Lots of Love!

Viktoria:

Happy New Year!!!!! And a Merry Christmas!! С праздниками!!!! И прошедшими и будущими. Я буду праздновать Рождество 7 января. Любви и здоровья! Мира! Света!!

Read also:

>> All articles (in English)

Share this article