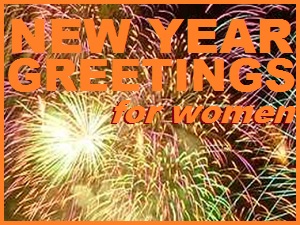 To all recent and old members of Elenas Models: just a few days left before the biggest holiday of the year in Russia and Ukraine — the New Year's Eve!
Yes, in these countries it's NOT Christmas but the New Year's Eve that is celebrated as the most important holiday of the year, when the whole family gathers around the festive table and exchanges presents with each other.
Why is New Year the biggest holiday of the year in Russia and Ukraine?
This tradition comes from the times of the USSR when religious holidays were forbidden. People just changed what they used to do on Christmas to the New Year. Being a civil holiday, it didn't attract consequences from the atheistic state.
When is New Year celebrated in Russia and Ukraine?
It's celebrated on the night from 31 December to 1 January. Most festivities happen after the midnight 12 am. There are TV concerts with famous singers and artists that are pre-recorded in a way of a themed musical. These shows are on TV after the midnight. You are supposed to celebrate all night long. 1 January is a public holiday.
How is New Year celebrated?
Typically, in Russia it's freezing cold outside, so most people celebrate indoors. They gather in groups around a festive table, families with kids, singles with friends, and eat, drink, and enjoy the special New Year broadcasts on TV, or simply play music, dance, and have fun. Visiting friends and family before or after the midnight is also popular, and these visits don't have to be arranged in advance, just show up and you will be welcome. Most people celebrate at home but it is also popular to spend this night at a party in a restaurant or cafe, which would need to be booked long in advance.
Russian Santa Claus is called "Ded Moroz" (Grandfather Frost), dressed in red and white. Traditionally he should be accompanied by his granddaughter Snegurochka (Snow Girl), dressed in light blue and white.
The two characters lead kids and adults to hold hands and dance around the decorated New Year Tree (same as Christmas tree), singing songs, which is called "khorovod". The colourful duo also runs a little New Year quiz, asking questions and riddles, and giving prizes for correct answers. Kids can recite their best New Year verses for Grandfather Frost, to be rewarded with gifts. At the end, everyone gets a present from Ded Moroz, usually a specially decorated packet of assorted candies.
You can place an order with a service company for Grandfather Frost (with or without Snow Girl) to visit your home party, although most often this role is played by a neighbour or the family's father, dressed as Ded Moroz. He looks exactly the same as Santa! 😉 All large parties at restaurants will, of course, have their own Ded Moroz and Snegurochka, and the necessary quiz and ritual dance around the tree, and candy presents.
We have collected a few stories from Russian and Ukrainian people, how they celebrate their most important event of the year. Some are from families, and others from singles. This will give you a taste of how women you are talking to may be celebrating their New Year's Eve.
Read these colourful New Year stories from our guest authors:
These stories will tell you how some Russian and Ukrainian people celebrate New Year and Christmas.
Remember that Russian Christmas is 7 January!
Russian (Orthodox) Christmas is celebrated on 7 January, 13 days after the western festival. If you are talking to a Russian or Ukrainian woman, remember to congratulate her with her Christmas.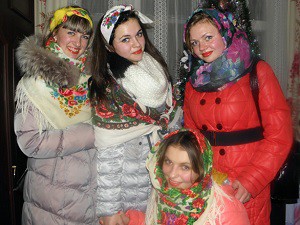 In Ukraine, there is a special Christmas custom called "kolyadki": youngsters dressed in traditional Ukrainian outfits walk around the neighbourhood singing songs and collecting candies in exchange.

So, even after your festive season is coming to an end, you can still enjoy the joyful Christmas spirit chatting to your new Russian and Ukrainian friends, who you can start communicating with in minutes! Remember, on Elenas Models there is no censorship of your communication and no extra cost for chats and mails. You can chat as much as you want and exchange hundreds of messages a day!

Women are on holidays now, so that's the best time to start a relationship. And you still have time to send your New Year and Christmas greetings!

(Check my previous article: 10 original Christmas greetings for women for ideas.)

Good luck!

Read also:

>> All articles (in English)

Share this article