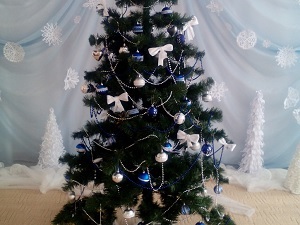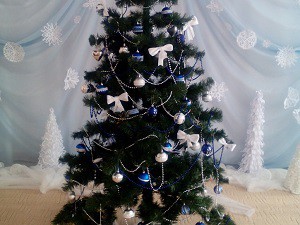 Guest author: Chilli (Omsk, Russia)
New Year and Christmas are the most anticipated holidays of the year in Russia. They are not possible without a decorated fir tree, the familiar scent of natural fir needles, bright sparkling multi-coloured garlands, and the aroma of mandarins.
My new year mood starts about 1 month in advance, or maybe even earlier, since I work as a kindergarten teacher. Preparations with kids keep the holiday spirit going all the way to the celebrations.
Together with kids and their parents we make lots of decorations for the room and the music hall where the holiday party will be happening. We are also setting up an exhibition. This year we decided to decorate the whole kindergarten in the style of white lace.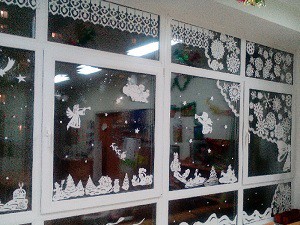 First we started with decorating windows. All the windows were adorned with curtains in the style of paper snow-flakes. It looked very pretty, cute, and most importantly, very appropriate for the holidays, lifting the mood for all of us, teachers, kids, and their parents, as well as casual pedestrians in the street.
The music hall was also decorated in a similar style with a curtain, which was made not of snowflakes but from 3-dimentional paper rollers, connected with each other. Behind the curtain we put a draping in blue and white colours adorned with snowflakes. Next to it we put small white fir trees, which we made ourselves from whatever was available: some were made of paper snowflakes, some of serviettes, and one was made of cotton balls. Hand-made ballerinas, snowflakes, and balls were hanging from the ceiling.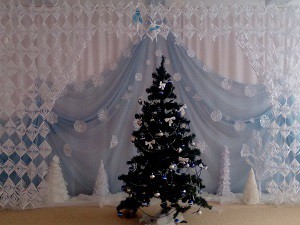 All this decorating took a lot of effort from the kids, who were very excited to make these little ornaments with their own hands.
At the same time kids were learning songs, dances, and their roles for New Year performances. All of these kept the holiday spirit going.
At last, the time comes for the big day. Everybody's ready, everyone can't wait to finally showcase their talents and deliver their great performances. After that, we can relax.
This holiday fuss at work makes me so tired that when the time comes to celebrate at home, I just want some peace and quiet… But it's not going to happen. Not only the kids at work desire celebrations, my family wants to have some fun, too. Slowly I decorate my home, prepare salads and hot food.
After all of this, I feel that once the clock strikes midnight, I will just go to sleep… But of course, it's not going to happen! Friends and family arrive to wish us, "Happy New Year", and they intend to party all night! Because I work as a kindergarten teacher, it is up to me, they think, to entertain them. Great. I put together my willpower, and entertain the people I love, dreaming for all of them to leave and just be able to have some rest…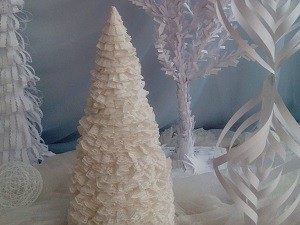 January 1st, I can finally relax and catch a small break.

The next day, I am ready to take on the big holiday party and visit all my numerous friends and family! Because I am used to this crazy and frantic pace of life, and can't live without it.

And this happens every year. 😉

Read also:

>> All articles (in English)

Share this article