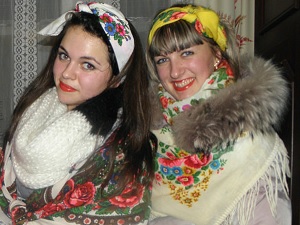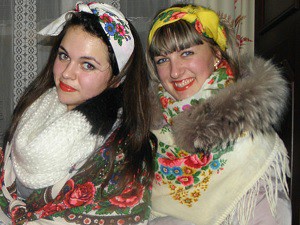 Guest author: Natalia Maksimets
My family and I live in Ukraine, Kiev region. Our beautiful kind city if named Bila Tserkva ("White Church"). New Year in Ukraine is a favourite holiday, and both kids and grownups are looking forward to celebrations.
New Year in Ukraine
New Year celebrations start long before the New Year with kids performances at schools and kindergartens.
Grownups have corporate New Year parties at work, which are usually celebrated at restaurants or cafes, and sometimes move to hugging parties, where everyone becomes friendly and carefree, men become very gallant and start kissing women's hands, and women relax and start smiling much more than they do it at the office.
This picture was taken at a corporate New Year party. See, how happy I am! 😉
31 December at home everyone has to have a decorated fir tree. Traditional winter salads, meat jelly, meatballs, and meat cabbage rolls are ready and waiting to be served. About 8 pm my husband and I start setting up the festive table, and our little daughter helps us. Later our older son joins us. He doesn't enjoy helping but enjoys eating and drinking.
Every Ukrainian family will have plenty of food on the table. People actually make too much food, because they try to be ready, just in case of some unexpected visitors. And usually on this day they will have people who decided to pop around: neighbours, family, friends, and everyone will be welcomed and offered food!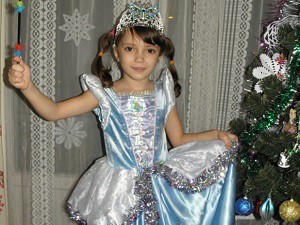 Once the table is set, we sit down and remember the Old Year… Remember all the good things that happened during this year. The bad things are not talked about. Our daughter dresses up as a Princess or Snow Girl (Snegurochka) and is waiting for Grandfather Frost (Ded Moroz) to come.
Ded Moroz is usually our Dad. To allow for the transition to happen, I have to distract the little girl, so she doesn't notice that Dad is missing. Instead, here comes Grandfather Frost with a giant bag and starts giving out presents. I secretly hide Dad's present under the New Year tree.
When Ded Moroz leaves to see the other children elsewhere, Dad comes back. Our daughter screams, "Dad, Ded Moroz left you a present, too!" shows him the present under the tree. Last year Ded Moroz was exposed, because he had Dad's shoes and talked in Dad's voice.
Once everyone has opened their presents, we dress up and go out to the city's square, to take picture under the giant New Year Tree. On the way, we usually need someone we know and drug someone with us home. Sometimes we have to literally "drug" people, as even though it's only 10 pm, some can hardly walk because of having consumed too much liquid New Year cheer.
After the walk around the city, we come back home. The midnight is close. Here, the clocks are ringing 12! We pour Champagne and make wishes. Usually they come true.
After that, we again go to the city square to the New Year Tree. After midnight there are lots of people. Congratulations, kisses and hugs, and lots of them.
Christmas in Ukraine
Christmas is the next big holiday in Ukraine. I always make kutya — a traditional barley porridge with poppy seeds and honey, and compote from dried fruit.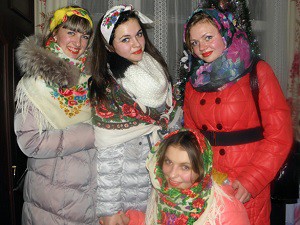 On Christmas Eve 6 January the table has to have 13 dishes without meat or animal products (fasting). When families start this special pre-Christmas dinner, girls and boys walk around singing songs (kolyadki) and wishing kindness and luck to the hosts. We give them money and candies.

The whole day 7 January our home is full of visitors — family, neighbours, friends. Every Ukrainian home is full of light and kindness, joy and warmth. Traditionally, grownup children visited their parents on this day, but it may not be practical for some people.

My family usually visits parents on this day, bringing gifts, candies, and kutya. Parents also set a festive table and we have a meal together. The feast lasts quite long, nearly the whole day. Whoever comes in, they must also sit down and have something to eat. It is also a custom on this day to forgive the ones who offended you and make amends.

Read also:

>> All articles (in English)

Share this article