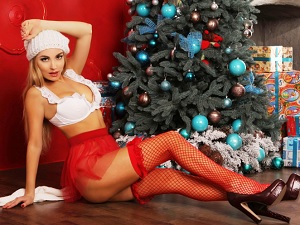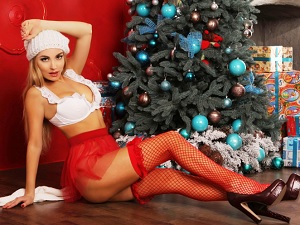 Holidays are nearly upon us, and you are probably wondering about Christmas greetings to women you have met on Elenas Models. Check these tips, specially designed for men dating Russian and Ukrainian women, and you will make an indelible impression!
Orthodox Christmas is 7 January
The first thing to remember is that in Russia and Ukraine Christmas is officially celebrated on the 7th of January, and not December 25. Congratulating Russian and Ukrainian women with Christmas on 25th December will be premature. (Belarus, on the other hand, is now also officially celebrating Chistmas with the western world.)
Christians in Russia and Ukraine mostly belong to the Orthodox Christian Church, which used to follow a different calendar, putting Christmas on January 7 (13 days later). The same is applicable to other Christian holidays such as Easter, which is celebrated on a different date to western Easter. January 7 is a public holiday in Russia.
Congratulate women with New Year, not Christmas
Post-soviet countries still consider the New Year as the most important holiday of the year. It is not Christmas that is the main celebration, but the New Year's Eve. Everything that you think "Christmas", will be applicable to the New Year celebrations in Russia and Ukraine.
On the eve of the New Year people gather in groups and always wait until 12 am to open a bottle of champagne, and clink glasses for the New Year. About 5-10 minutes prior you should also drink a glass of champagne to "see off" the Old Year. It is also the day when they exchange presents. Many families will have the Russian Santa Claus (called Father Frost) appearing with a large bag of presents for kids. It may be a neighbour dressed in red-and-white suit, or a special presenter from a service company.
TV channels have special concerts programmed for the night, which start after 12 am and go until 5 am. Most people spend the night drinking and eating festive food. There is a saying, "How you meet the New Year, that's how you will spend the rest of the year", this is why people try to ensure they have a lot of fun, food, and drinks.
You can send your lady an additional greeting on 7 January (Russian Christmas Day) but it's a much smaller family holiday than the New Year's Eve. It's a small family gathering as compared to large gatherings of friends for the New Year's Eve. Company parties are also designed to celebrate the New Year.
Russian pronunciation of the New Year greeting: "S novym godam!" (Literally means, "with the new year!")
10 New Year greetings for women
Christmas cards photo
Collect all Christmas cards you received (or just any Christmas cards you have around), line them up on the table or against the wall, and take a photo of yourself using them as a background. You can be wearing a red Christmas hat or reindeer horns, if you wish. Make sure you smile nicely and look happy! 🙂
Write a New Year poem for your lady
Even if you are not sure about your writing talents, try to rhyme and create something special just for her. (Warning: don't send the same poem to several women, or if you do, don't tell them it's "just for her".) Include something special she told you about in the poem.
The website Rhymezone allows you to find rhymes to any word. Women greatly appreciate effort and thought you put into creating something special for them — much more than if you copied somebody else's poem or just sent an electronic greeting card, or even an expensive bunch of flowers through a florist!
Take a photo of two of you
This is how it's done: print a large, life-size photo of her face and shoulders, and take a picture of 2 of your faces next to each other. Send it to your lady saying something along the lines, what a cute couple we are!
Cook for her
Yes, it can be done even though you are far away from each other! Make your favourite dish and take a photo of you with the dish, and a beautifully served table with glasses, table cloth, and all. You can post a large picture of her face on the second seat. (See tip 3.) Now, take a snapshot of this arrangement and send it to your special woman with a message, one day I hope to make this picture true in real life. It's incredibly romantic!
Take her on the tour of the city
Print her photo and take pictures of you and her in several lovely places of your city as the background. You can ask a passerby to take your snapshot or use a "selfie stick", they are now readily available in stores. Send it to your lady, and say that one day you will show her these places for real.
Make something with your hands
Make something small and light with your hands, take a photo of it with your face in the frame, and send the picture to your special lady-friend as the New Year greeting card. Also send her the little parcel with your hand-made present by air mail. Tell her you hope she will get it in time for the "Old New Year" (a small holiday celebrated on 13th of January, in the memory of moving dates 13 day forward in 1918, after joining the western calendar).
Sing her a song
Record yourself singing a Christmas song, and send the video to your lady as a greeting. Make sure you have a great Christmas background and appropriate outfit. The more time you invest in the set up and decorations, the bigger impression you will make. Your singing skills are not as important!
Paint her a picture
Buy blank canvas from an arts store and paint a picture. Take a photo of the picture and yourself, and send it to your woman as a New Year greeting card. Then mail it to her as a parcel.
Make her a part of your Christmas party
Take a photo of her life-sized face (see tip 3) among your family members during your Christmas celebrations. She definitely will be thrilled to feel "accepted" and "included".
Create your own "12 days of Christmas"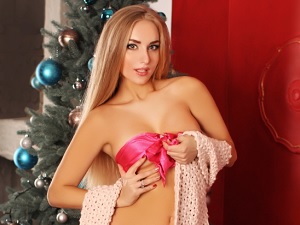 Send her a Christmas-themed photo every day, starting from 25 December, using the tips above. The last one will be 1 day before Orthodox Christmas 7 January.
Depending on the stage of your relationship with the woman, find an appropriate greeting. You can also combine several ideas together, or come up with something of your own.
Open up your creativity channels, and have fun! 🙂
Read also: