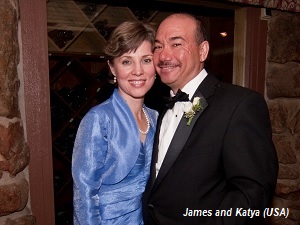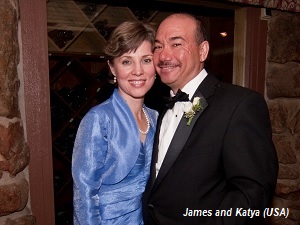 Do you know the best way to impress a Russian or Ukrainian girl or woman? Learn some simple Russian phrases, which you can use both in verbal and written communication. Girls just love it when a man tries to speak Russian! It will make her laugh, and, as you know, if you can make a woman laugh, you are half way there.
Many Russian phases are very simple and easy to learn and pronounce. Even if you do not say it 100% right, she will be happy to correct you! You will learn these expressions in just 10-15 minutes.
10 simplest Russian phrases to learn
Privet! (Hi!) — It's an informal greeting, which is used for casual acquaintances and friends. Pronounced as, "preevet", it's a great way to start a letter to a woman, or greet her on chat.
Poka! (Bye!) — Just like "Privet", it can be used in writing or face-to-face. An informal version of "Good bye", it's pronounced exactly as it looks, "po-kah".
Davay pogovorim (Let's talk) — This phrase is much simpler to pronounce ("dah-vy pah-gah-vah-rim") than the more popular Russian expression, "Davay poznakomimsya" ("dah-vy pah-znah-koh-mim-sya" — "let's get to know each other"). But if you are writing an opening for a letter, you may also copy and paste the second phrase.
Kak dela? (How are you?) — Just like its English version, "Kak dela" is used in the beginning of a conversation to start it up. Pronounced as, "kak dee-lah".
Kak pogoda? (How's the weather?) — The most popular subject in the world, affairs of the weather are very important for Russians and Ukrainians, where the outside temperature can drop 30 degrees in 1 day, from 0 to -30 C˚ (from +32 to -22 F˚). You can also ask, "Kak u vas pogoda?" which means, "How's the weather at your place?"
Kak rabota? (How's work?) — Asking about her job will make her feel you are not just treating her as a pretty object. No matter what is her job, Russian and Ukrainian women feel it's important to work and contribute to the society.
Ochen khorosho (Very good) — This can be your answer when she asks things about you or tells you some great news. "Khorosho" (good) may be also used instead of "yes".
Da (Yes) — Pronounced as "dah", it is a simple message of agreement.
Net (No) — Pronounced as "niet", it means disagreement.
Ya po tebe skuchal (I missed you) — This you can tell her after you have exchanged a couple of messages. A woman likes to know you have been thinking about her.
Here you are!

Now you know 10 simplest Russian phrases and will be able to carry on a very basic conversation. If you try these expressions talking to women on camera, you will definitely see the spark in their eyes when you utilize your newfound knowledge.

Russians commonly use "translit" as they call it, spelling Russian words in Latin letters, so she also will be able to read these phrases easily when you include them in your messages.

Have fun! 🙂

Read also:

>> All articles (in English)

Share this article