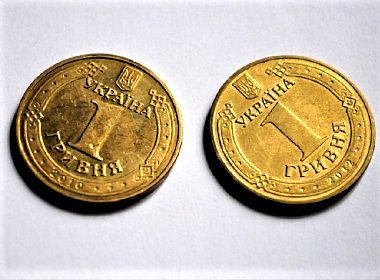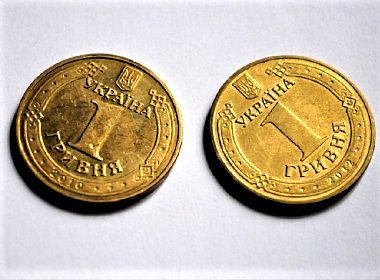 Wages in Ukraine remain low. The average wage country-wide in July 2017 was USD 276 (7,339 Ukrainian hryvnia). Statistics show that except for the capital, average monthly salaries in all locations (including Kiev region) didn't exceed USD 300.
Wages in Ukraine range from USD 213 to USD 296, except the city of Kiev
Despite all efforts to take remuneration payments out of the shade, the unreported part of the Ukrainian economy is still around 46%, according to the recent report by Transparency International.
This certainly affects the picture with average salaries in Ukraine, which Ukrstat conveniently calculates only for the companies with 10 employees or more.
Small businesses that legally employ fewer than ten workers are not in the picture of steadily growing paychecks, actively promoted by officials as a great success.
The capital of Ukraine, Kiev, has the largest number of bureaucrats, who are officially employed on "white salaries". Their paychecks are substantially higher than workers in regions earn ($429).
If we don't consider the average wages in Kiev, all other locations struggle to break US$300 barrier, with numbers hovering from $213 in Ternopil to $296 in the area of Donetsk (which includes only the part of territory controlled by the Ukrainian government, as opposed to separatists).
The minimum salary in Ukraine at the moment is 3200 hryvnia ($120). An increase is planned for 2018, with hopes the number will be raised to 3700 hryvnia ($139).
There are a lot of people in Ukraine earning minimum salaries.
Ukrainian employers pay remuneration monthly, not weekly.

Wages in arrears
Besides, there are giant arrears in payment of rewards. In August 2017 Ukrstat reported over 2.3 billion hryvnia in unpaid wages to employees. And the arrears are growing: In January this year the number was under 1.8 billion.
It means, people are paid later than the due date. Workers need to pay their bills, but they have not yet received their paychecks. The arrears keep advancing quickly. At first you get your paycheck one week late and before you know it, your July wages are paid in October. It is not unusual for some categories of workers to wait for their money to arrive for 6-8 weeks. (And yes, they keep working, and don't go on strike.)
The largest arrears are in Luhansk and Donetsk area, with half a billion hryvnia in unpaid salaries in each administrative area. Workers of nearby Kharkiv were waiting in August 2017 on a quarter of a billion in hryvnia they earned but didn't get.
Average salaries by region, highest to lowest (in USD)
City of Kyiv: 429
Donetsk: 296
Kyiv (the whole region): 278
Vinnytsya: 276
Dnipropetrovsk: 274
Zaporizhya: 272
Mykolayiv: 256
Poltava: 254
Odesa: 251
Lviv: 246
Zakarpattya: 244
Kharkiv: 242
Cherkasy: 242
Sumy: 236
Ivanovo-Frankivsk: 236
Rivne: 233
Kirovhrad: 229
Khmelnytskiy: 228
Zhytomyr: 228
Kherson: 226
Volyn: 225
Chernivtsi: 220
Luhansk: 220
Chernihiv: 219
Ternopil: 213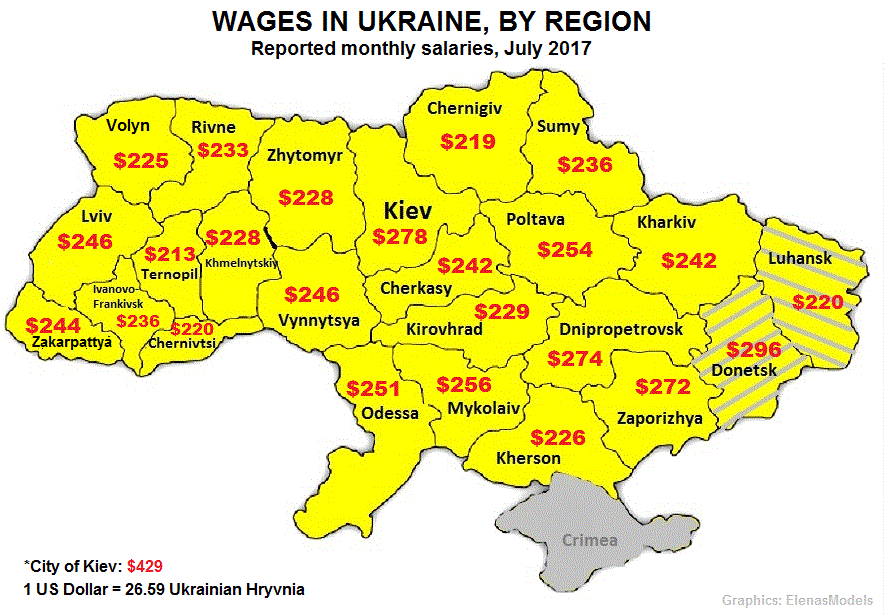 Read also:

Share this article