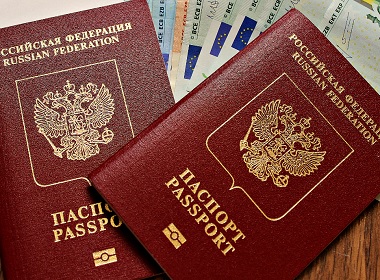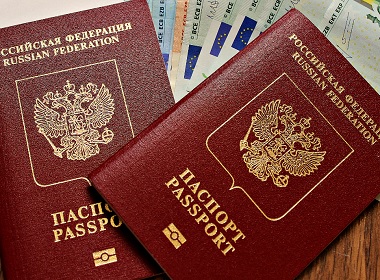 Young Russians seem to dream about life in other countries, with 31% of respondents to WCIOM survey aged 18-24 indicating they would love to move abroad.
31% of Russians under 25 want to move abroad
In total, 10% of respondents in WCIOM survey indicated desire to leave the country, but the share of people thinking that life abroad would offer was substantially higher among young adults under 25.
In total, the majority of survey respondents (88%) said they wouldn't want to leave Russia for another country.
In general, locals don't feel that the number of people wanting to move abroad is rising, WCIOM reported.
27% of respondents said the number of citizens thinking of immigration was on the decline, while the same share of survey-takers stated it was the same as in the last 2-3 years, and 23% said there were more people wanting to move abroad.
26% of respondents said that they knew someone who left the country in the last few years. Among the people who travelled abroad within the past 2-3 years the share of people who knew someone who migrated to another country was 46%.
In 2011-2018 the share of people wanting to immigrate was around 10-13%, according to WCIOM polls.
Germany remains the preferred country to migrate.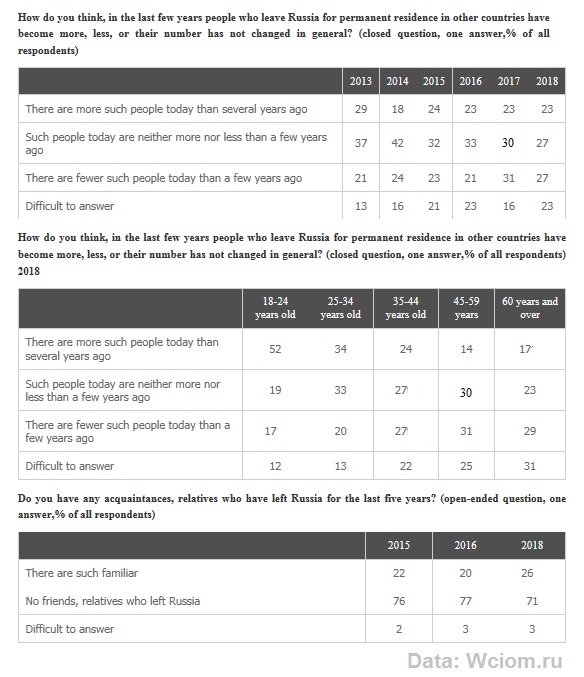 Traveling abroad
74% of Russians haven't travelled abroad within the last years.
Young people visit other states more often: 27% of respondents in the group 18-24 visited another country recently.
Among the group 60+ only 14% reported recent trips outside of Russia's borders.
People who have travelled abroad within the last 2-3 years also show a higher drive to immigrate (20%).
Commentary by experts
Stepan Lvov from the All-Russian Public Opinion Research Centre (WCIOM) commented that responses to the survey should not be seen as the desire of Russian youth to immigrate forever and never return, and it would be absolutely incorrect to interpret the results as "running away from the horrible Russian reality".
"It is the proof of the openness of our youth towards other countries, possibly even a challenge to the outer world: 'You don't want to deal with us? Then we'll come to you — to see people, to show ourselves…'", Lvov stated.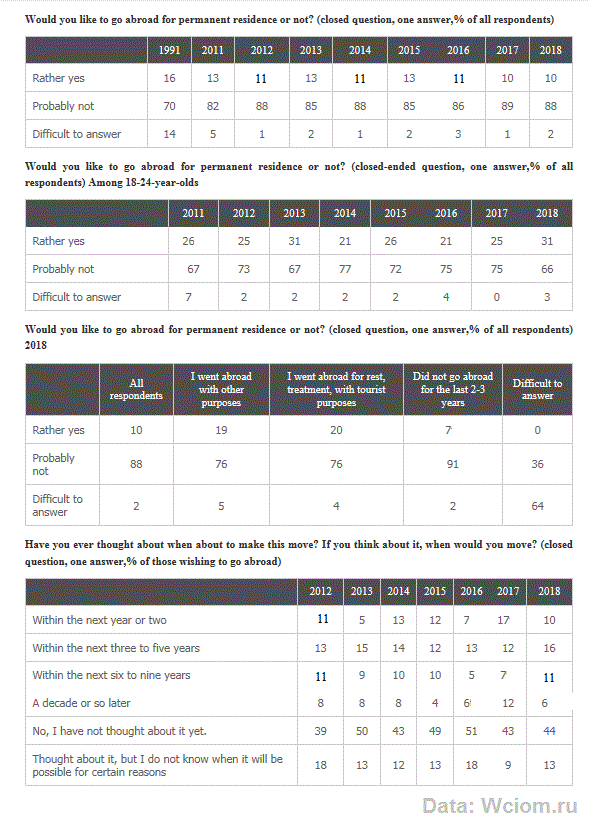 Immigration moods in Russia
Leaving Russia is still seen as "betrayal of the motherland" by citizens.
Most often posts on Elenasmodels.com blog in the Russian language about experiences of former citizens living in other countries attract comments of the type, "It would be lovely to visit, but I don't think I would be able to live anywhere but in my homeland". Such comments arrive from the outside visitors of the blog, not Elena's Models female members, but they reflect the officially approved attitude towards residence in other states: It's OK to visit but not to move there for good.
However, behind this official phrase that is casually voiced hides a huge curiosity of Russians about life in other countries. It's just people in Russia believe, "No one is waiting for me there," the attitude, which stops them from even trying to live overseas as an experience or a potential goal.
Another attitude that's often quoted, "We have too different a mentality with foreigners". The idea that a person from Russia wouldn't be happy in any other country is also popular among officially approved.
Such contradictory views could be illustrated by the recent events during 2018 FIFA World Cup, which tool place in Russia in June-July 2018. For instance, Russian men were greatly offended by interest from the local women towards visiting foreigners, while at the same time trying to pretend being out-of-country guests in order to score with girls.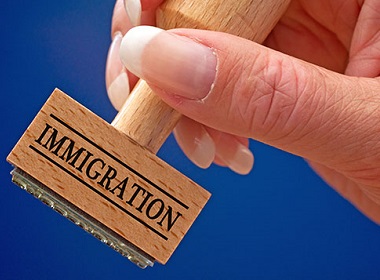 Read also: