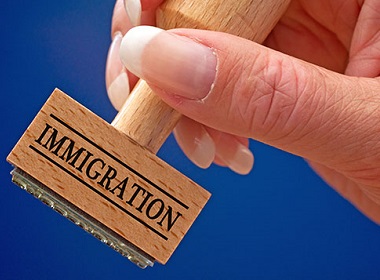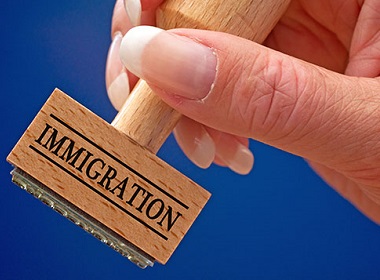 The latest study by the Russian Public Opinion Research Center revealed that the number of Russians willing to leave the country keeps dropping (10% as compared to 11% last year, 13% in 2015). At the same time, would-be immigrants nowadays take a more balanced approach to their choice of destination and carefully consider possible reasons.
10% of Russians want to immigrate
The majority of Russians would not want to leave Russia and move to any other country (89%, which is all-time high).
Compared to 2015, when 13% of respondents expressed a desire to immigrate, in 2017 the number has fallen to 10%. (For comparison, in Ukraine 33% of people want to immigrate.)
Among those who would like to leave, the highest share is among the age group of 18-24 (25%). Residents of Moscow and Saint Petersburg are also more open to moving abroad (21%).
The share of Russians willing to move in the next year or two increased (17% in 2017 vs. 7% in 2016); at the same time, fewer people do not really think about a specific date (43% vs. 51%).
What Russians think about others wanting to emigrate?
During 2017, the number of those who feel that there are many potential emigrants in Russia has declined.
In 2016, 21% of respondents stated that there were fewer people applying for permanent residency in other countries, while this year 31% think that the emigration to other countries have dropped.
The percentage of Russians who noticed an increase in emigration stayed the same (23%).
Ready to take an action
The percentage of Russians who are ready to take action in order to achieve their goal of emigrating has increased.
Most people are saving up money (20% in 2017 as opposed to 15% in 2016) and gather information about their host country (increase to 20% from 14%).
Learning a foreign language is another popular option (19%), as well as taking advice from friends who have already immigrated (15%).
Overall, Russians more carefully consider their choice to leave than in previous years and are ready to take the necessary steps.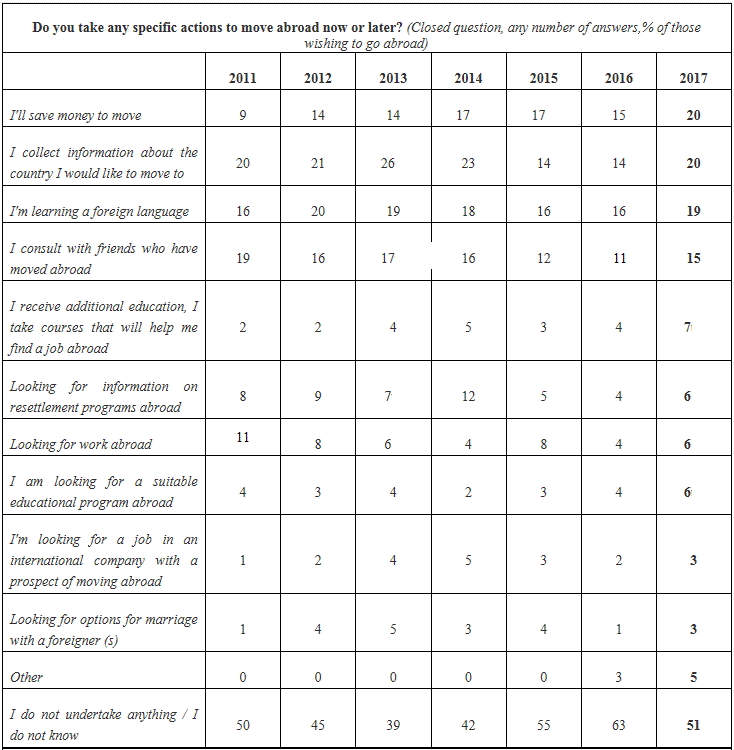 Why Russians choose to emigrate?
Reasons for emigration have also changed.
In 2017 fewer people dream of enjoying a high standard of living abroad (33% in 2017 vs. 50% in 2016).
More people attach value to such benefits as social stability (15%), climate and ecology (12%), cultural level (11%).
The majority of respondents also express dissatisfaction with current domestic policy and Russian authorities, which is one of the main reasons why they feel like leaving (13% in 2017 vs. 5% in 2016).
10% of Russians claim that they can't stand living here, and the same percentage of people would want to leave in search of respect for human rights (in 2016 no one gave such a reason for leaving their homeland).
Interestingly, 0% of Russians want to immigrate to marry. This number is consistent through the many years of research. (Russian women who seek partners abroad strive to "create a family" and to achieve this, they agree to move, not the other way around.)
Countries where Russians want to move to
For the second year in a row, Germany is at the top of the list of most popular host countries (13%).
The USA with 10% comes a close second just like in 2016.
Australia gained in popularity being the third in the list with 7% (as opposed to 2% last year).
2017 list of countries where Russian citizens wish to migrate to (% to all respondents who desire to immigrate):
Germany: 13
USA: 10
Australia: 7
Italy: 5
England: 4
New Zealand: 3
Spain: 3
Israel: 3
Canada: 2
Switzerland: 2
United Arab Emirates: 2
Bulgaria: 2
Norway: 2
Cyprus: 2
France: 1
Thailand: 1
Finland: 1
Latvia: 1
Portugal: 1
Czech Republic: 1
Belarus: 1
India: 1
Cuba: 1
Argentina: 1
Brazil: 1
Hungary: 1
Kazakhstan: 1
Ukraine: 1
Dominican Republic: 1
Montenegro: 1
Countries of Europe (without specification): 1
Countries in Asia (without specification): 1
Other: 3
Difficult to answer: 19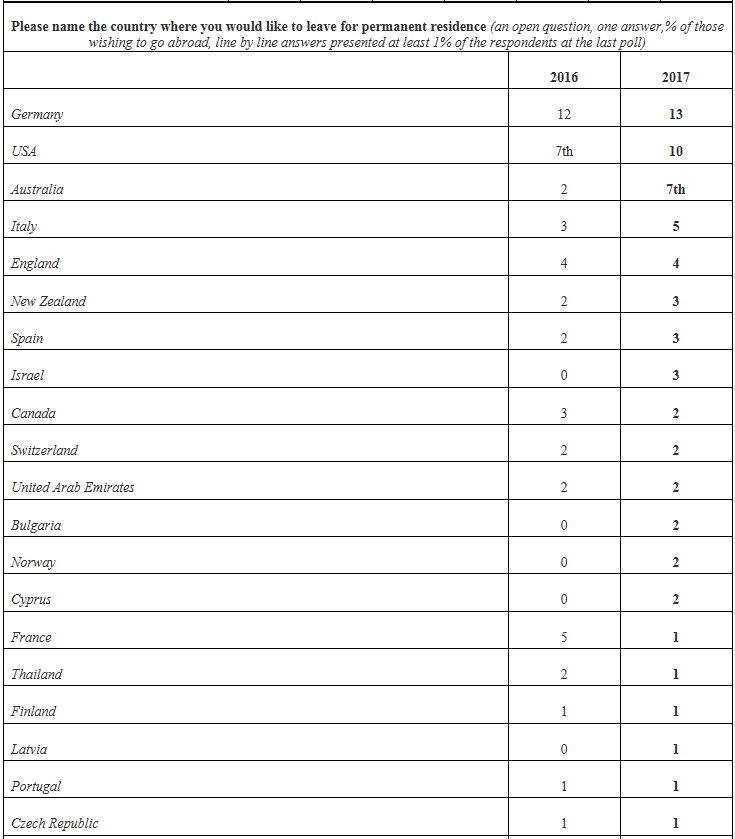 Comments by experts
Ivan Lekontsev, an analyst of VCIOM, commenting on the poll, said that financial reasons for immigration were still strong. However, in the minds of Russians "the good life" is now associated not with a standard of living as such, but rather with a social and political environment. The analyst also stated that although some Russians felt like they had no place in the country and wanted to move, the percentage of people expressing such sentiments dropped.
Those who would prefer to immigrate choose between stable Western countries that are more similar to Russia in their culture and national character than the Arab world, Latin America or China. The expert believes that the desire to be a part of a strong and powerful state encourages would-be immigrants to choose Germany – an informal leader of modern Europe.
Data: VCIOM
Worldwide stats
Worldwide, Russia is #3 both as a recipient and sender of immigrants. There is about 11.6 million migrants inflow per year and 10.6 million outflow, which is the main reason why the population of Russia doesn't decline, although there is huge demographic hole between the number of deaths and newborns. Migrants arriving to work or settle in Russia allow to maintain the population size, which Rosstat estimates at 146.8 million (as of March 2017).
Data: U.S. News and World Report
Read also: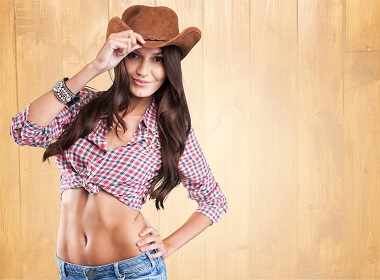 Share this article