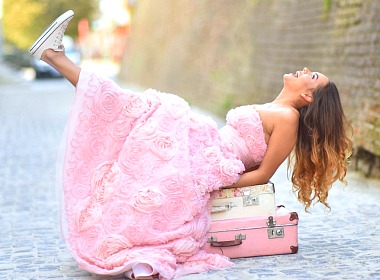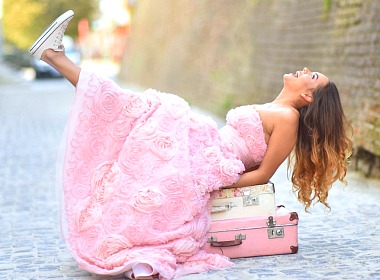 Recently I received a comment from a man stating he was afraid to contact 90% of women on Elena's Models dating site because judging by the photos in profiles their lives seemed to be so much more exciting than his own. At the same time, he cannot understand how it's possible because he makes more money per day than these ladies make in a month,  seeing the size of average salaries (wages) in Russia and Ukraine ($200-500/month).
Your life can also look much more exciting—without Photoshop!
Well, for starters, ladies from the countries of the former Soviet Union (FSU) have learned how to use filters and colour enhancement on their photos. Any modern phone allows you to enhance the colours of your shots.
Simply compare the two images below. It took me precisely 15 seconds to click a couple of buttons on my iPhone to change the image to a much more vivid version. Isn't it already more compelling, with just a couple of regular adjustments (filters) that professional photographers and advertising specialists use all the time? Now such modifications are available to anyone—even before we have started talking about covering the globe's sights.
How women in Russia and Ukraine can travel while earning only USD 200-500 a month?
If you have been following this blog, you would know that there are plenty of budget tours from Russia and Ukraine to foreign and local destinations.
Many countries offer visa-free entry to tourists from Ukraine and Russia.
In our times, people also have friends and family living abroad. This means, they can simply drive a car and get to other places in Europe.
I used to drive from Moscow, St. Petersburg, and Zaporizhia (Ukraine) to Yekaterinburg (Russia) when I was in my twenties—trips of 2,500 km (1550 miles) one way. Over a few days, you see a lot of different cities and towns.
Cheap trips for Ukraine and Russia residents
For example, the cheapest tour to Egypt (plane tickets, transfers, hotel) could cost as little as USD $130 from Ukraine. No, it's NOT a misprint. Yes, it's ridiculously cheap for an all-inclusive overseas vacation!
How is this possible?
Charter flights. The whole plane is booked by the tourists who travel on organized trips as a group. The flights' personnel is local, so the airline is saving on wages, supplies.
Low cost 3-4 star accommodation. Hotel owners give 50-70% discounts to large groups.
Lower profit margins of tour operators. The travel industry in Russia and Ukraine took a big hit recently due to the economic crisis of 2014-2016, forcing many operators out of business. Others had to offer more competitive prices to stay afloat.
There are also low cost cruise ship trips on sale, offering quad (4 persons per room) accommodation on lower decks with no view (internal cabins). Russians and Ukrainians fill cheap cabins of large cruise ships during low seasons. Again, organized groups get sizable discounts.
Ukrainians and Russians also travel to Europe on bus group tours staying in budget hotels. The cost of travel is limited by fuel and wages to the driver and the group leader. Staying in cheap hostels, Russian tourists can visit 5-7 European countries in 10 days for the price you would pay per night in a 5-star hotel. They eat bread and margarine most of the time and sometimes splurge on McDonalds.
Local trips
Travelling to local destinations is much cheaper. People do it all the time. Usually they stay at friends or relatives' apartments.
A train ticket from Kiev to Odessa by an overnight train costs only $10.
Accommodation is free, just buy some extra food for the hosts.
When I was young, my family used to travel a lot to all the relatives in various republics of the Soviet Union. When I became older, I often stayed at places of my university friends. This is how many women in Ukraine and Russia manage to see a lot of different cities.
But even trips to local resorts are cheap. The average price of a double room per night at a local resort in a picturesque location ("tourbaza") in Russia is about $25. Prices start from only $5/night, and you will always find something to suit your budget.
Exciting lives for free
There are plenty of free community events in the countries of post-USSR.
My mother who lives in Russia is the go-to person for such events among her friends: She writes down information about any complimentary happenings she discovers and invites her acquaintances to join her. There are free massages, theatre and museum visits on certain dates, musicals, plays, balls, etc.
In general, community life is thriving in the republics of the former Soviet Union. People spend more time socializing and doing things together.
Even paid events are cheap. For example, opera and theatre tickets in my mother's city can be purchased at less than USD $2 for cheap seats. The most expensive tickets cost only $46 for best seats at premiers. Compare it with your local prices.
Yes, Russian women earn less if you look at the ruble to US dollar exchange rate. But services, goods, and entertainment also cost significantly less. This is how ladies in Russia and Ukraine are able to lead exciting lives. People just learn to live on what they have and budget accordingly.
You too can take advantage of low-cost overseas holidays
So, the "exciting trips" and lives are quite doable for anyone. You simply don't want to go on a backpacker-style trip, and Russian and Ukrainian women have no other options to see the world. Thus, it's no big deal for them to be frugal on trips to exciting destinations. She can save sufficient funds in a few months, as the majority of Russian women own their homes (flats) and thus are quite flexible in their expenditure.
By the way, you too can take advantage of these low priced holidays.
This is how:
Ask your sweetheart to check prices for trips from her city abroad.
Pick a tour to a destination you'd love to see.
Get your own low-cost arrangements in place by finding deals on travel sites like Booking.com or Trivago, and arrive to meet her there at the same time.
You will be expected to compensate her trip costs. If you don't do it, she will feel you do not value her and your relationship. In FSU countries men still pay for dates and if a woman is paying for herself, she feels like she is not with a "real man". However, it's not going to be extremely expensive, so why not? When you have the chance to meet the love of your life!
It will save you the hassle of arranging a trip to an unknown Slavic land you feel uncertain about: Russia, Ukraine, Belarus, etc.
The price for two of you getting there at the same time is likely to be cheaper than if you travel to her home town. Besides, you both can enjoy a vacation, even if you don't hit it off!
But if you do become an item, the most exciting part of your life is just starting.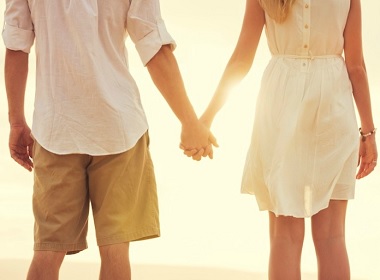 Read also: