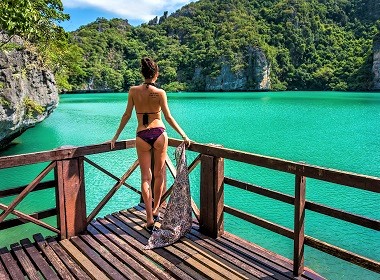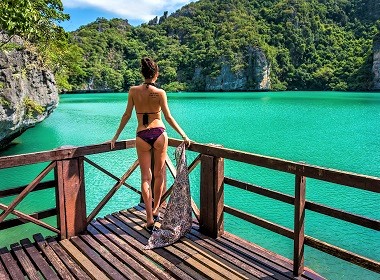 Sooner or later in your romance with a Russian girl, a question arises: How do you meet in person? If you don't feel like flying to Russia for a meeting, the Backpacker index may give you ideas about cheap places to meet Russian girls.
Meeting Russian girls: Cheap places for tourists
There are 3 major options of how you may choose to organize a meeting with your online sweetheart:
You visit her
She visits you
You meet in a third country or city
As one of the options frequently used by international couples, romantic online pen pals often meet at a holiday resort in a tropical paradise.
From Russia, there are many charter flights to inexpensive holiday destinations around the world.
In fact, it may be cheaper for you to arrange a meeting at a holiday resort in a beautiful designation on an ocean shore than to fly to her small town in the middle of Siberia. Besides, you won't need to spend time and money on arranging a Russian visa, which is still required for foreign visitors.
Why meeting in a third country is a good idea
Meeting in a third country for a vacation together may be the preferred option for many Russian girls, who may have superstitions about disclosing their search for a foreign husband too early to their circle of friends. (There is a superstition that if you tell people about your plans, they won't come true if someone is envious.)
In fact, many women from Elenasmodels.com commented that it's best to keep one's search for a partner abroad a secret from friends and acquaintances, so that they don't try to sway you away from the idea or make you feel guilty about "betraying homeland".
Some ladies may feel uncomfortable to have you visiting the city, because the future of your relationship is unclear (you may not like each other when meeting in person), but if someone sees you together, she would have to explain who you are and what you are doing as a pair. This is a reason some women prefer to meet in a third country, if possible.
Another reason: As you know, we all love to take vacations. Travelling abroad is considered prestigious in Russia, and your paying for the trip shows you as a caring and generous admirer. She feels grateful and sees you as genuinely invested in a relationship. And this variant, as mentioned above, can be much cheaper than your visit to her home town—which doesn't give her any perceived value.
In her view, your offer to meet at a holiday resort is more interesting than your visiting her city.
What about her visiting you?
In many countries, Russian girls require a visitor visa, which may not be easy to obtain.
Ukrainians are able to travel to countries of European Union on visa waiver (see the list of European countries Ukrainian girls can visit without visa), but Russian women have to apply for a tourist visa, although it's quite realistic to get. If you live in Europe, you may try this variant, to invite your lady for a visit.
But if you are in America or Australia, it may be too hard to organize her visiting you straight away. It may be much easier to meet elsewhere first for a vacation together, to see if you like each other and want to proceed.
Top-50 places in the world that are cheap to visit
The Backpacker index rates places by the minimum cost per day, which includes accommodation in a hostel, budget meals and drinks, some transportation and entertainment.
You can find a country that is easily accessible for you and ask your online girlfriend to find out how much are tickets to that place.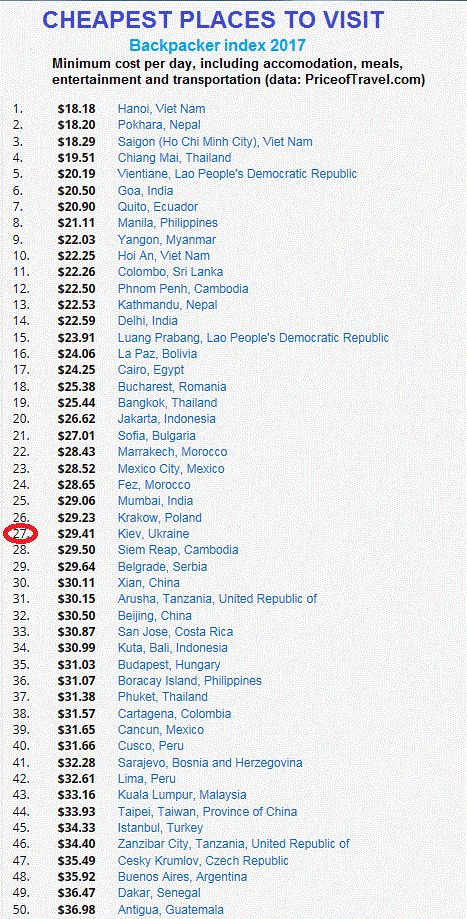 These places are quite popular among Russians with many travel agents selling tours to these destinations:
Goa, India
Bangkok & Phuket, Thailand
Istanbul & Antalya, Turkey
Egypt used to be popular with Russian tourists, but now it's considered unsafe, since Russia's involvement in Syria.
In fact, you can meet at any place that is easily accessible to you. For example, many Americans set up meetings with their girlfriends in Dominican Republic or Caribbean.
Kiev (Ukraine) is also one of the cheapest places to visit, but Russians don't like going there after 2014. But Ukrainian girls will be happy to travel to their country's capital, which has plenty of conveniences and decent standards that foreigners are accustomed to. And a train ride to Kiev is only US$10-20, which you can compensate to your girlfriend when you get together.
Check also the prices in your country, how it fares compared to other places.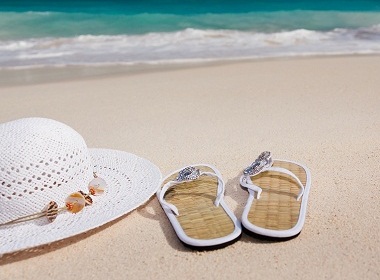 Read also: