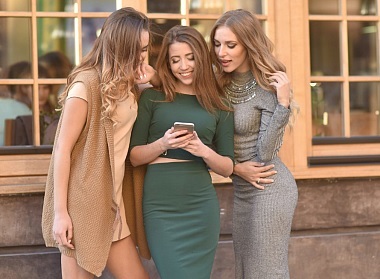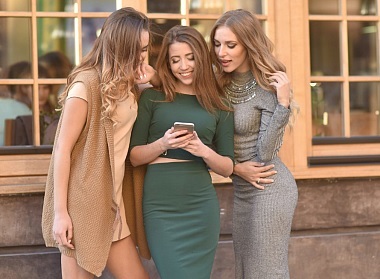 When you are dating Slavic women online, the initial meaningful contact is your first message. Before that you would have probably received an Expression of Interest (EOI) from the lady, or she might have answered your EOI or sent you a short note first.
Regardless of who contacted whom, it is your first letter that will determine in a great degree how your future relationship will go. It is not rare that Slavic girls decide to stop communication after your initial email, and you may be wondering why it happened. Most likely, it is the contents of your correspondence that made her decide you are not a suitable candidate.
Find out how to make women notice you for the right reasons.
7 Tips for an Amazing First Message
Include an attractive photo
Sure, you already have pictures in your profile. Attach another one with your first message as well—preferably in a different outfit to the ones in your Gallery on the dating site. The best would be to take a new picture today, something that shows your daily routine—in a gym, at work, outside on your patio watching sunset—anything that gives her an immediate taste of your life.
Tell her that you are sending a today's image and what exactly you have been doing. Getting a good quality snap will only take you 5-10 minutes, but the benefits it will produce are enormous.
Most guys are too lazy to take a good photo even for their profiles—you will immediately stand out.
She will be confident that's the actual way you look—girls also wonder that you may not look like your online photographs.
She knows this portrait was taken separately, and you haven't sent it to hundreds of other girls before her—every lady enjoys feeling special.
If the surroundings in your snapshot are nice (make sure they are!), she will unconsciously aspire to be there with you—this means you'll have a higher chance of getting a positive response.
Check list for your photo:
Well lit
Smile
Clean and tidy background—better still, a lovely natural scenery such as a lake, sunset, ocean, beach, snow, or flowers
Well dressed—preferably, wear a white collared shirt or other tidy clothes (unless you are making the shot skydiving or lifting weights in a gym)
Read also:
Write something unique just for her
Read her profile and compose something original only for her. I always know when a message is prewritten—it's too vague, you know immediately it could be sent to dozens of other people. Even if you change certain sentences, it still feels impersonal.
When you are creating a message just for her, you are able to mimic her writing style, and make your memo sound similar to what she said about herself.
If her profile is long, draft a longer letter.
If her online summary is funny and written with humour, include a few jokes.
Address the same issues that she discusses in her texts.
Use the same expressions and words—she will be able to relate to them directly.
Compliment her on something particular that she mentioned about herself.
Refer to her photos and what you liked about them—don't ponder over how pretty she is but comment on specifics. For example: "I liked your red dress, it really suits you", "In the image on top of the mountain, where was it taken?" etc. (Make sure you have read photo descriptions, so that you are not asking questions, which are already answered.)
Read also:
Make it short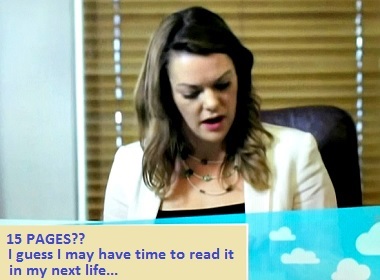 Your first message should not be longer than 1000 characters without spaces (about 220 words—use Word Count function). When Slavic women see lengthy sagas, it's too hard work for them to read and translate, and they may decide you are a bore. Only say the most important and pleasant things. Keep other topics you want to discuss for later.
It is also much easier to make a blurb in longer descriptions—accidently bring up something she won't like. If you have already exchanged a few communications back and forth, she will trust you more and won't get easily offended, but in the initial stage she hasn't invested anything into your relationship—it's painless for her to discard.
When you are writing a short note, it's easier for you to send it to her quickly—detailed stories take time. There is no benefit in your first letter being lengthy.
Ask questions
The biggest concern of Slavic women is, "What do I write to a man?" They are unsure what to answer to your email, if they feel attracted to you and would love to continue communication. They are afraid to say something wrong that could turn you off. If your passage only tells her how astonishing she is, she has no idea how to reply.
Ask her some questions, and she will have something to talk about. Don't list too many queries at once, as it would sound like an interrogation. Tell a little bit about yourself and add a relevant inquiry about her, that's the best way.
Read also:
Don't send anything offensive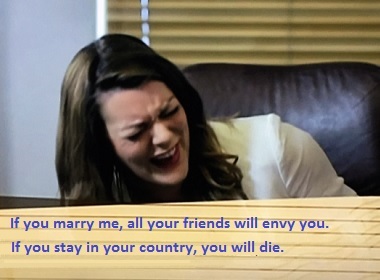 I regularly hear from women that men post all kinds of distasteful messages to them. Some of the frequent offences:
Photos without shirts. You might have in mind to impress her with your body sculpture, but she feels it is a sexual innuendo, inappropriate during the first contact. It doesn't matter that she has a picture in her bathing suit in her online dating profile: you want to see her showing off her body, and she doesn't wish to examine you undressed.
Copy-paste texts. Girls know when you are sending a copy-paste. Rather write a short paragraph just for her than mail her a long chronicle, which you are dispatching to everyone. (Long chronicles are great when you get to know each other and she craves more information about you.)
Saviour flavour. Some guys write things like, "If you marry me, all your friends will envy you, and if you stay in your country, you will die"—it is a true quote from a first letter! For a long time already marrying a foreigner is not a big deal for Slavic ladies. To be "an envy of your friends", you need to marry someone famous in your country—moving overseas cuts a woman off the radar of her circle, who won't care. In particular, Russia today is on the wave of neo-patriotism, with the prevailing message in the media that "Mother Russia" is the greatest country on Earth to live in. Remember: Women are not seeking a country to immigrate but a partner to start a family with—that's two completely different motivations. She would be more interested in hearing that you want children and seeking a woman for marriage, and that you are ready to visit her country, if things between you and her go well.
Intention to correspond for a long time. Online romances are a pet hate of Slavic women seeking men abroad. There are hundreds of men on our site (you know who you are) who are buying memberships year after year and keep corresponding with ladies, promising them to come and marry them one day. If you are telling a woman in the first letter that you need to converse for many months before you decide whether you want to meet in person, she may chuck your message into "dreamers" bin. You don't have to jump on the plane tomorrow but she doesn't want to hear in the first email from you that she will have to demonstrate for many months that she is serious.
Scamming accusations. I know many men come to EM after having been fleeced on other online dating sites. I am sorry that things like this exist, but that's not our fault, and not the fault of women on our site. We do check all profiles very carefully before approval, and work very hard to eliminate any potential of your being scammed by unscrupulous people. If you even mention anything about "scams" or "scamming" in your profile or first letter, you may be sure that only extremely desperate women will agree to talk to you. Normal girls will immediately block you, as they don't desire to prove constantly that they are not scammers.
Before sending your message, read it again and think if anything could offend the lady you are trying to impress. If unsure, delete it and talk about it later, when you both learn to trust each other.
If you haven't been to Moscow, here is a video that will give you an idea, what life there is like. Does it look like you need to save someone from there?
Read also:
Use simple phrases and words
Remember that many Slavic women don't speak perfect English and have to use online translators. Complex structures and idioms don't translate correctly thorough software and are hard to understand even for ladies whose level of English is reasonable.
Your message may go into the "too hard" basket, and you won't get an answer.
Spell check
For the same reason—online translators—you must make sure your spelling and grammar are correct. If a word is misspelled, it won't convert through a software program.
Poorly written mails look disrespectful and give an impression that you are careless. Grammatically correct, polite letters convey good things about you.
Want more insight?
Share this article