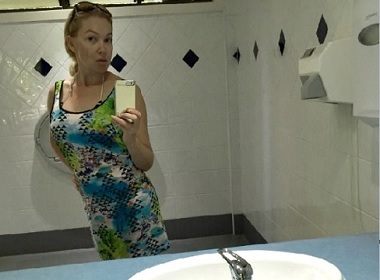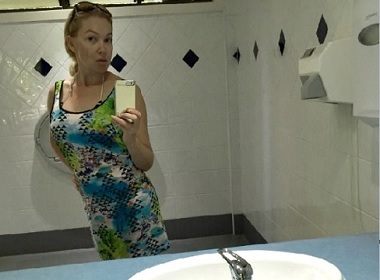 Despite having written about it dozens of times before, I still keep seeing photos of men in bathroom mirrors (often with a toilet or basin in the picture) in their profiles on our dating site.
It's hilarious! Do you even realize how your photo, which is obviously made in your restroom, affects your chances with the ladies? It instantly kills them (I mean, chances).
I know, you guys (not all of you but maybe more than a few) are paranoid that girls are "not real". This why you probably feel attracted to photos that look like selfies, and are afraid of pictures that seem like they were made by a professional photographer. While it is totally the other way around: it's easy to copy images from social media pages, which are mostly selfies, and more complicated to get hold of a set of professional photos, which women made specially to upload to a dating site with a view to find someone for a relationship.
But that's not the point.
The discussion is about you, gentlemen. Being a lady and seeing which men's photos get into Top-100 on our site, I can confidently tell you: Photos in bathroom mirrors are destroying your chances. They are plain ugly.
What a Photo in a Bathroom Mirror Tells Women about You
Your picture taken in your lavatory (or in your bedroom with the unkempt background) instantly broadcasts to women the following:
I have no friends, not even one, who could take a picture of me.
I don't have any experience with women.
My home is a mess.
I mostly live indoors playing on my computer; this is why I am taking a selfie inside.
I don't think that toilet is an unsuitable place for my first introduction to a girl like you.
I am not very intelligent; the fact how my profile picture affects my chances of meeting a woman of my dreams never even crossed my mind.
In addition, if you don't have a shirt in your profile photo, your odds of meeting a nice girl are close to zero. Women on our site consider it disrespectful, as if you came to a job interview with a naked torso.
Do you need another warning?
If you have a picture in your bathroom mirror in your profile, delete it immediately and replace by a nice pic made outdoors, with a happy smile!
(In a shirt, preferably a collared white shirt. It makes you look neat.)
If you don't have friends, ask a passerby to take a picture of you, or position your phone or camera on a hard surface, and use the time delay function.
Read the following posts to make your profile more attractive:
Even a selfie can be cute. This is the photo of me: compare it with "bathroom mirror" shots above.
Which one looks more attractive?
Becoming successful with ladies on our site is extremely easy!
You only need 3 things:
Nice photos. (Looking neat and friendly in your photos can bring you up to 10 times more favourable responses.)
Nice profile. (Be positive and honest: Don't try to pretend to be someone you are not; it will come across as false.)
Be a gentleman in communication. (Don't be a dick: don't think that women are trying to scam you, or lie to you, or that they are "desperate to get out of poverty". Women are here with the same goal as you: They failed to find a quality partner at home, and decided to see if they can meet a decent person elsewhere. If they can, they are ready to move countries. If not, they will stay where they are. They are not jumping on top of some guy whose only advantage is that he lives in a country with a higher average monthly income, and who thinks he can "buy a bride". No way.)
Even if you are not athletic, rich, handsome, or live in a tropical paradise in a 10-million-dollar house, you will still score with girls if you have a genuinely kind smiling photo, a detailed, positive, sincere, and grammatically correct profile, and you are behaving like a gentleman when contacting women.

That's all they can initially see: Your profile.
Make sure it works for you.

Share this article