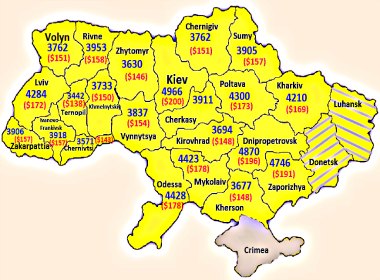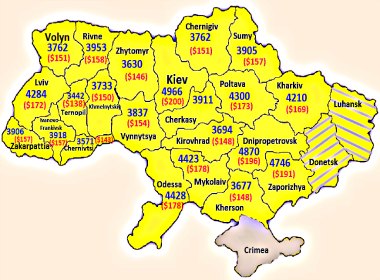 The average monthly salary in Ukraine in January-April 2016 was 4686 hryvnia (approximately USD $188). July 2016 Ukrstat reports provide breakdown by region and industry.
In 2016 the real disposable income of households in Ukraine dropped by 15% as compared to the previous year, the State Statistics Service of Ukraine reported. The actual income Ukrainians attain today is only 85.1% of the comparable period in 2015.
Average monthly salaries and wages in Ukraine
The average wage for the first 4 months of 2016 in Ukraine dropped to 4686 Ukrainian hryvnia. By today's exchange rate it's approximately USD $188.
Average salaries differ by region.
The highest wages recorded in the city of Kiev, where in April 2016 they were 8228 hryvnia ($331) a month.
Kiev region in total only achieved the average of 4966 hryvnia in April 2016 ($200).
The level of remuneration has increased from January to April for the majority of regions.
Fluctuations of the exchange rate between US Dollar and Ukrainian hryvnia cause adjustments to amounts in dollars, displayed for comparison purposes.
Top-8 regions with the highest salaries in Ukraine (April 2016)
Kiev region: 4966 ($200)
Dnipropetrovsk: 4870 ($196)
Zaporizhya: 4746 ($191)
Odessa: 4428 ($178)
Mykolayiv: 4423
Poltava: 4300
Lviv: 4282 ($172)
Kharkiv: 4210 ($169)
The lowest level of wages was recorded in April in Ternopil at 3442 ($138).
Regions where the monthly salary is below 4000 hryvnia
Rivne: 3953
Ivanovo-Frankivsk: 3918
Cherkasy: 3911
Zakarpattia: 3906
Sumy: 3905
Vinnytsya: 3837
Volyn: 3762
Chenihiv: 3762
Khmelnytskiy: 3733
Kirovhrad: 3694
Kherson: 3677
Zhytomyr: 3630
Chernivtsi: 3571
Ternopil: 3442 (lowest in Ukraine)
(This list excludes Donetsk, Luhansk regions.)
Ukrainian households obtain 45% of their income from wages and salaries. 35% of income is derived from social payments, transfers, and welfare, Ukrstat's Household income and expenditure report for the first quarter of 2016 recorded.
There was also 9.5% decrease in financial assets per household recorded as compared to 2015.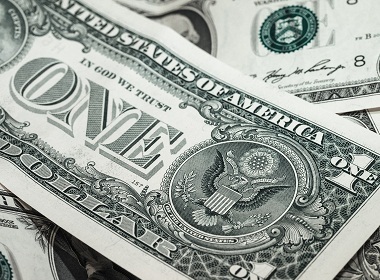 Read also:

 

Share this article