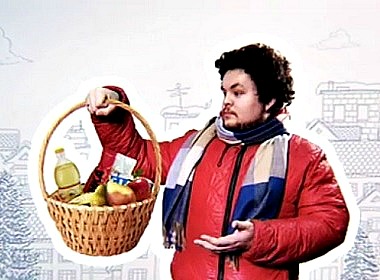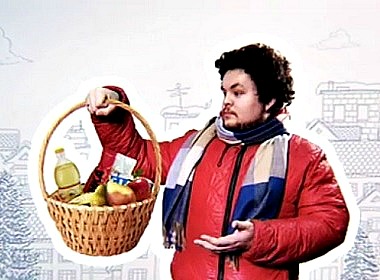 Reporter Dmitry Chistyakov from Kiev, Ukraine, had to live for 1 month on the minimum wage, which is 1318 hryvnia (about USD $49). He did it as a social experiment for the program "Utro" (Morning) by the Ukrainian TV channel Inter.
Chistyakov had already completed a similar stunt in summer 2015 (see our last year report: Salaries and Costs of Living in Ukraine). However, at that time the TV company didn't take into account taxes that needed to be paid when allocating funds for the experiment, which gave him extra 17% to spend.
In February 2016 Chistyakov undertook another challenge, which required him not only to combat the cold winter weather while being given the minimum wage budget, but also account for taxes on his monthly income.
After the taxes the reporter was left with only 1109 hryvnia ($41). Personal income tax in Ukraine is 17%. Wages in Ukraine are paid monthly, not weekly.
This time it was much harder due to colder conditions. The reporter also got sick, and nearly lost his winter boots, which he wouldn't be able to replace, due to the experiment's rules.
In August 2015 the journalist lost 10 kg (22 lbs) during the month of experiment. This time he had shed 8 kg (17.6 lbs). He simply could not afford to buy much food.
He was close to giving up and left basically without food for the last 3 days. He cooked a soup from vegetables and cheap bones with scraps of meat to feed himself, which he purchased for the remaining 13 hryvnia ($0.50).
As the result, he managed to survive on the Ukrainian minimum wage of 1318 hryvnia (1109 hryvnia after tax). But it was extremely difficult.
Dmitry concluded: "It's impossible to live like this".
Mimimum pension in Ukraine is 1208 hryvnia/month ($45). Some people are forced to live on such incomes.
The TV program was popular with daily broadcasts of Dmitry's adventures for the whole month.
As of 3 March 2016, 1 US Dollar equals 26.60 Ukrainian hryvnia. Only 2 months ago the exchange rate was 24.02 hryvnia for 1 US dollar. It's 10.7% drop in 2 months.
The Monthly Budget
The reporter had to go into the experiment with no food, medicine, or any home supplies. Everything had to be purchased from the available funds.
His monthly expenses:
Water and electricity, mobile phone, Internet: 561 hryvnia ($20)
Food: 354 hryvnia ($13)
Transportation: 18 hryvnia ($0.67)
Personal hygiene and cleaning products: 62 hryvnia ($2)
Medicine and medical services: 37 hryvnia ($1.40)
Gift to a colleague: 20 hryvnia ($0.74)
Materials for a hand-made present for the wife on Valentine's Day: 18 hryvnia ($0.67)
Visit to a museum with a niece: 35 hryvnia ($1.32)
In short, the reporter had no money left for anything else except for the food, after paying his communications and utility bills. Internet and mobile phone expenses are non-negotiable for a TV reporter. They are tools of the trade. Luckily, costs of Internet and mobile phone in Ukraine are affordable for anyone. But they still had to be paid.
Groceries are more expensive in winter because of prices for fresh produce like vegetables. Inflation in Ukraine propelled prices of basic food upward. Only in January-March 2016 Ukrainian hryvnia lost 10% of its value to US Dollar as compared to December 2015.
Since Dmitry owns his apartment, there was no need for mortgage payment or rent.
Chistyakov said he virtually had to cut off socializing, as it requires money. He went out with friends to a café once and had to drink water, which was provided free of charge.
He spent his spare time surfing Internet and reading. He also had to shop for the cheapest food and cook for himself. Soups and porridges were the dishes he could afford to make.
He even purchased basic chemicals to make his own cleaning products, as commercial goods were not affordable. He walked to his work office to save on transport.
Anything that was out of the ordinary would send the brave journalist into the red. In the middle of the experiment his tooth became sore. He was able to get a consultation and X-rays done free of charge under the government medical insurance scheme but had to leave the treatment for later, as he couldn't afford to pay for a dental work.
He also caught a cold, but could only buy the cheapest anti-flu medicine.
When his shoes got wet, he had to take make sure the boots would survive, as he could not replace them. He stuffed the shoes with a newspaper (3 hryvnia) and put them to dry next to the heater. Heating his home was expensive, too. Ukrainian apartments have a central heating system throughout the whole block and the payment becomes a part of the electricity and water bill, so there was no way to avoid it.
For St. Valentine's Day 14 February he made a bouquet of roses from tissues and paper for his wife instead of buying real flowers. But the main gift was a self-made painting. The supplies cost him 18 hryvnia ($0.67). His wife was happy with the presents. They pair had to live separately for the month of the experiment. (In summer 2015 Dmitry didn't have a wife but only a girlfriend. Maybe the next time they will do a couple experiment, combining two minimum incomes?)
The reporter managed to get a haircut for free at the hairdressing school.
He didn't spend any money on entertainment (except 10 hryvnia on the museum visit with his niece). He paid another 25 hryvnia during the same visit for a cup of hot cholocate for the kid.
Other money-saving tips were pouring from TV viewers to the program's website at minimalka.inter.ua. Dmirty visited some of the viewers who taught him how to make his own cleaning products, cook cheap nutritious meals, told him the tricks of getting free food in supermarkets (find an overdue product on the shelves and the shop will give you a good one). This helped him to make the ends meet.
"I wish something changes in our country after this program. I want everyone in our country to have the right to a decent life," Chistyakov said at the end of the experiment.
Video: Dmitry Chistyakov, "Almost Without Money", or Living on Minimum Wage in Ukraine
TV journalist Dmitry Chistyakov from Kiev, Ukraine, managed to survive on the minimum wage of 1318 hryvnia ($49). He recounts his adventures in the final report at the end of the program. After tax he only had 1109 hryvnia ($41) to get by. Even buying food and cleaning products was a challenge. Luckily he wasn't single and didn't need to date. His wife was patient and allowed him to complete his task without attempting to feed him or pay for him at outings. The winter challenge tested the hero's survival skills to the limit.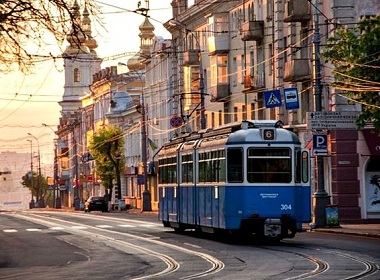 Read also: