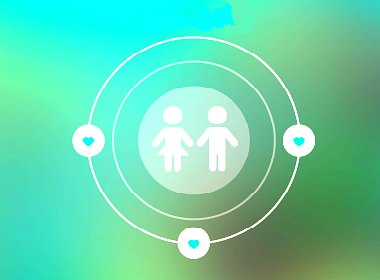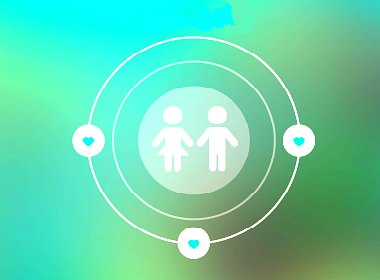 The urban legend holds that a large age difference is typical for international couples. Dating site Elenasmodels.com decided to check if this common belief is true.
We gathered data of all known successful couples for the last 2 years (June 2014-2016) to determine the typical age difference in international couples that met online. The couples were either married or engaged.
The average age difference in successful international couples is 8 years
8 years difference may be slightly larger than the average numbers for local couples where the most successful age gap is believed to be around 4 years. However, it's far from 20-30 years gap that some seekers of global relationships set as a goal.
Reports and photos of some of the couples that were part of the study are published on Elenasmodels.com in Dating Success stories.
Top findings:
The average age difference: 8.02 years.
Largest age gap: 17 years (25-year-old woman from Russia and 42-year-old man from the USA).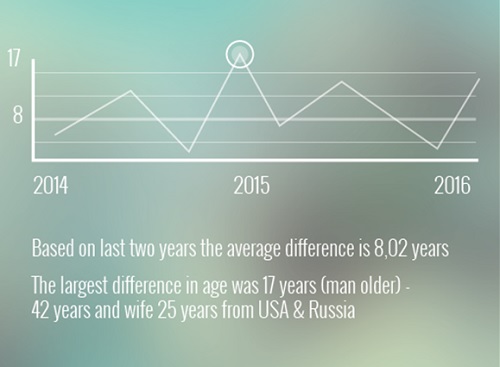 1 in 3 couples (34%) had age difference over 10 years.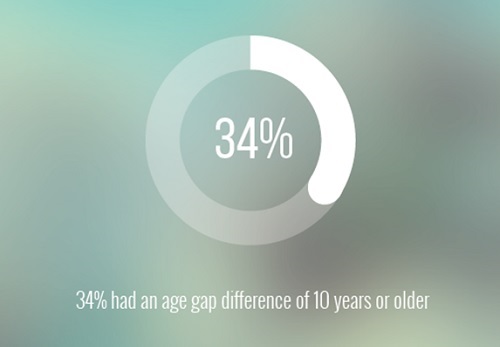 The youngest couple: husband 29 from Austria, wife 22 from Russia.
The oldest couple: husband 69, wife 57.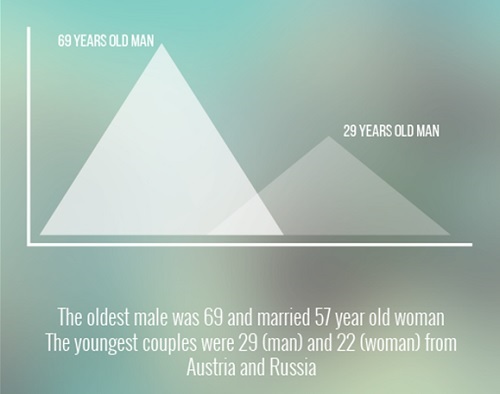 1 pair had the wife 8 years older than the husband.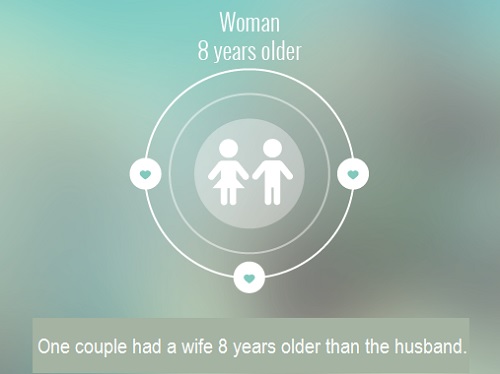 Successful clients were from over 17 countries. Men: USA, Canada, UK, Australia, New Zealand, Italy, Netherlands, Spain, Austria, Germany, Belgium, Turkey, South Africa. Women: Russia, Ukraine, Belarus, Kazakhstan.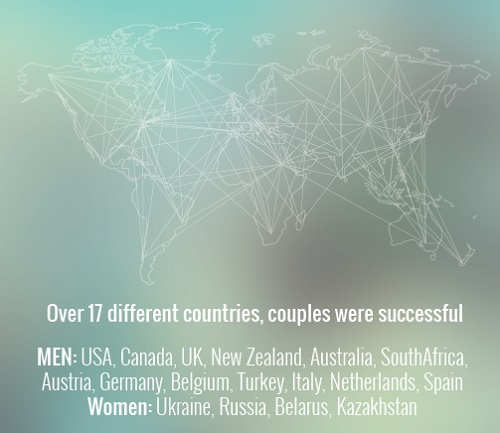 Socially acceptable age difference formula
The older you are, the larger gap people around you will see as passable.
The formula of a reasonable gap in a marriage or relationship:
Divide your age by 2 and add 7.
As such, if you are 30: 30/2 = 15; 15 + 7 = 22.
If you are 30, people will see it okay for you to date a 22-year-old.
If you are 50, then dating a 32-year-old will be seen as admissible.
If you are 60, then courting a 37-year-old won't cause objections.
When is it okay to date a woman 25 years younger? When you are 64. People around you will approve your relationship with a woman who is 39. This fits society's expectations about a matching level of maturity in a pair.
What age gap in relationships is acceptable for women from Russia, Ukraine, and FSU?
While women from Russia and former Soviet Union may indicate preferences that are quite large, their dream age difference for a long-term serious relationship is about 5-10 years. Within these limits men can expect to find a partner without any issues. Gap up to 15 years may be seen as "okay" by many women for a potential marriage partner.
From my experience of talking to women on this blog, their preference is the difference of about 10 years. This makes them feel safe enough that the partner will not want to swap her for a "younger model", and at the same time there is no generation-wide gap that pulls people strongly apart.
Gentlemen who are interested in significantly younger ladies may be setting themselves up for a disappointment as women normally would choose the most suitable candidate, which includes the age criterion as well.
Men under 45 may still be able to get away with larger gaps, as the age 30-45 is the most attractive for women from Russia, Ukraine, and FSU.
Finding a committed and sincere partner is one of the greatest joys of life, and being realistic about one's expectations is the major factor in finding love online.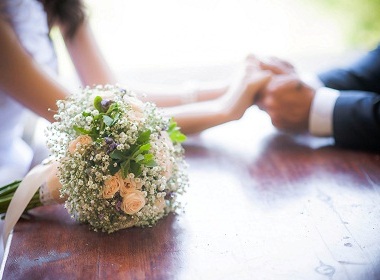 Read also: