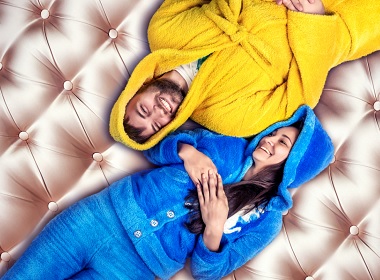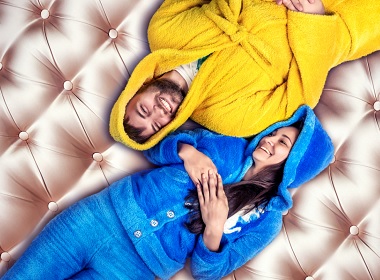 Population of Ukraine is declining rapidly. With official statistics by Ukrstat showing the drop from 52 million in 1992 to 42 million in 2017, the country has one of the highest levels of depopulation in the world. In the last quarter of a century, life expectancy in the country grew by only 1 year, from 70 to 71 years. In the same time the divorce rate grew by 16% and the number of marriages dropped in half.
Population of Ukraine 1990-2017: Fewer marriages and kids, more divorces
When the Soviet Union collapsed at the end of 1991, there were 52 million residents in Ukraine.
The highest number of inhabitants was officially recorded in 1993, when 52,244,100 people had been recorded as present in the country, 51.9 million of them being residents.
Since then, it had been a downward spiral. On 1 January 2018, there were estimated 42.2 million residents, down from 42.4 million a year before.
In 2016 population decline reached 186,000 per year, although it's not the highest it had been over the past 27 years. The highest negative growth was recorded in 2000, when the country's population declined by 373,000 inhabitants.
In the recent decade, the population decline slowed down to 142,000 a year in 2012, but it had been on the increase ever since.
The loss of residential population comes from both emigration and natural negative growth due to a higher number of deaths than births.
All tables with official statistics and data by Ukrstat are included below.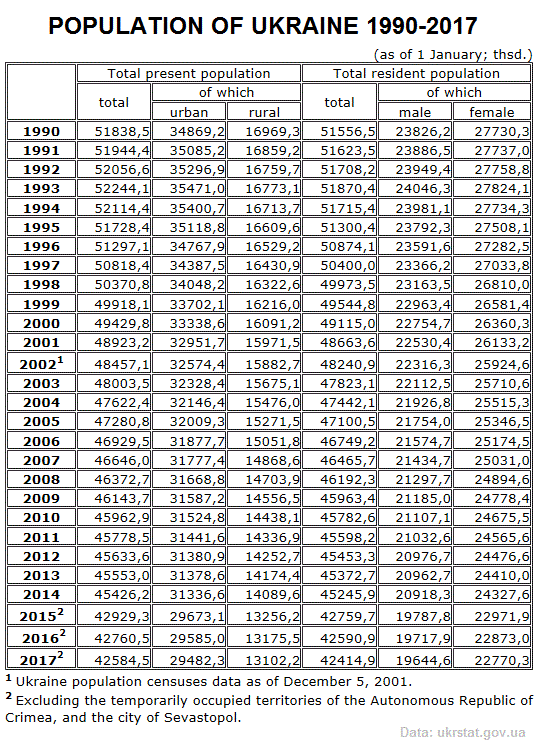 Men to women ratio
Gender-wise, there are 19.644 million men and 22.770 million women.
It's 86 men for 100 women, or 3.1 million more males than females.
Gender imbalance remains one of the pressing reasons why Ukrainian women seek partners abroad.
Young and old
In 2017, 7.6 million of residents were under 18 and 34.8 million were over 18.
There had been NO population growth since 1990, when it was extremely small (only 27 thousand people for the whole year). Already the next year, it was 39,000 negative growth, i.e. decline.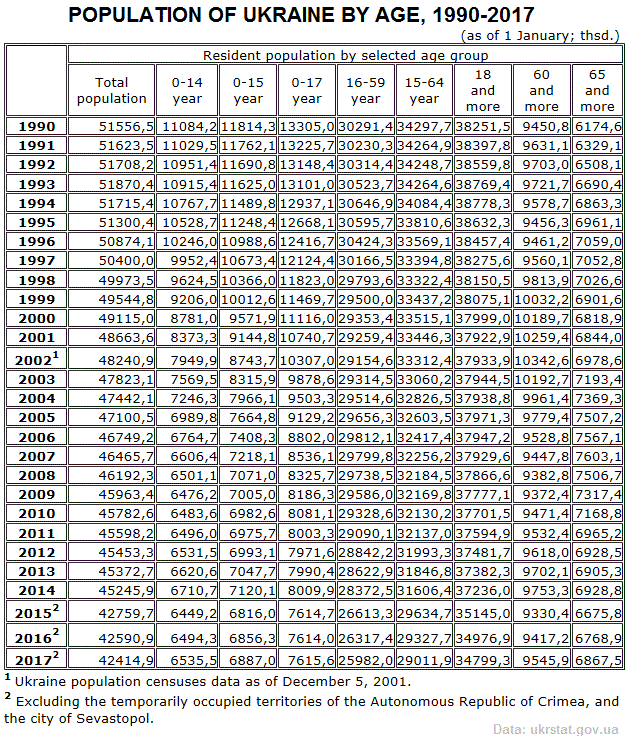 Marriages
There were 483 thousands of marriages registered in Ukraine in 1991.
In 2016, only 229 thousands of registered nuptials were recorded (53% drop as compared with 1991 data).
It's a giant drop even compared with the resent times. For instance, 304 thousand marriages were recorded in 2013. So, in just 3 years the number of marriages in Ukraine dropped by 25%.
Divorces
At the same time, the divorce rate in Ukraine is on the rise.
In 1990 only 192 thousand marriages ended in divorce, while 483 thousand coupled married (40% divorce rate).
In 2016, there were 130 thousand divorces for 229 thousand marriages (56% divorce rate).
However, it's still better than 2012 figures when the divorce rate was 60% to new marriages.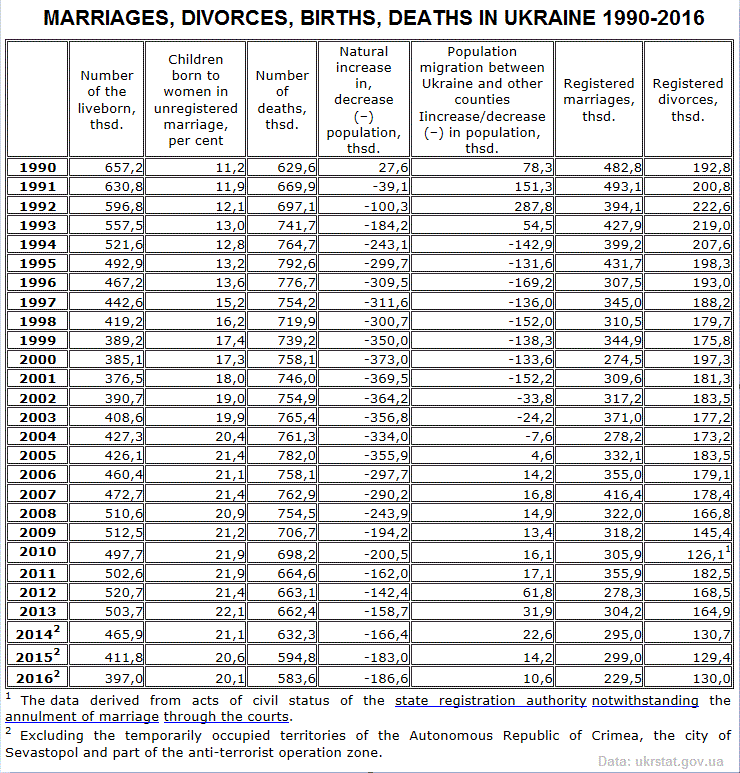 Children
In 1990, 657 thousand kids were born.
In 2016, only 397 thousand children were born. It's nearly 40% drop in the number of kids born since 1990.
The lowest ever number of kids born in a year was in 1999: 389 thousand.
In 1990, only 11.2% of all kids were born outside a registered marriage.
In 2013 the share of children born outside registered marriages reached its highest level: 22.1%.
Depopulation
In 2016 there were 583,000 deaths for 397,000 new children born.
It's 147 deaths to 100 newborns.
Migration
In the period from 1994-2004 Ukraine had more people moving to live there than the ones moving to other countries. For instance, 169 thousand more people moved to Ukraine in 1998 than out of the country, on the peak of the positive migration trend.
Since 2005, the country started to lose residents due to emigration. 61 thousand people more moved to other countries in 2012 than the number of newly acquired residents.
Fertility rate
In 1990 there were on average 1.85 kids born by every woman of childbearing age.
In 2016, women on average only have 1.4 kids.
The lowest ever fertility rate was recorded in 2001-2002, when it was close to 1 child per woman. The kids born during these years are now growing up, which means the country is up to another giant demographic slump soon.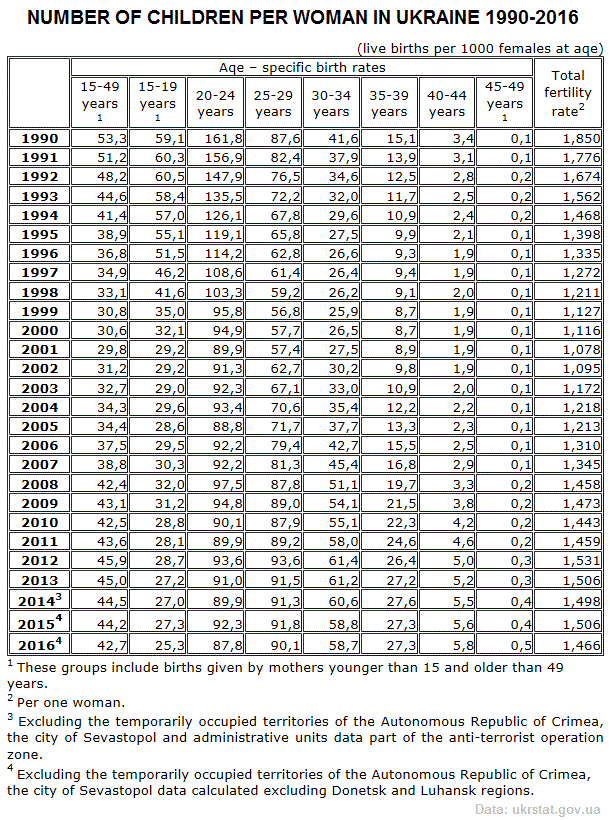 Mother's age
The age of first birth rapidly grew over the period from 1990 to 2016. Fewer women are having kids under the age of 20 and many more at the age 30-40, as compared with the age specific birth rates from two decades ago.
Life expectancy
Life expectancy in Ukraine has slightly improved for the last 27 years.
For men: from 65 (1990) to 66 (2016).
For women: from 74 (1990) to 76 (2016).
The lowest life expectancy for males was in 1999-2008: it was going down to 62 years.
For females, it also dropped to 72 during the period from 1994 to 1996.
The difference in life expectancy between males and females remain extremely high: 10 years. In most developed countries it's around 4 years.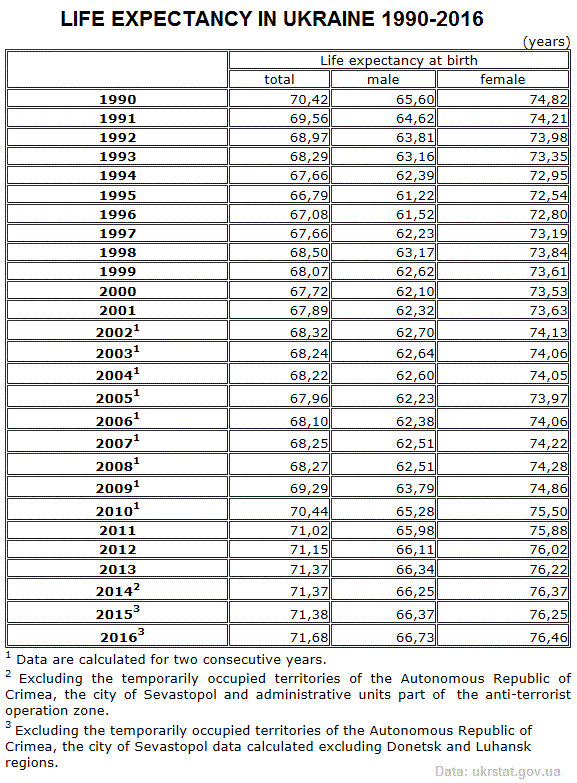 Data by Ukrstat.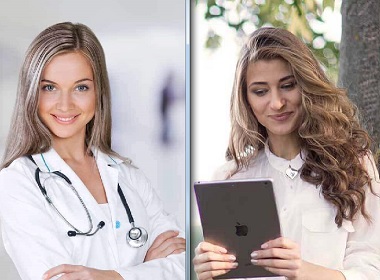 See also: